Delicious and dangerously addictive
Get great content like this right in your inbox.
Subscribe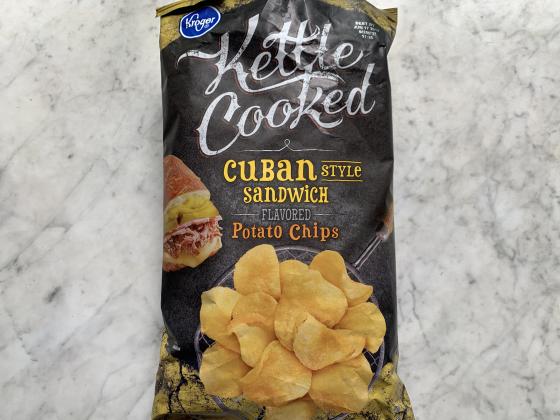 Have you browsed the snack aisle of your local grocery store lately? I mean, really looked at the new products and flavors showing up in salty snacks categories such as pretzels, nuts and chips?
Walking down the snack aisle of an ALDI, H-E-B or Target, one can see that retailers and suppliers are getting much better at experimenting in the quest to find the "next big thing" that will drive growth.
The old standbys of sour cream and onion potato chips and tortilla rounds might be sitting next to: tikka masala water lily pops (plant-based product made from water lily seeds), Buffalo wing chicken chips (made with 100% chicken and tapioca flour), bourbon BBQ quinoa chips (non-GMO), and fiery Thai potato chips (cooked in 100% almond oil). In fact, the potato chip category specifically is seeing hot growth.
Yes, despite competition from so-called healthier types of snacks, potato chip sales in the U.S. are still growing, with a 2.1 percent rate of growth to $5.8 billion during the 52-week period ending Jan. 27, 2019, according to Information Resources Inc. (IRI). Private brand potato chip sales grew 4.8 percent to $5.1 million during the same period.
The U.S. potato chip market is anticipated to reach $11.31 billion in sales by 2025, growing at a compounded annual rate of 4.4 percent, according to Research and Markets. While plain chips still command the largest market share, flavored chips are expected to have the fastest sales growth, increasing 5.8 percent during the forecast period, according to Research and Markets. And much of the flavored snack innovation in food retail is currently coming from The Kroger Co.
Over the past few years Kroger has introduced more than 1,000 new private label products, including such innovative snacks as General Tso's Chicken Chips, Nashville Style Hot Chicken Chips and Prime Rib and Horseradish Chips. With those amazing products, it's no wonder that Kroger's private label share is now more than 30%of its overall sales. And now the Cincinnati-based grocer has really hit a home run with its newest Our Brands snack innovation: Kettle Cooked Cuban Sandwich Style Potato Chips.
The Cuban sandwich, with its iconic flavors of Cuban bread, ham, pork, mustard and Swiss cheese, seems to show up everywhere these days: on chain restaurant menus (Potbelly Sandwich Shop), at fast-food drive-thrus (Arby's) and even at state fairs (Florida). Several indie restaurants across the country have gone viral on social media by posting vegan versions of the Cuban (or the Cubano, as some call it). And now the flavors of a Cuban sandwich are available in a bag, thanks to the creative minds of Kroger's Our Brands team.
Surprisingly, Kroger's Kettle Cooked Cuban Sandwich Style Potato Chips taste exactly like a Cuban. I could instantly recognize Cuban flavors from the first crunchy bite (and these chips are super-duper crunchy), especially Swiss cheese and tangy notes of pickles and mustard. You get the salt of the ham, the creaminess of the cheese and the tart of the pickle. They are delicious and dangerously addictive. I would recommend that Kroger start making this wonderful private brand product available for shipping to Florida, with its large Cuban population, immediately. I don't know of any retailer in Florida currently offering Cuban-flavored chips (I'm talking to you, Publix!). Talk about a hot (and tasty) growth opportunity for Kroger!
Overall score: 100/100
Tested: April 2019
To submit a product for Gina's Checkout, please email the name of the product and a description to Gina Acosta at [email protected]