Creating connections through coffee
Get great content like this right in your inbox.
Subscribe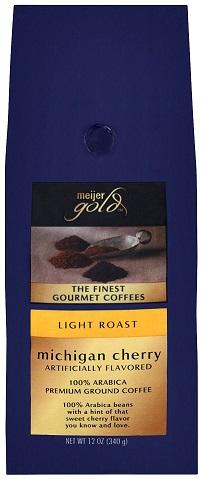 Writing about the grocery business gives me a different look at supermarket shopping. I recognize companies  we have reported on as I push my cart through the grocery aisles, spotting new private brand products to cover and others we have written about.
Searching for a good price on ground coffee recently, I discovered a store brand from Grand Rapids-based Meijer called Meijer Gold. I checked out a few flavors such as Kona Blend and House Blend and both were appealing.
Then I found Meijer Gold Michigan Cherry, which immediately became a "regular" on my shopping list.  
I don't like flavored coffee as a rule, and I've never had cherry-flavored coffee before. So I wasn't sure what to make of Meijer Gold Michigan Cherry. Would it taste too strong or smell too sweet? Later, running through the coffee maker, the pleasant, subtle cherry aroma wafting from the automatic drip won me over. The taste had just a hint of authentic cherry flavor ― not overpowering but smooth and nice.
We vacation in Michigan regularly, and tour its cherry orchards in the summer. That tie is what lured me to the Meijer Gold coffee flavor. Priced at $4.99 to $5.99 for a 12-ounce bag, the light roast of 100 percent Arabica ground or whole bean is a bargain for flavored-coffee enthusiasts and regular Joe drinkers alike. Other name brands of Michigan Cherry are available, but most are pretty expensive.  
"Introduced in 2006, Michigan Cherry has long been our top-selling Meijer Gold Brand gourmet coffee item," says Kim Billingsley, Meijer's coffee buyer. "Through a deep-flavor analysis, our private label supplier dissected the compounds in cherries to emulate an authentic Michigan cherry flavor." 
The supplier was spot on. The coffee packaging is a glossy blue 12-ounce standup format that stands out on the shelf and displays an attractive front-panel label in the blue and gold color scheme ― equally distinctive.
So along with the nice flavor and emotional connection, Michigan Cherry has what every store brand should have: quality, attractiveness, differentiation and caché, all at a terrific price. Connecting with shoppers builds success and private brand loyalty, notes a recent Food Marketing Institute and Label Insight report. "Labeling can greatly impact consumers' level of loyalty," the report added.
The Meijer Gold line also features a delicious Mackinac Island Fudge coffee, which again harks back to Meijer's Michigan roots, which differentiates it from competitors. I tried that one, too, figuring it would also be worth a purchase. Billingsley says the coffees have been a hit with millennials, which have an advanced knowledge and love for coffee, though customers in other demographic groups buy it as well.
"Millennials are adventurous foodies who crave origin stories and regional authenticity when considering a purchase," Billingsley says. "Early next year, we will be updating our packaging and relaunching our Meijer Gourmet coffee. We expect this to resonate with millennials and all of our customers as an upscale coffee with incredible flavor for an incredible price."
As I sip my cup of Michigan Cherry, I nod my head in agreement. I can't wait to see the relaunch.