Cookin' up innovation
Get great content like this right in your inbox.
Subscribe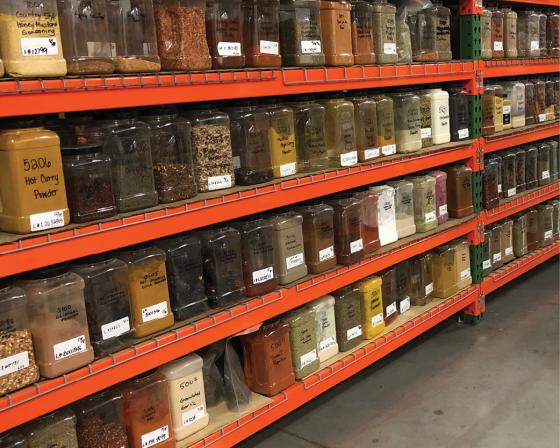 If you ever wanted to go around the world in a day without getting on an airplane, you can. 
In a 75,000-square-foot warehouse just north of Ft. Lauderdale, Fla., you can go to the Himalayas, to Europe and to Central America all in one visit, as long as you don't have a particularly severe allergy to spices.
There, at the headquarters of the Spice Lab in Pompano Beach, Fla., the aromas of Himalayan salts, Belgian sugars and Mexican chilis greet you as you pull open the double-glass doors leading to the family-run food manufacturing business. The Spice Lab, founded in Florida in 2009, offers artisanal salts, spices, seasonings, teas and gourmet gifts from around the world in an array of packaging options for private brand grocers and many other retailers. 
A few steps toward the back of the massive building reveals a wall of spice jars, everything from teriyaki seasoning to vindaloo powder to herbes de provence, a French herb blend. This global stage of food flavors turns out to be the perfect setting for a new breed of chef/food scientist/product development guru in the retail and consumer packaged goods (CPG) industries, called the "research chef." These flavor magicians work in all sectors of the food industry but play an increasingly starring role in the retail and CPG worlds as they help optimize ingredient systems for companies to use in their finished products.
Everyone from The Kroger Co. to Campbell Soup Co. to Yesway Convenience Stores has a research chef or a culinary innovation manager or a food innovation guru. Some retailers and suppliers have research chefs specifically working to develop recipes and products for their private-branded programs (Chad Beuter at Meijer is one example).
At the Spice Lab, the flavor magician is chef Fiona Tam Kennedy, whose passion for food led her from anthropology courses to restaurant work to now chef-in-residence at the Spice Lab.
"I had been working as a private chef. With this opportunity at the Spice Lab, I like that there are so many different components to it," Kennedy says. "I'm a chef, I'm writing recipes and I'm taking photographs. I like the whole collaborative aspect of it, working with different people in the company and the art department. It's just very nice group-thinking."
Like many research or ingredient chefs, Kennedy wears many hats, but she also has specific job responsibilities: product development, recipe testing, trend research and creating formulas that can be mass-produced. A typical day for Kennedy may involve recreating a spice blend or coming up with recipes that will sell the product. 
"I'll be asked to reverse-engineer a spice blend. So I'll take a little bit of it and almost brew it like tea to try to figure out what spices might be in there, because once you add the hot water and heat you can get a much better sense of the flavor, of what's in there," Kennedy says. "It feels like detective work sometimes. And then once we come up with different spice blends, then it's a matter of coming up with recipes in order to sell it. And how to use the spice blend in recipes."
As more retailers and suppliers hire chefs like Kennedy to spur innovation, the work of research chefs is putting a spotlight on the opportunities and challenges involved in making consistent quality products that keep up with evolving consumer preferences.
Spicy growth
Lately, Kennedy has been reformulating and expanding the Spice Lab's seasoning line to be more on-trend, which means meeting consumer demands for all-natural, Kosher and gluten-free products. The company has redesigned some of its packaging and labels, with each product offering a "Chef Fiona's Corner" feature. The labels highlight tips and suggestions for using the product and feature a cute caricature of the chef herself. And if the consumer wants more content, he or she can find ideas and recipes on the Spice Lab's website, spices.com.
The company has become a major player in supplying some of the country's largest retailers with Himalayan pink salt, which as a category has grown 3,700 percent with monthly sales now reaching near $1 million. The company sells private brand pink salt through Trader Joe's and Costco Wholesale, among other retailers. 
The global seasonings and spices category is forecast to grow at a compound annual growth rate of 6 percent during 2019–2023, according to Technomic. The market research firm attributes the growth trajectory to the trend of more diverse and globally inspired foods appearing in restaurants and grocery stores. One research chef who is keenly aware of these multicultural trends is Joel Minkoff at Sky Valley Foods, a Danville, Va.-based maker of all-natural sauce and marinade products. 
"What we really look to at Sky Valley is the real trends to optimize existing recipes, so we really look toward authentic ethnic flavors," Minkoff says. "That's been one of the overarching trends that we've seen across all of our private label business. Everyone wants the next big ethnic trend and that's really where we put a lot of our effort, in discovering that, sourcing the real ingredients and coming up with products that are culinarily exact."
Filling the gaps
Like Kennedy at the Spice Lab, Minkoff spent years working in restaurants. Eventually he landed research and development roles at Campbell Soup Co. and Chelten House, which has created more than 1,000 private brand products for U.S. retailers. 
"At Sky Valley, we're constantly coming up with new ideas, engaging with the customer for both the private label and the branded side, and then we actually are in the lab collecting ingredients, making samples, tasting samples, using them in applications and developing the product that we would manufacture in the factory," Minkoff says. 
For a research chef, it's not just important to come up with formulations and recipes, he adds. It's equally important to understand the relevancy and functionality of commercial ingredients, and then to be able to apply that knowledge to the development process. 
"A lot of chefs don't have that final skill where they can come up with a great recipe, but they have no idea how to formulate it or scale it up right," Minkoff notes. "For us, the overarching theme at Sky Valley is no matter what it is, whether it's our brand or whether it's private label, the food has to taste great. If the salad dressing doesn't taste great and it doesn't work on a salad, my work is really for nothing."
Both Kennedy and Minkoff say that in order to be a successful research chef in CPG, it's important to have a good understanding of culinary arts, food science and food manufacturing. And critically, it's also important to have a grasp of current consumer trends, which these days revolves around the development of products that are free-from undesirable ingredients, sustainable, clean label, non-GMO and frequently organic.
For innovation inspiration, Minkoff says he travels to food shows, leans on groups such as the Research Chefs Association, does a lot of research, and, of course, is constantly stopping to see what's on the shelf at retailers around the country.
"We'll go to different retailers and look at what everyone is doing to make sure that we're keeping up with trends," Minkoff says. "So we're always constantly innovating on our own, filling the gaps with new items. For us, one of the big challenges is having the right partners that can accept that innovation."
Acosta, managing editor of Store Brands, can be reached at [email protected]