Convenience plus nutrition
Get great content like this right in your inbox.
Subscribe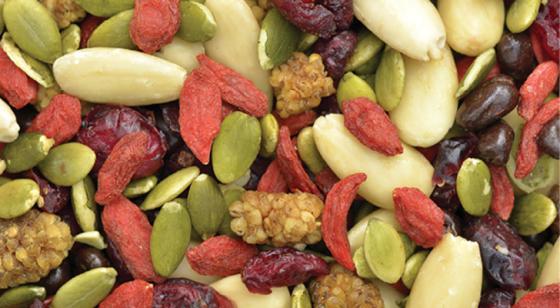 The realities of modern life provide a pretty good opportunity for the fruit and nut snacks category. Pairing a strong nutritional profile and convenience with consumer interest in snacking and better-for-you foods has made this category a winning one.
Ninety percent of U.S. households buy nuts, seeds or trail mix. Nearly half (45 percent) eat these snacks on the go, and a third buy them specifically for travelling, according to global market research firm Mintel Group Ltd.
Not only has this $8.6 billion category grown 28 percent from 2011 to 2016 at current prices, it's expected to grow another 23 percent to reach $10.6 billion in 2021 at current prices, Mintel states in its June 2016 report, "Nuts, Seeds and Trail Mix, U.S."
Scott J. Reindel, vice president of business development and retail strategy for the Trophy Nut Co. in Tipp City, Ohio, says private brands are getting more representation in the category.
"While the entire category is growing, private brands are outpacing that growth," Reindel notes, adding that private brands are also innovating more in the category than the national brands.
Take on the competition
Some consumers are snacking several times a day and are looking for healthier, great-tasting snacks, says Wesley D. Edwards, channel account manager for Edison, N.J.-based Woodstock Farms.
Perhaps as a result, fruit and nuts snacks are now sold in all trade channels: grocery, mass, convenience, drug, club, specialty, gourmet, office supply and home improvement, Edwards observes.
To compete, seek innovative products that target consumer trends and provide differentiation in the marketplace, Edwards advises. Retailers can use their brands to create a consumer destination for their stores and offer unique items that are different from those offered by competitors.
Retailers are taking two distinct approaches tTo product offerings, says Efrain Mendoza, director of business integration for Mount Franklin Foods in El Paso, Texas.
"First is the safe standard, a national brand knock-off that has been proven with consumers. Most of the time, they also request new and innovative products that are either trending in different markets or trades," Mendoza relates. The second approach requires retailers to arm themselves with research and data and usually represents a calculated risk for both manufacturer and retailer, he notes.
To compete against other types of snacks, Mintel advises emphasizing the nutritional value of nuts and fruit, especially their fiber and protein content, while also reassuring consumers about their offerings' sodium and fat content.
Mintel found that 90 percent of consumers consider nuts, seeds and trail mixes a good source of protein, and 84 percent agree they are a good source of energy.
More retailers are emphasizing quality in the category, Reindel states.
"It's not a price play as much," he adds. "[Consumers] feel like they are getting more than they paid for with private brands in this category."
Winning packaging
Convenience and portability are so vital in this category that packaging takes on added importance. Grab-and-go, re-sealable bags are a good fit for families with active lifestyles, Edwards says.
Another trend gaining momentum in the category is the single-serve, bag-in-a-bag. Edwards adds.
"Retailers can offer a multi-pack bag with 10, 12 or 20 single-serve pouches in it that can be consumed anywhere — for a school lunch, on the soccer field, at work or during summer traveling."
Consumers seek packaging options that work for different consumption occasions, Mintel reports. Its survey found that 43 percent wanted re-sealable packaging and 27 percent wanted single-serve packaging.
When it comes to labeling, cleaning up the ingredient list and nutritional panel should always be a focus, Mendoza says.
Focus on taste, breakfast
Product innovation is key to keeping the category strong, says Joseph Setton, vice president of domestic sales for Setton International Foods in Commack, N.Y.
The company, which started out selling sponge cake and jelly donuts in 1959, is now the nation's second largest pistachio grower and processor. It was named an Innovation Award Finalist at the May Sweets & Snacks Expo in Chicago for its new plant protein, fiber, potassium and antioxidant-rich Pistachio Chewy Bites variety featuring pistachios, blueberry-infused cranberries, coconut and maple brown rice syrup.
Other Setton products include flavored pistachios, dark chocolate pistachios and premium pistachio blends with dried fruit.
Private brand manufacturers need to understand their retail partners' marketing objectives so they can match the retailers' in-store goals with current consumer trends, Edwards says.
"Healthy snacking is here to stay and the consumer is the boss," Edwards says. "A manufacturer must collaborate with the retailer to develop products that meet the brand's objectives and the consumer's wants. Manufacturers cannot just offer a new mix, dried fruit or flavored nut without knowing what consumer want or need it satisfies."
The food business is extremely exciting and dynamic right now and is constantly changing as consumers seek "what's next," Edwards adds. "Plus, new flavors provide the differentiation needed for the private brand retailer to compete with the store next door and the national snack brands. Nuts traditionally were mesquite, hickory or smoke flavored — that's it. Now we can provide sriracha, tequila-lime, apple and honey or pumpkin crème seasoning to a trail mix or straight commodity that will generate trial in the category."
Reindel says one of the hottest growing flavors in nuts is dill, which Trophy Nut has incorporated into a cashew. Reindel also says hot and spicy flavors continue to be popular, especially among millennials.
"Millennials want big and bold flavors," Reindel adds.
An area that is gaining popularity is healthy snacks for breakfast, Edwards points out. "We are all on the go, and both mom and dad work, so a trail mix that targets a breakfast flavor will provide a healthy snack as we run out the door. A coffee crunch trail mix, blueberry muffin trail mix or even an organic 'morning commuter' mix with apple cinnamon granola balls provide traditional morning flavor profiles." SB
Cvetan is a freelance writer from Barrington, Ill.