Company 'Thrives' with private brands
Get great content like this right in your inbox.
Subscribe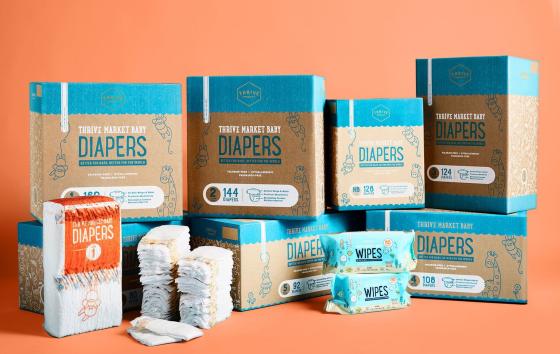 Thrive Market is proving to skeptics that there can be more than one big natural foods chain.
According to Forbes, when Thrive Market founders Nick Green and Gunnar Lovelace went calling on the investment community, they heard over and over again that the consumer need wasn't there since Whole Foods was already dominant in the natural foods space. Investors were also skeptical that the company could achieve its $10 million first-year and $35 million second-year financial projections in a market that at the time was estimated at $100 billion.
"We ended up beating our second year projections during our first year in business, doing $45 million in revenue over the first 12 months," Lovelace told Grocery Dive.
Thrive Market started with a 5,000-product range from prominent health and wellness brands in packaged food, beauty, bath and body, home, pets and baby. Today the company has recently pivoted toward private brand goods as a platform for growth. It is also using private brands to expand into new categories, including frozen foods, wine and meal kits.
Based on insights from customer sales and search data, as well as guidance from its influencer panel, Thrive Market has opportunistically introduced over 330 private-label products which have been eagerly adopted by its members, according to Forbes.
"In every single category where we launch our own products, we're seeing 50 percent to 80 percent market penetration in that category," Lovelace shared. It's because of the trust Thrive Market has built with its membership base.
By the end of 2018, Thrive Market projected about 20 percent of sales will be private label, with its coconut oil, beans, spices, extra virgin olive oil, bone broths, coffee, tomato sauce, almond butters and cleaning products among its most popular offerings. And Lovelace expects that private label will reach as high as 50 percent of sales over the next two or three years, according to Forbes.
To read the Forbes article, click here.