Coffee and tea for private brands anyone?
Get great content like this right in your inbox.
Subscribe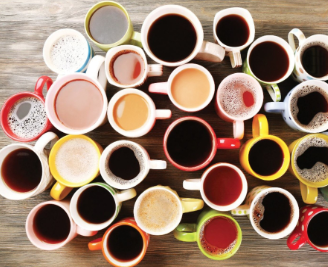 From single cup to ready-to-drink (RTD) to cold brew to nitro brew, the coffee and tea category has been no slouch when it comes to value-added innovations. Pursuing those innovations could hold the key to increasing private brand's share of the riches.
"There is still a lot of potential within all segments and products within RTD private label, because on the whole private label is still underdeveloped from a share perspective within the RTD space," says Kirby J. Harris, chief commercial officer for Berner Food & Beverage LLC in Dakota, Ill.
Three segments are largely responsible for coffee category growth: single-cup coffee, refrigerated RTD coffee and cappuccino/iced coffee, according to consumer market research provider Packaged Facts' August report, "U.S. Beverage Market Outlook, 2018."
It's important to ensure that own brand products truly drive incremental value to the category, bringing in new users who might not have participated before, Harris adds. "For example, some consumers might not be willing to pay at the branded item level for products, whereas private label can offer a similar type product for those consumers through driving value and bringing them into the category."
This is true for both national brand equivalent coffee products as well as differentiated store brand products in all aspects of flavor, packaging and value to the consumer, Harris says.
When it comes to creating differentiation, retailers are focusing on purposeful innovation to build on consumer loyalty with products that are more premium and products that create value and meaningful consumer experiences, says Solange Ackrill, vice president of marketing and corporate strategy for Club Coffee LP in Toronto.
Getting the products to market at the right time, when trends are experiencing scale and profitability, is also critical, Ackrill adds. 
"Keys to growth will expand beyond the products into an ever-evolving omnichannel, go-to-market strategy," she notes. "From channel differentiation to loyalty programs to product search optimization and artificial intelligence, leverage consumer data to stay connected, relevant and ahead of the pack."
The beverage marketplace is crowded, so private brand retailers must have products that are of equal or preferably better quality than national brands, without trying to be something to all consumer groups, says John Harper Crandall, vice president of sales for tea provider Amelia Bay in Johns Creek, Ga. "Simple, clean-label quality is critical to a beverage's success," he adds.
Coffee category sales increased at a compound annual growth rate (CAGR) of 5.9 percent between 2012 and 2017, with volume growth higher than dollar growth, according to Packaged Facts, which projects retail dollar sales of coffee (including RTD coffee) to exceed $18 billion in 2022, increasing by a CAGR of 5.9 percent between 2017 and 2022.
Innovations, including RTD cold-brew coffee, are driving growth, especially among millennials, who remain connoisseurs of gourmet, smaller batch, local, niche and artisanal coffees, the report says.
Total retail dollar sales of tea had a CAGR of 4.5 percent between 2012 and 2017. Retail sales totaled $7.8 billion in 2017, up almost 4 percent compared to the previous year, according to Packaged Facts, which projects retail dollar sales of tea (including RTD) to reach $9.5 billion in 2022. 
RTD tea (including refrigerated) dominates the category, accounting for about 75 percent of sales, and is expected to drive category growth, the report notes.  
What's trending?
Clean and clear labeling have topped the list of food and beverage trends for several years, with no signs of slowing down, Crandall says. "And high-quality ingredients are here to stay. Consumers are just not as willing to be swayed by low price anymore. Appearance and taste are critical for repeat sales," he adds.
Consumers are becoming more aware of the ingredients and contents of products, Harris says. Trends he sees gaining strength include cold brew, nitro, organic, better-for-you offerings, beverages with unique functional capabilities and seasonal flavors.
On the horizon, Harris sees dairy-alternative offerings within RTD as having potential to hit big at retail. It will be necessary, Harris says, to accommodate changing consumer needs as the category grows and develops.
"Healthy hydration" is another important trend, one that brewed tea can fulfill, Crandall adds.
Consumers recognize tea's healthy properties, and are switching to tea from carbonated soft drinks, Packaged Facts points out.
Retailers need to deliver on key trends consumers are looking for, such as premium, convenient, sustainable and healthy products with eco-friendly packaging, Ackrill advises, noting that giving store brand products visibility in the online marketplace could be "a game-changer" for the category.
Exclusivity and innovation
Most retailers want to own and develop unique formulas to be able to market across their total own brand category as unique versus other retailers, Harris says. The same is true for innovation, especially around functional better-for-you product offerings and seasonal limited-time offerings within the category.
Millennials in particular are focused on innovation and the functional attributes of products, while baby boomers focus more on flavor and value, Harris observes.
Make use of research and development to create private brand products customized to goals, Crandall advises retailers. "Also, as consumer preferences evolve and change … keep on trend with the latest flavors and ingredients … to keep loyal and new customers happy," Crandall adds.
Cvetan is a freelance writer from Barrington, Ill.