07/23/2016
Cast a wide net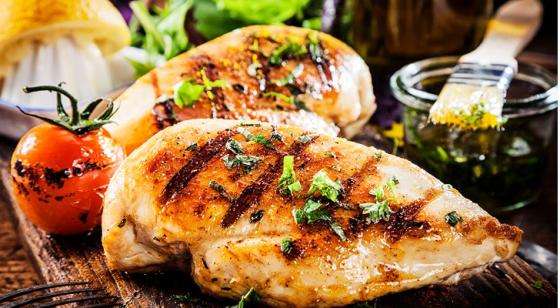 Few private label food categories are as diverse and potentially lucrative for retailers as meat and poultry. Variations of these products are available for all dayparts, plus snacking throughout the day. Fresh refrigerated, frozen and shelf-stable canned and flexible-packaged proteins are enjoyed as ingredients in numerous dishes, as well as center-of-the plate proteins.
Most consumers carefully choose store destinations for their meat and poultry purchases. Today's consumers want consistent overall product quality, innovative products with exciting flavors, better-for-you/free-from items, variety in packaging format and sizes, and sustainable offerings and/or products from suppliers practicing humane handling of meat animals. Retailers casting the widest net by offering a full range of meat and poultry products under their store brand(s) have the best potential for maximizing sales.
Driving trends
Retailers also need to consider current and emerging trends in the meat and poultry sector. One such trend is consumers' desire for more portion-controlled meat and poultry products, says Ron Ratz, senior vice president of sales/research and development for St. Francis, Wis.-based Wixon Inc., a provider of flavors, seasonings and technologies for food and beverage manufacturers.
Another trend traces its roots to foodservice.
"What's trending forward [are] 'free-from' and clean labels," Ratz says. "Companies like McDonald's, Taco Bell, Pizza Hut and Subway are publicizing no antibiotics."
Meat and poultry consumption is expected to increase this year, thanks to pricing declines, he adds. Consumption estimates are "trending positive in 2016 mainly because exports appear to have stabilized, and the economy is predicted to grow slowly plus remain recession-free."
Consumer demand for cage-free meat animals, minimally processed products, proteins featuring a longer shelf-life and family-portion sizes, as well as precooked, pre-seasoned ready-to-heat-and-eat products, is also driving branded and private label meat and poultry sales, relay Michael Teachey, general manager, foods division, and Rhonda Murphy, director of marketing, House of Raeford Farms Inc., Rose Hill, N.C. The family-owned, fully integrated poultry company operates raw and further-processed chicken processing facilities throughout the Southeastern United States.
Also boding well for the meat and poultry sector is the trend toward at-home dining. Many consumers choose to eat at home to save money and eat more healthfully, Ratz states, citing research from Chicago-based Datassential.
"Consumers are preparing more home-cooked meals than in the past," he adds. "Right now, 3.7 home-cooked meals per week include meat."
Tony Horvath, senior marketing manager, specialty foods for Austin, Minn.-based Hormel Foods Corp., says his company continues to see private brand canned poultry as a driver that helps retailers get folks into center store.
And for several years, the craft jerky industry has been exploding in growth. One common factor driving this success is consumers' desire for better-for-you products, says Ron Pro, founder of Show Low, Ariz.-based Jerky UP! — a new directory listing more than 300 beef jerky companies.
"From the beginning, jerky had an aura of being unhealthy," he adds. "It contained high sodium, preservatives and many chemicals most people could not even pronounce."
That perception is changing, thanks largely to the craft jerky market. Small mom-and-pop companies offering branded and private label products are filling a need for more healthful jerky.
"The growing trend is grass-fed cattle, no preservatives, no MSG, low sodium — and no junk jerky," Pro says. "If [retailers] are not producing a hot or spicy jerky, they are missing out on [added] sales. Most people want a mildly spicy to extremely hot jerky," he adds.
Wrap it up
In addition to being aligned with trends, private brand meat and poultry products need to have packaging that's functional and convenient. Products designed for microwaving or baking should feature innovative microwave or in-the-pouch baking packaging, Teachey and Murphy insist. Refrigerated raw products, meanwhile, should be packed in vacuum-skin packaging that features a "glamour shot" of what a cooked or grilled finished product could look like, adds Linda Danz, marketing director for Yoakum, Texas-based Eddy Packing Co., a producer of beef, pork and poultry products for private labeling.
On the canned poultry side, the move to multi-packs is a recent packaging trend, Hormel's Horvath says.
"Now consumers have the choice to purchase single- or multi-pack canned poultry products," he adds. "It's really a good way to give consumers options based on how they use the food in their cooking and meal prep."
For jerky, most online product reviews reveal that people want resealable bags. Small bags entice people to try a jerky product for the first time, Pro says.
"They also want a variety of sizes — from 1-ounce up to 1-pound bags," he adds.
To capitalize on trends with store brand offerings, retailers must rely on knowledgeable protein supplier partners. A good partner should keep retailers abreast of trends and innovations, Teachey and Murphy say.
Spur sales
Retailers also will want to give store brand meat and poultry products their fair share of marketing and merchandising. One smart marketing avenue is social media, since it reaches so many consumers.
Danz suggests that retailers add feature displays, in-store demos, store ads, coupons, online info and meal deals to the marketing mix for store brand meat and poultry.
Speaking of demos, as Americans prepare to enjoy outdoor activities during summer months, now is the time for retailers to begin conducting outdoor grilling demos and samplings of their private brand meat and poultry products. The tempting aroma of meat or poultry barbecuing on a grill will entice area consumers to drop by — and help increase impulse buys.
On the merchandising front, Teachey and Murphy suggest that retailers cross-merchandise and promote own-brand meat and poultry products with other items used with them.
"For example, buy a private label poultry chicken breast and get private label buns or coleslaw [at a discount]," they say.
And Pro says most retailers mistakenly lump mass-produced and craft jerky within one little area.
"Separate products and display a good-looking special sign for 'healthy, low-sodium, no MSG, grass-fed jerky' so people can quickly choose what jerky they would like to try next," he adds.
Do consider the trend toward portion-controlled meat and poultry products.
Don't lump mass-produced and craft jerky together.
Do cross-merchandise own-brand meat and poultry with complementary own-brand side dish items.
Don't discount the effectiveness of outdoor grilling demos to boost trial and sales.