Baseball stadiums provide food for thought
Get great content like this right in your inbox.
Subscribe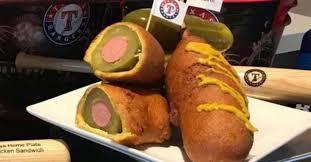 Want to see what differentiation and exclusivity look like? Look no further than the latest menus at Major League Baseball stadiums.
Major League Baseball eats have come a long way from just offering "a dog and a beer." Stadiums are no longer just for baseball fans; they are for foodies. Fans flock to games to eat, not just for a chance to see guys like New York Yankee Aaron Judge hit a ball into the stratosphere.
Some of the creative and even outlandish offerings on menus throughout America's 30 baseball stadiums are innovative and focus on regionality. And with retailers looking to capitalize on their fresh and grab-and-go cuisine, these offerings just might spark a few ideas for private brands.
Let's go first to Houston's Minute Maid Park, home of the 2017 World Series Champion Houston Astros. This year Minute Maid Park introduced the .45 Express, an all-beef hot dog topped with hot Cheetos, green chili queso, tortilla strips, cheese, pico de gallo, pickled jalapeños, sour cream and cilantro served on a crisp corn tortilla inside a flour tortilla. Hear that sound? It's of my lips smacking.
Minute Maid Park is also serving up its BBQ Funnel Cake, which consists of pulled pork, chopped beef, smoked sausage, citrus kale black bean slaw and golden grain mustard barbecue sauce served on a deep-fried funnel cake.
At Dodger Stadium, home of the Los Angeles Dodgers and long known for its Dodger Dog, fans can build their own tortas (Mexican-style sandwiches) by choosing from carne asada, nopales/cactus, pulled chicken, refried beans, jalapeno, cilantro, crema and pickled onions.
Dodger Stadium is also adding to its vegetarian offerings with its Protein Quinoa Salad made with fresh corn, green onions and chickpeas. So are the New York Yankees, which are offering a vegan sausage topped with jalapeños and onions at Yankee Stadium in the Bronz.
At Globe Life Park in Arlington Texas, where the Texas Rangers call home, there's the Dilly Dog — a cored dill pickle stuffed with a hot dog and then deep fried.
Wrigley Field, where the Chicago Clubs play, introduced the Polk Street Breaded Pork Shoulder, which is a house-smoked and breaded pork shoulder topped with house-made pickles and Dijon sauce served on a telera roll.
The Cleveland Indians debuted The Flamethrower at Progressive Park, a pork belly and pulled pork sandwich topped with bacon jam, barbecue sauce, green apple slaw and Flamin' Hot Cheetos.
At the Great American Ball Park, The Cincinnati Reds debuted the Queen City Fried Garlic Bologna, a fried bologna sandwich served on a bun and topped with spicy mustard.
As you can see, these foods hit on the same trends — from taste to health to inventiveness — that private brands are aiming to do.
So if you are a retailer's head of private brands, it's time to talk your boss into taking a road trip to several MLB stadiums for a little "field work." Now wouldn't that be the "business trip" of a lifetime? Seriously, though, MLB stadiums are taking their food fare to another level — just what private brands want to do. There's something to be learned from the great American pastime.