Amazon touts private brands in holiday preview
Get great content like this right in your inbox.
Subscribe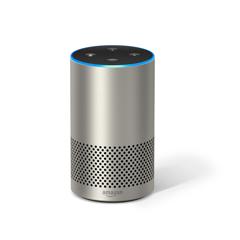 "Alexa, what's on Amazon.com's list for the holidays?" Amazon.com's recent holiday preview, hosted by the Seattle-based firm in a two-story New York City pop-up space, showed off items on many backgrounds installed for their Instagram-worthiness, said a Forbes article this week. Guests had a choice of walking through a mock kitchen, living room and other sections featuring home items, digital, electronics and other products the online force thinks consumers will want come the holiday season.
Big surprise: The abundance of Amazon private brands — well over a dozen — were presented over national brands in many sections, Forbes reported. Grocery and essentials items occupying the most kitchen cupboard or laundry-room shelf space were not name brands but Amazon's house brands, including Wickedly Prime snacks, AmazonFresh coffee pods, Happy Belly eggs, Presto! paper towels, Solimo hand soap and the new Wag gourmet dry dog food.
The apparel section highlighted the private brand Buttoned Down and Goodthreads men's clothing, and Core 10 and Daily Ritual for women. The furniture area was dominated by Amazon brands, including its Stone & Beam and Rivet labels. The tour ended with guests sampling holiday dinners to be featured on the catering menu of Amazon's Whole Foods Market, with guests taking home a small Whole Foods shopping bag filled with items, including the grocer's 365 Everyday Value private brand coconut macaroons and sparkling water.
A 106-page holiday preview catalog for 2018 is also available, listing toys, games, everyday essentials, and home and furniture items, many under Amazon's private monikers. Most products in the wish guide will be available by late August or September, Amazon noted.