Amazon private brand exceeds expectations
Get great content like this right in your inbox.
Subscribe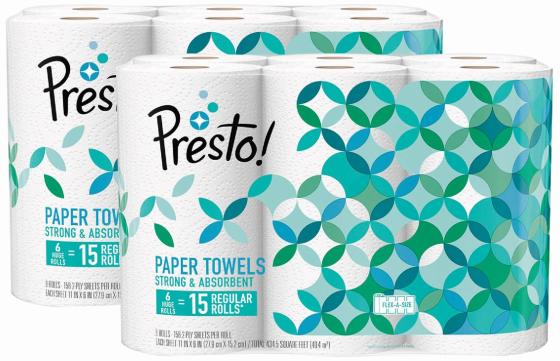 Amazon's Presto! paper towel brand reached an estimated $160 million in sales in 2018, up nearly 20 percent from 2017.
According to brand measurement calculations from market research firm Edge by Ascential, the top five paper towel brands (and their share of total paper towel sales on Amazon.com) of 2018 are:
Bounty (47 percent)

Viva (12 percent)

Sparkle (10 percent)

Brawny (8 percent)

Presto! (6 percent)
Findings also reveal that two other Amazon private label brands have taken their places in the Top 10 paper towel brands on Amazon.com in 2018: 365 Everyday Value (sitting at No. 6) and Solimo (at No. 10). According to Edge's market share calculations, all of Amazon's private brands have increased their share in 2018 while the majority of the other major brands witnessed declines, demonstrating the shift in consumer purchasing on Amazon from house brands to cheaper, yet higher quality private label items.
Kleenex, Scott and Seventh Generation round out the Top 10 in 2018 in the No. 7, No. 8 and No. 9 spots, respectively.
"With the Whole Foods acquisition in 2017, Amazon may have collected insights from 365 data on paper towels and utilized it to create its own paper towels, and enter a market which had quite low Amazon-brand presence — a category dominated by P&G and Kimberly-Clark," explains Pete Andrews, director of insights at Edge by Ascential. "Providing a cheaper product to a loyal customer base willing to 'try by buy' is a strategy Amazon likes to employ—a strategy that legacy brands should consider to compete against Amazon's growing private label brands. All eyes are on how wild-card Solimo and how Amazon will continue to evolve its private label strategy."