02/07/2019
ALDI proves that cheesy can be cool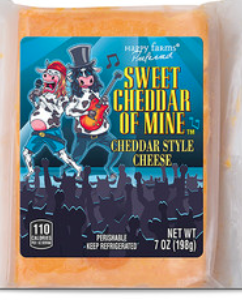 Who says you can't get a little cheesy to differentiate your store brand products? Cheesy can be cool — and downright entertaining — as ALDI is proving.
The Batavia, Ill.-based retailer, which offers more than a 90 percent assortment of private brands, recently added a new twist to its Happy Farms private brand cheese line. Just in time for Sunday's 61st-annual Grammy Awards, ALDI introduced on Feb. 6 its Happy Farms Preferred '80s Smash Hits Cheese Assortment. The six varieties in the line, part of the retailer's popular "ALDI Finds" limited-time offering program, feature names with takes on some of the 1980's most popular rock and pop songs. And who cares that some of those songs have gone down in history as being downright harrowing.
The varieties include:
• Wake Me Up Before You Goat Goat, a play on Wham!'s 1984 song "Wake Me Up Before You Go-Go." While the song was a "hit," it is also perhaps one of the cheesiest songs ever made, which makes it perfect for ALDI's line.
• Sweet Cheddar of Mine is a play on Guns N' Roses 1987 rock anthem "Sweet Child O' Mine." Note to ALDI: I would've made this cheese sharp to match the shrill in Guns N' Roses vocalist Axl Rose's voice.
• Girls Just Wanna Have Fontina is a take on Cyndi Lauper's "Girls Just Want to Have Fun," which blasted every 20 minutes from FM radios everywhere in 1983. This cheese is a good match considering that Lauper's ancestors are from Sicily and Fontina cheese is made from Italian cows (seriously).
• Pour Some Gouda on Me is a take on Def Leppard's 1987 song "Pour Some Sugar on Me." If I was ALDI, I would have summoned Weird Al Yankovic, that master of musical parody, for a television commercial to promote this variety. Can't you see Weird Al pouring melted gouda cheese all over himself? Yes, it would be "weird."
• Total Eclipse of the Havarti is a take on Bonnie Tyler's dreadful "Total Eclipse of the Heart" song from 1983. But as dreadful as it was, there isn't a person out there who didn't secretly crank up that song in the car and sing that refrain, "Turn around bright eyes," as loud as they could. Although I like ALDI's play here, Havarti cheese is said to have a smooth, buttery taste — totally unlike Tyler's car-speeding-on-a-gravel-road-sounding voice.
• Billie Goat Is My Lover, a play on Michael Jackson's "Billy Jean" from 1982, is my favorite. I mean, ALDI had to have the king of pop — the "big cheese," if you will — represented in this line. Billy Goat Is My Lover combines goat and cheddar cheeses for a sweet and tangy taste.
What I also love about the cheese line is the packaging, which is so clever and fun that it will make you smile. The Billie Goat Is My Lover package features a caricature of a white suit-wearing dancing goat ... and with one black glove on, MJ's signature.
I haven't had a chance to sample the cheeses, which sell for $3.49, but I will. Considering ALDI's increasing reputation for manufacturing and selling quality store brand products at a value, I'm sure the cheese products won't disappoint. But it's ALDI's marketing ingenuity that first captured my attention for these otherwise run-of-the-mill cheese products.
Well done, ALDI. You have proven that a little bit of store brand campiness can be a big differentiator for private brands. I bet these cheeses will "Fly Like an Eagle" off the store shelves. Wait … that was a 1970's song. Sorry ALDI.