ALDI and Lidl represent 'a mounting competitive threat'
Get great content like this right in your inbox.
Subscribe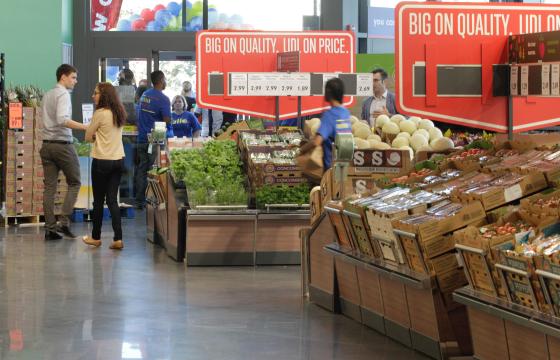 Germany-based grocers ALDI and Lidl continue to make "slow and steady gains" in the U.S. grocery market, according to a recent report from Bain & Co., "How U.S. Grocers Are Standing Up to Europe's Hard Discounters." The management consulting firm's report also stated that ALDI and Lidl, with their discount prices and more than 90 percent assortment of private brands, represent "a mounting competitive threat for traditional grocers" and that incumbent grocers shouldn't remain complacent.
Bain & Co.'s study of more than 17,400 consumers, conducted in partnership with market researcher ROIRocket, found ALDI and Lidl have used their strong customer advocacy and ability to lure consumers into cross shopping as a wedge to build up their presence and popularity in the U.S.: as many as 30 percent of shoppers at mass and traditional grocery stores also regularly shop at ALDI and Lidl.
According to the study, ALDI continues to win over American shoppers. Its consumer advocacy rose to 55 percent in 2018 from 46 percent a year earlier. It outperformed in the two areas customers care about most: "best everyday low prices" and "best value for the money." This has translated into strong market performance and slow but steady gains. In a summer 2018 study, ALDI had more than 3 percent share of grocery spending in six of the eight markets studied, and saw share gains in the majority of those markets over the last two years.
Similarly, Lidl captured 3 percent or more share in five of the seven markets studied in the summer of 2018, gaining spending from traditional grocers.
As ALDI and Lidl expand, "traditional grocers will need to similarly plan for dealing with these hard discounters," the report stated.
"Lidl and ALDI are just beginning to flex their competitive muscles," said Mikey Vu, a partner with Bain & Co.'s retail practice and a co-author of the report. "What we're seeing is that U.S. grocers can effectively stand up to these hard discounters, but that they need to remain vigilant and innovate in strategic areas to keep their edge."
A 2017 Bain & Company report prioritized price as the most important factor in competing with hard discounters and outlined five rules for incumbent grocers to grow share amid the broader disruption caused by the hard-discount format:
• Embrace your own private brands before your shoppers embrace someone else's.
• Lead with fresh.
• Get more convenient while your competitors get less so.
• Transform your cost structure, don't just tweak it.
• Use advanced analytics to unlock new sources of value.
While all five remain important, two have gained in significance since last year: investing in convenience and using advanced analytics or other new technologies to improve operational efficiencies, according to Bain & Co.