Why SuperValu is sowing Wild Harvest brand
Get great content like this right in your inbox.
Subscribe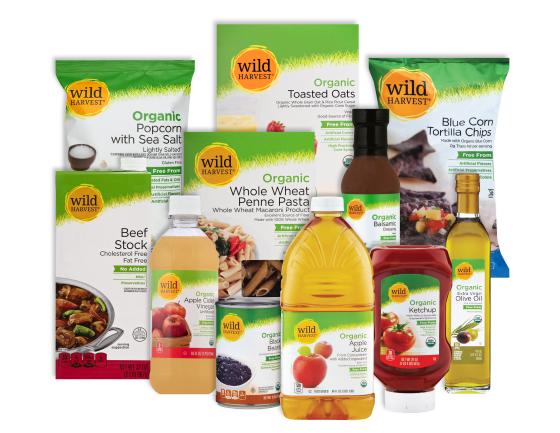 SuperValu's Wild Harvest store brand is anything but tame — it's a beast of a product line that continues to grow in SKUs, sales and popularity.
So forgive executives of the Eden Prairie, Minn.-based grocery wholesaler and retailer for expressing their fervor about the future of the organic and free-from private brand.
"Wild Harvest is just on fire," says Anne Dament, SuperValu's executive vice president of retail, marketing and private brands.
"What we're seeing in Wild Harvest is an own brand that is taking on a life of its own," adds Mike Stigers, SuperValu's executive vice president of wholesale.
Wild Harvest turned 10 years old this year, but it feels like the store brand is just getting started. That perception was evident at SuperValu's 2018 National Expo for Independent Grocery Retailers in July in St. Paul, Minn. Product kiosks and signage promoting Wild Harvest dominated the main hall of the convention center where the event was held. Clearly, Wild Harvest was being celebrated. And why not?
SuperValu serves more than 3,300 independent retailers across 48 states and operates 114 retail stores under banners including Cub Foods, Hornbachers, Shop 'N Save and Shoppers. The company realizes what it has in Wild Harvest — a relevant store brand with, pardon the pun, plenty of shelf life. SuperValu continues to cater to the growing population of consumers who want organic and free-from products by increasing the number of products and categories in Wild Harvest, which is now SuperValu's second-largest and fastest-growing private brand.
Wild Harvest features more than 700 products across 80 categories. Nearly 70 percent of the products are Certified USDA Organic. Food and beverage products in Wild Harvest are free from more than 140 undesirable ingredients — and growing.
"We continue to see year-over-year growth of Wild Harvest," says Bekah Swan, SuperValu's vice president of private brands, although she couldn't reveal the own brand's annual sales.
Wild Harvest isn't the only store brand that SuperValu, which was recently acquired by United Natural Foods Inc. (UNFI) for $2.9 billion, has in the cupboard.
Its largest private brand in SKUs and sales is Essential Everyday, a national brand equivalent line. SuperValu also offers Culinary Circle, a premium brand featuring products of differentiation in several categories; Arctic Shores, frozen seafood products; and Equaline, vitamins and supplements. Overall, SuperValu offers 11 private brand lines of consumer packaged goods and more than 5,000 store brand products. The company launches 300 to 350 new store brand products annually.
Last year, in an effort to better define its fresh business as a private brand, SuperValu introduced Quick & Easy Meals, a line of meal solutions, at its retail banners and to its independent grocers. The line offers three levels of food preparation: fully prepared, ready-to-eat, grab-and-go items; completely assembled heat-and-eat meals; and fresh meal kits, including ingredients that have already been chopped, sliced and measured. 
Organic opportunity
Wild Harvest's roots go back to 1996, when the Medford, Mass.-based supermarket chain Star Market opened a new store, Wild Harvest, to sell organic and natural foods at lower prices than other specialty stores. Star Market opened several Wild Harvest stores throughout New England.
Through the years and several transactions, SuperValu ended up owning the rights to Wild Harvest, making it a private brand entirely.
"The Wild Harvest brand is absolutely essential to a lot of our customers," Stigers says. "They are embracing it."
A reason for that is because organic is now mainstream and private brand organic products cost less than branded organic products. In a recent report, market researcher Nielsen reported the average price for a basket of private brand organic goods was 18 percent less than a branded organic basket. What's more, Nielsen reports that dollar sales of UPC-coded organic products grew 9.8 percent and unit volume increased 11.4 percent in the year ending Sept. 2, 2017.
"Organic purchases are growing across all income levels," Swan adds.
Private brands represent 30 percent of all organic food and beverage sales. More grocers across the retail spectrum continue to increase the offerings in their organic store brand lines.
Wild Harvest products are in dairy and eggs, snacks and treats,,meat, frozen foods, beverages, pantry staples, soups and broths, cereal and oatmeal, canned goods, sauces and condiments, baking, cooking and spices, cleaning and paper products, candy and baby food.
"We made a strategic decision a few years ago to move all of our baby product offerings under Wild Harvest and to offer all organic products," Swan says.
Wild Harvest is not only differentiating with products that are organic and free-from, it's also differentiating with flavors and formulations. Consider its pink Himalayan sea salt Belgian dark chocolate, raspberry black tea, vanilla soymilk and frozen margherita pizza.
In October, SuperValu will roll out a personal care line under Wild Harvest, featuring 40 products including bar soaps, body wash, bath salts, lotions, shampoo, conditioners, hand soap and other products. The food-grade formulations are free from more than 390 ingredients, including parabens, sulfates, synthetic fragrances and colors.
Recognizing it had a more diverse customer base, including an influx of millennials, SuperValu also implemented a new marketing campaign for Wild Harvest. The store brand's new tagline is six words — "Full of good, free from bad" — a strong and persuasive play on words that targets millennials, the nation's largest generation with spending power growing by the day.
"The slogan tested well with consumers, especially millennials," Swan says.
SuperValu will introduce more than 80 new products under Wild Harvest in 2018, including grass-fed organic beef and all-natural beef, cauliflower crust gluten-free three-cheese pizza, ready-to-drink organic teas and juices, organic cheeses and organic applesauce in pouches.
"We will continue to follow the consumer with this brand,"  Swan says. "We want it to be represented across many categories."
Wild Harvest has undergone a few packaging renovations in the past 10 years, although its trendy, screaming-yellow logo, which has held up well over time, remains the same.
Swan is also pleased that Wild Harvest's distribution is growing. When SuperValu acquired Commerce, Calif.-based Unified Grocers Inc. (UGI) in 2017, it received distributor Market Centre in the deal. Market Centre helps its retail customers differentiate through customized selections of multicultural, natural/organic and specialty/gourmet products. Market Centre is procuring and merchandising Wild Harvest as part of its customized selections on the West Coast and in Florida, areas where the store brand previously didn't have a presence.
SuperValu research reveals that many consumers don't regard Wild Harvest as a store brand; they view it as simply a brand. While Swan wants consumers to know Wild Harvest is a SuperValu store brand because it provides a point of difference, she realizes that consumers who view it as a brand is validation of how far some store brands have come from the bad ol' days of private label black-and-white packaging.
"Our customers think of Wild Harvest as a product they can trust and can find in a host of retail stores,"  Swan says.
Wild Harvest could also get a boost through UNFI's late-July acquisition of SuperValu. Providence, R.I.-based UNFI, a long-tenured player in the natural and organic segment, has been the primary wholesale supplier to Whole Foods Market for nearly 20 years. The question begs to be asked: Could Wild Harvest end up being sold in Whole Foods stores and on Amazon.com after the deal is finalized?
The big picture
It remains to be seen what UNFI's acquisition will have on SuperValu and its 11 private brand lines, especially considering that UNFI has its own private brands. But SuperValu CEO Mark Gross told the Minneapolis Star Tribune recently that "the combined UNFI-Supervalu private brand portfolio will be even stronger as we look to drive cost savings, expand variety and accelerate innovation."
There is talk that SuperValu will divest its remaining retail banners under UNFI. SuperValu has increased its wholesale business from 44 percent in 2016 to 80 percent in 2018, according to Stigers, who says SuperValu invested approximately $135 million in fiscal 2018 toward the purchase and improvement of distribution centers to support the growth of its wholesale business.
"We are bringing SuperValu back to its grass roots, which is being the wholesaler of choice," Stigers says.
SuperValu's independent grocers may operate one store, two to 10 stores or more than 10 stores. Some of the independent customers are privately held regional chains such as West Sacramento, Calif.-based Raley's Supermarkets, which operates about 120 locations in northern California and Nevada.
"We provide the opportunity for those family businesses to be relevant and successful to the communities they serve," Stigers says.
SuperValu's private brands play an important role in that relevancy. And, for now, SuperValu's 35-person private brand team is forging ahead with its private brands plans, including sprucing up the packaging of Essential Everyday to make it more "modern and fun," Swan says.
"Our prior design was pretty flat and rigid from a packaging and architecture standpoint," she adds. "We are really trying to play up packaging with a brighter feel."
With 2,500 SKUs in a line that covers about 250 categories, the rollout of the new packaging, which began in January, will take about 20 months. SuperValu also continues to add new products and categories to the line.
"We continue to follow the national brand queues," Swan says. "We need to make sure that Essential Everyday continues to deliver for SuperValu and its customers."
Culinary Circle, launched in 2008, is another promising line featuring 250 SKUs and growing, spurred by an increase of food adventurers seeking bold flavors, Swan says. It features frozen food, beverages, deli items, meat and seafood, pasta sauces and other items.
When Adam Sinley, SuperValu's director of private brands product development and quality, talks about Culinary Circle, he waxes about "aggressive flavor profiles and unique artisan items that really push the boundaries of what is in the typical pantry."
"[Culinary Circle] is poised for that kind of innovation," says Sinley, a classically trained chef and food scientist.
In the fresh category, Quick & Easy will continue to be fine-tuned. When Dament began her role at SuperValu about two years ago, she noticed the company didn't have one go-to-market strategy to provide its customers with meal solutions. All of the fresh departments, from meat to produce, worked in siloes, she says.
"So we knocked down siloes with one go-to-market strategy,"  Dament adds. "This is an exclusive SuperValu private brand, but we want to build it like a national brand."
According to a recent SuperValu consumer study, 59 percent of consumers purchase private brands. The top three reasons they do are budget (39 percent), quality (32 percent) and because they like natural/organic (26 percent). Eighty-seven percent of the consumers SuperValu surveyed said they think the variety of private brands is "good" or "very good."
The success of SuperValu's private brands is ingrained in innovation, Dament says. It's vital to keep working with SuperValu's more than 300 suppliers to take innovation to another level, even if some products fail along the way.
"I would rather push the boundaries too far in innovation and have to pull back than not take a risk," Dament says.