Why dogs are jumping up and down about Petco
Get great content like this right in your inbox.
Subscribe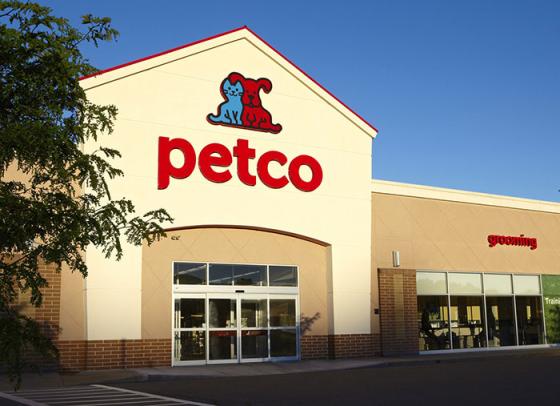 With its new pet food kitchen, San Diego-based Petco believes it has something for the growing and nearly $30 billion pet food industry to bark about.
The pet services retailer is opening the first-ever in-store human-grade pet food kitchen at its flagship store in New York's Union Square. Petco is teaming with JustFoodForDogs, which produces fresh, nutritionally balanced meals for dogs in open kitchens daily. JustFoodForDogs has freestanding pet kitchens in California and Seattle, with additional sites under construction in Boston and Chicago.
The 1,350-square-foot in-store kitchen at Petco features JustFoodForDogs' trained chefs who hand-prepare the brand's signature recipes daily. Similar to the company's existing kitchens, it will produce 2,000 pounds of food daily, seven days a week. Petco plans to open more of the in-store kitchens during the next several years as part of its partnership with JustFoodForDogs, whose products are already sold at more than 1,000 Petco stores and online.
"The ability to provide fresh, made-before-your-eyes pet food with real, unprocessed human-grade ingredients is game-changing, both for Petco and for the pets and pet parents we serve," said Petco Co-Chief Merchandising Officer Nick Konat. "This launch truly brings to life our bold nutrition standards, and serves as another proof point in our steadfast commitment to only offering foods we believe support the overall health and wellness of pets."
The opening of the kitchen follows Petco's recent announcement that, as of May 1, it is the first and only major retailer of pet food and treats to take a stand against artificial ingredients by clearing its shelves of food and treats containing artificial colors, flavors, and preservatives for dogs and cats.
"We're thrilled to introduce New York's first fresh pet food kitchen and mark the beginning of our national expansion with our first kitchen location on the East Coast," said Shawn Buckley, founder of JustFoodForDogs. "Our partnership with Petco has allowed us to increase our national footprint, and with this new location, we're making it easier to access our freshly prepared meals, custom diet plans, health supplements and more."