Whole Foods eyeing former Sears stores
Get great content like this right in your inbox.
Subscribe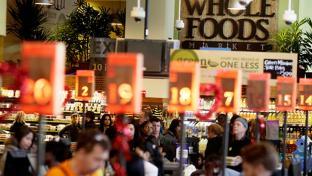 While some traditional retailers are having a hard time keeping their doors open, Amazon-owned Whole Foods Market has been gearing up to rapidly expand into more regions, according to a Yahoo article.
Whole Foods is eyeing sites that were previously home to Sears, Kmart and other struggling retailers, Yahoo reports.
Last month, for instance, Whole Foods managers visited a site in Utah that used to host a Kmart store. The store shut down in mid-2017 among its parent company's financial woes and has been vacant ever since.
Whole Foods now has more than 470 stores around the country, still a far cry from its competitors in the grocery space, including Walmart and Kroger. Eighteen months after Amazon's acquisition, Whole Foods now has the money to open new locations in areas that were once out of reach, including states like Wyoming and Montana, according to Yahoo.
To read the Yahoo article, click here.