02/06/2019
What makes a good cup of coffee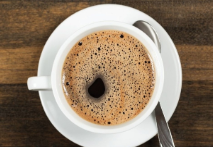 Nothing but the best will do for java lovers, it seems.
Coffee that's not premium is losing out in the marketplace to coffee that is, reports consumer market researcher Packaged Facts in its April report, "Office Coffee Service in the U.S.: Market Trends and Opportunities."
Gourmet coffee consumption is at a record high. An impressive 59 percent of all cups of coffee consumed are gourmet — compared to 46 percent only five years ago, according to the National Coffee Association's "2017 National Coffee Drinking Trends" report. 
Among the top five beverage types by household usage, only coffee increased usage penetration from 2008 to 2017, according to Packaged Facts. And the younger the head of household, the stronger the growth was. Among households headed by those 25 to 34, coffee usage grew by 10 percent. In households headed by 18- to 24-year-olds, coffee usage grew by 19 percent. 
Americans are drinking more coffee. Packaged Facts estimates coffee consumption will hit 8.8 billion gallons in 2018. Per-capita U.S. coffee consumption rose an average of 2.6 percent annually over the 10-year span, well over U.S. population growth of 0.8 percent in the same period, Packaged Facts reports.
Premium and private
Private brands, together with premium products, are driving dollar and unit sales in the ground coffee category, says Darron Burke, president of Miami-based Burke Brands LLC, grower and roaster
of the company's Don Pablo Coffee brand, coffee for private brands clients and spokesperson appearing in the brand's commercials.
Brands traditionally in the value segment (such as Folgers and Maxwell House) are moving upscale as private brands continue to gain momentum, says Burke, citing Folgers 1850 as an example. "This trend is similar across all of CPG (consumer packaged goods," Burke adds.
Consumers have been willing to pay more per cup to have a better cup of coffee and a better coffee experience, Burke says, explaining what's behind the "premiumization" trend. "All you have to do is look at retailers' shelves to clearly understand their priorities."
Growing private brands in this category means retailers must deliver at or above the branded quality, and value, at a lower retail price while increasing margins, Burke says. "In some cases, retailer brands can lead the innovations (as has Costco Wholesale's Kirkland Signature, Walmart's Sam's Choice and Sam's Club's Member's Mark) and other times it [makes sense]to be a fast follower."
Burke expects single cup coffee pod sales will continue to grow as the economic barrier to entry lowers due to the competitive marketplace and private brand development.
"We're betting on an increase in demand on both the retailer level and the consumer level for sustainable packaging in single serve, and have introduced 100 percent recyclable k-cups (including the lid and filter) and compostable Nespresso-compatible capsules in order to stay ahead of the trend. As demand increases, so does innovation and the number of options manufacturers have for sustainable packaging and, as a result, costs come down," Burke says.
Single cup coffee is one of the segments largely responsible for coffee category growth, according to Packaged Facts, as outlined in its "U.S. Beverage Market Outlook, 2018" report.
Coffee sales grew by a compound annual growth rate (CAGR) of 5.9 percent between 2012 and 2017, with volume growth outpacing dollar growth, according to Packaged Facts, which projects retail dollar sales of coffee (including ready-to-drink (RTD) coffee) to exceed $18 billion in 2022, increasing by a CAGR of 5.9 percent between 2017 and 2022.
Functionality heats up
Pressure from consumers, government agencies and consumer activist organizations has prompted manufacturers to expand their "good-for-you" offerings in every beverage category, Packaged Facts reports. These enhanced drinks include those that are organic and fortified with nutrients as well as those containing probiotics, prebiotics and protein. "The future belongs to the health consumer and the companies that meet their needs," the report declares.
As retailers and manufacturers logically drive sales to a higher dollar ring and penny profit, they need to drive ground coffee sales in a way that does not take away from the k-cups but adds an additional consumption, Burke advises. "Value-added (with vitamin, protein, fiber and other sought-after additions) encourages consumers to trade up from the lower register of ground coffee to a mid- to higher level with flavorings [and other enticements]." 
The next wave of innovation for coffee includes enhanced functionality: medicinal mushrooms such as Reishi, Chaga, Cordyceps and Lion's Mane for added health benefits; high protein (plant-based, collagen or whey); alignment with emerging diets like ketogenic; and a plus-up on energy claims, minus the jitters by formulating with natural energy boosts such as Guarana extract, says Nicole Peranick, senior director of retail transformation for Stamford, Conn.-based Daymon, a global retail services company that specializes in private brands.
Further, with expanding legalization, more mainstream applications of cannabis and cannabidiol (CBD) in coffee will come onto the scene, Peranick adds. "We are already starting to see this play out in products such as Four Sigmatic Mushroom Coffee and Vitacup's line of single serve coffee infused with vitamins to boost energy and metabolism. Expect to see more coffee products tout their performance benefits in 2019 and beyond."
Beyond functionality, consumers are increasingly turning to coffee for enhanced experiences, Peranick adds. "To continue to engage shoppers, expect to see more flavor-forward seasonal varietals, alcohol-inspired flavor profiles and textures and DIY (do-it-yourself) flexible forms for a customizable experience."
As more consumers seek to align their taste preferences with social values, expect to see more premium selections that offer both high bean quality and a sustainable proposition to address a more discerning shopper, Peranick adds. "Tapping into emerging consumer needs around peak performance and enhanced experiences offers a host of opportunities for retailers to leverage their private brands to drive innovation in trend-rich categories like coffee," she adds.