Wegmans' multi-level store with Mexican restaurant opens April 29
Get great content like this right in your inbox.
Subscribe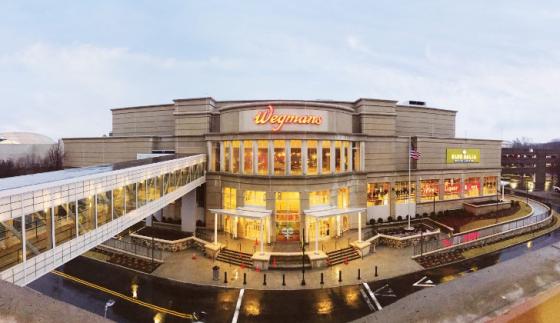 Rochester, N.Y.-based Wegmans Food Markets, a retailer known for its strong private brands and named by Fortune magazine as the second best place to work in the U.S., is opening its much-anticipated multilevel Natick, Mass., store on April 29. Five days later, Wegmans' first Blue Dalia Restaurant & Tequila Bar will open in the store.
Located in the Natick Mall, "the store is a unique space that looks unlike anything we've done before," said its manager, Rich Boscia, in a statement. "Every decision was made with our customers in mind."
Spanning two levels, each with direct access to the mall, the 146,500-square-foot Natick location is among the family-owned company's largest stores. Its bright central atrium features a cart conveyer system with an adjacent escalator for customers to navigate between floors. The spacious layout offers nearly 70,000 items in all, more than 3,000 of which are organic.
On the second level, customers will find The Burger Bar and Buzz Coffee Shop, a wide variety of prepared foods with ample seating, fresh produce, bakery, seafood, meat, cheese, deli and charcuterie, catering and a floral shop. The ground level encompasses natural foods, grocery, dairy, bulk and frozen items, along with health and wellness, home and entertaining, and an extensive selection of wine, liquor and beer.
Of the thousands of preparations that go into opening a new store, nothing has been more important to the Natick Wegmans than choosing the right 550 employees, Boscia said. They will deliver the standout customer service that sets Wegmans apart, he said, whether firing up the custom rotating brick hearth oven for a made-to-order pizza; hand-decorating one of more than 30 varieties of Cookie Shop cookies; talking about how to prepare fresh-caught, locally sourced seafood; or guiding a customer toward an ideal wine pairing for an unforgettable meal.
"We've brought together a terrific team, and we're still hiring for available full- and part-time opportunities," Boscia says. In preparation for the opening, new employees have been training for up to six months at other Wegmans stores in Massachusetts.
To learn more about the new Wegmans location, visit this web page. 
"This is a beautiful place to visit for anything from a cup of coffee and a snack to a full grocery shop or a memorable dinner at Blue Dalia," Boscia added.