Wegmans, H-E-B and Publix earn top customer experience ratings
Get great content like this right in your inbox.
Subscribe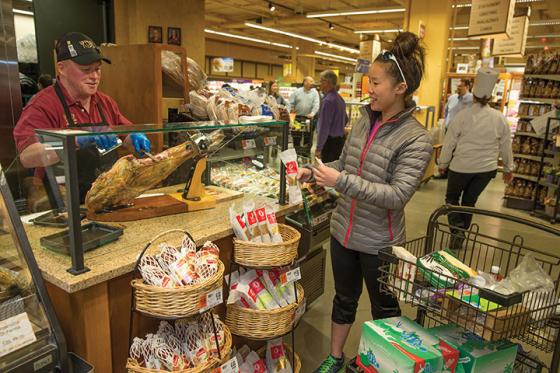 Wegmans Food Markets, H-E-B and Publix Super Markets deliver the best customer experience in the supermarket industry, according to the 2018 Temkin Experience Ratings, an annual customer experience benchmark of companies based on a survey of 10,000 U.S. consumers conducted by Temkin Group, a Waban, Mass.-based consumer market research firm. 
This year, supermarkets earned some of the highest scores among all types of businesses analyzed by Temkin. With a score of 86 percent, Rochester, N.Y.-based Wegmans not only received the highest score in the supermarket industry, but also topped all other rated businesses   —  ranking first out of 318 companies across 20 industries. Likewise, H-E-B and Publix earned the second-highest scores for both the supermarket industry and the ratings overall, each with a score of 83 percent. Batavia, Ill.-headquartered Aldi U.S. and Media, Pa.-based Wawa Food Markets — each of which scored 82 percent and tied for seventh place overall  — also ranked in the top 10.
All of the highly ranked supermarkets have strong private brands programs.
Overall, the supermarket industry averaged a 79 percent rating in the 2018 Temkin Experience Ratings and came in first place out of 20 industries, which ranged from banking to lodging. The average rating of the industry improved by 0.4 percentage points between 2017 and 2018, going from 78.1 percent to 78.5 percent.
The ratings of all supermarket banners in the 2018 Temkin Experience Ratings are as follows:
Wegmans: 86 percent

H-E-B: 83 percent

Publix: 83 percent

Aldi: 82 percent

Wawa Food Markets: 82 percent

Trader Joe's: 81 percent

ShopRite: 81 percent

Save-a-lot: 80 percent

Food Lion: 80 percent

Meijer: 79 percent

Kroger: 79 percent

Hy-Vee: 79 percent

Winn-Dixie: 79 percent

Albertsons: 78 percent

Safeway: 77 percent

Piggly Wiggly: 77 percent

Stop & Shop: 76 percent

Vons: 75 percent

Giant Eagle: 74 percent

Bi-Lo: 73 percent

Hannaford: 72 percent

Whole Foods Market: 72 percent

AmazonFresh: 67 percent
"Supermarkets have been the highest-scoring industry since 2012, and this year was no different. But the leadership has changed, as Wegmans jumped over H-E-B to earn the top spot," states Bruce Temkin, managing partner of Temkin Group.
Wawa Food Markets' customer experience score improved the most over the previous year, gaining nine percentage points. AmazonFresh, on the other hand, declined the most, dropping by 13 points.
To generate these ratings, Temkin Group asked 10,000 U.S. consumers to evaluate their recent experiences with a company across three dimensions:
Success — Can you do what you want to do?

Effort — How easy is it to work with the company?

 Emotion — How do you feel about the interactions?.
Temkin Group then averaged these three scores to produce each company's Temkin Experience Rating. In these ratings, a score of 70% or above is considered "good," and a score of 80% or above is considered "excellent," while a score below 60% is considered "poor."
The 2018 Temkin Experience Ratings, along with other ratings, can be accessed at the Temkin Ratings website.