Wegmans' Blue Dalia Mexican Restaurant & Tequila Bar opens
Get great content like this right in your inbox.
Subscribe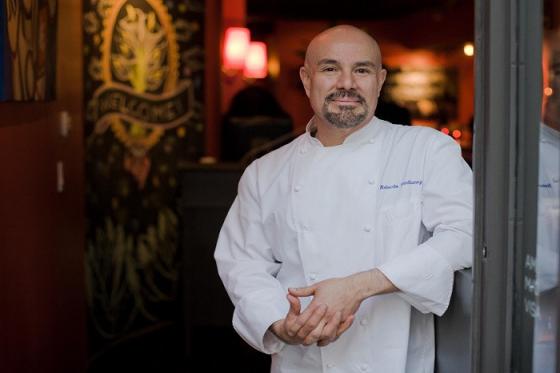 On May 4, Rochester, N.Y.-headquartered Wegmans Food Markets opened its first full-service Mexican eatery, the Blue Dalia Mexican Restaurant & Tequila Bar, in the retailer's new Natick, Mass., location.
Led by Chef Roberto Santibañez, the culinary director, and Chef de Cuisine Geno Bahena, the restaurant specializes in contemporary Mexican food and craft cocktails prepared with fresh ingredients, Wegmans stated.
"We have created a menu that truly showcases the best of Mexico," Santibañez said in a press release. "We offer contemporary takes on authentic regional Mexican cuisine and celebrate seasonal ingredients enhanced by an extensive tequila collection. We are excited for guests to enjoy approachable, but sophisticated dishes."
The inspiration behind Blue Dalia is Santibañez' hometown of Mexico City. Located on the second floor of the new Wegmans, "Blue Dalia brings the energy of Mexico's famous markets to life with its location," Wegmans noted. The menu features traditional family recipes, seasonal ingredients, and "modern soulful dishes."
Restaurant patrons will see tortilla-making on display as well as hand-crushed salsas and made-to-order guacamole. The Masa Antojitos section of the menu features Mexican staples such as tamales, flautas and quesadillas. Seafood small plates and a wide variety of entrées pay homage to Mexico's distinctive regional flavors. The following items are chef favorites, according to Wegmans:
Enchiladas con Mole Xico — braised chicken with Veracruz style mole on organic corn tortillas.
Esquites con Langosta — a typical Mexican corn salad made with lobster and queso cotija.
Tamalitos de Elote  — poblano and cheese tamales served with a black bean velvet sauce.
Wegmans pointed out in the press release that restaurant designer Mark Knauer was brought in to develop a cohesive and festive design. "Between bright colors and artwork, carefully curated decor and the contrast between light and dark, the space helps diners to travel to the place where the menu was imagined," Wegmans stated. "The Blue Dalia name is a nod to both Mexico's national flower and Wegmans' commitment to unparalleled ingredients, bold flavors and exceptional service."