Walmart now delivers to customer fridges
Get great content like this right in your inbox.
Subscribe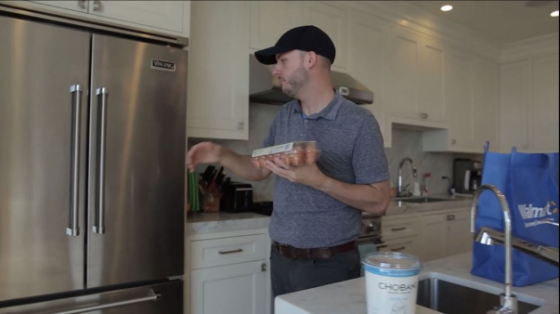 Bentonville, Ark.-based Walmart may be trying to keep up with Amazon's garage delivery program by offering deliveries inside customers' homes and garages.
According to Walmart, its delivery division will launch a pilot of InHome Delivery, a new service that brings grocery deliveries directly to customers' refrigerators when they are not home. Customers place an online grocery order and then select InHome Delivery and a delivery day at checkout.
At the time of delivery, a Walmart employee will use the company's smart entry technology and a wearable camera to enter the customer's home. According to the company, the employee will have their jobs focused on this service and go through an extensive training program that includes instruction on how to enter and treat a customer's home, select the freshest grocery items and organize an efficient refrigerator. Customers will control access into their homes and have the ability to watch deliveries remotely. Pricing for fridge delivery has not yet been announced.
The service will kick off this fall for over 1 million customers in Kansas City; Pittsburgh; and Vero Beach, Fla. Later this year, InHome will also accept returns for items purchased on Walmart.com. Customers will be able to leave returns on the counter and the delivery associate will return the items on their behalf.