Walmart announces solid third quarter
Get great content like this right in your inbox.
Subscribe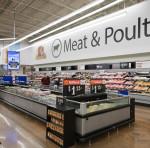 In announcing Walmart's U.S. third-quarter earnings, the retailer's president and CEO Doug McMillon said, "We have momentum."
No doubt. Walmart reported an increase of $5 billion or 4.2 percent in revenue for the quarter compared to 2016's third quarter, including an increase in comp sales (2.7 percent) and comp traffic (1.5 percent). Net sales were up 4.3 percent. But what really stood out was Walmart's increase in net sales (50 percent) in e-commerce.
"It's encouraging to see customers responding to our store and e-commerce initiatives," McMillon said in a press release. "We are leveraging our unique assets to save customers time and money and serve them in ways that are easy, fast, friendly and fun. … Across almost all categories, we're seeing growth. The food business, in particular, has accelerated and delivered the strongest quarterly comp sales performance in almost six years with our fresh meat, bakery and produce teams leading the way."
Walmart now has online grocery in more than 1,100 stores and will expand it to another 1,000 locations next year.
"Existing customers have become advocates for popular initiatives like online grocery and free two-day shipping, and as a result, new customers, suppliers and partnerships are coming to Walmart," McMillon said. "The expanded assortment on Walmart.com has also contributed to growth. Over the past year, we've tripled the number of items on Walmart.com to reach more than 70 million SKUs today. … At Jet.com, we continue to position the business to focus on higher income, urban customers."
Walmart also reported that Sam's Club comps were strong at 2.8 percent, not including fuel.
"We're especially pleased with the improvement in member traffic, which was up 3.6 percent. We're focusing the business to accelerate growth, narrowing the target member, and taking steps to become more special to that member," McMillon said. "By narrowing the focus on this member, we believe we can earn a greater share of their wallet. We're already making good progress in areas where we want to win, including fresh food and with our Member's Mark private brand. I'm encouraged by what we're seeing at Sam's Club."