12/04/2018
Walgreens turns to groceries for growth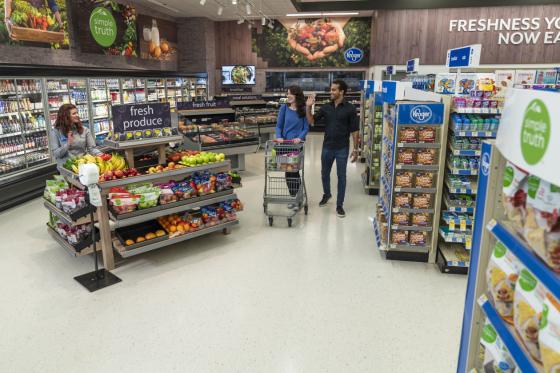 Walgreens is going to turn at least 13 of its stores into mini-Krogers as the drug chain looks to jump-start lagging sales by selling groceries.
Deerfield, Ill.-based Walgreens and Cincinnati-based The Kroger Co., which announced a partnership in October to sell some Kroger products in 13 Walgreens locations in Kentucky, said they have decided to expand on the original "Kroger Express" pilot.
Kroger says Walgreens shoppers at these stores will now be able to shop a curated assortment of 2,300 products selected for each store using customer data and insights provided by Kroger subsidiary 84.51°. The Kroger Express selection will include a variety of Kroger's own brand products, including Home Chef meal kits and Simple Truth, along with other private brand dairy, meat, produce, frozen and meal solutions.
"We are redefining the customer experience in a variety of ways through Restock Kroger, including innovative partnerships like our test-and-learn pilot with Walgreens. We are excited to enter the next phase of the pilot," said Robert Clark, Kroger's senior vice president of merchandising, in a press release. "The Kroger Express concept creates easy access to our most popular Our Brands products through a fill-in grocery shopping experience for Walgreens customers, and our Home Chef Express meal kits provide customers with an on-demand solution for tonight's dinner."
Walgreens' U.S. retail pharmacy division posted fourth-quarter sales in October of $25.5 billion, an increase of 14.4 percent year over year. But same-store sales in the quarter were flat. The new initiative with Kroger has the potential to revive stagnating customer traffic to Walgreens stores.
In addition, the new offering enhances the reach of the Home Chef Express products, already available at certain Kroger stores, including select Mariano's stores in the Chicago area. During the pilot, Walgreens says it will offer three unique Home Chef Express meal kit options, with recipes rotating bi-weekly. Other recipes are available for delivery through homechef.com, where shoppers can find additional weekly variety.
"Customers have responded favorably to the retail meal kits at our Mariano's stores in the market and at other Kroger stores located in different cities," Clark said.
Walgreens also announced it will offer Home Chef Express Meal Kits in 65 of its Chicago area drugstores as part of an expanding pilot.
"Making Home Chef Express meals available at Walgreens is another way Home Chef is making meal time easy," said Pat Vihtelic, Home Chef CEO and founder. "The Express recipes, which cook in 15 minutes, are meals anyone can cook and everyone will love."
The first Kroger Express concept is operational in Florence, Ky. The remaining 12 pilot stores will be operational early next year.
In addition to selling Kroger-branded products in stores, Walgreens will also allow customers to order online from the grocer and pick up the items at the pharmacy chain.
Kroger operates 2,800 retail food stores across the United States; Walgreens has 9,560 stores.