11/07/2017
Waitrose adds to seasonal sandwich line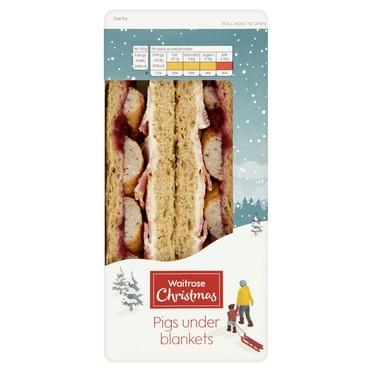 British supermarket chain Waitrose is introducing six new seasonal sandwiches under its own brand. The retailer announced that its Christmas Good To Go line has doubled this year.
Waitrose's Wensleydale and Roasted Winter Vegetable Sandwich features creamy cheese with maple roasted vegetables and is served on a nine grain bread. "The addition of a kale and sprout mayo makes this a very Christmassy eat," according to Waitrose.
Another addition is a take on a Christmas classic: Pigs Under Blankets features British pork sausages tucked into malted bread with smokey beachwood bacon and a juicy cranberry sauce.
The Christmas Spiced Falafel Flatbread features flatbread full of sweet potato falafel, braised red cabbage, crumbly feta cheese, roasted butternut squash and a spicy yogurt.
The Spiced King Prawn Cocktail Sandwich is made with malted bread and filled with juicy prawns, Bloody Mary-style aioli accompanied by pickled celery, cucumber and spinach.
One of the most popular sandwiches at Waitrose is the duck wrap and the supermarket is launching a festive twist for 2017 — a Duck and Blackberry Chutney Wrap, which is a tasty tortilla filled with braised red cabbage, shredded duck, fruity blackberry chutney and nutritious spinach.
Another year-round favorite, the Brie and Grape Sandwich, has also been given a Christmas makeover. The brie combined with sweet, crunchy grapes now has a dollop of tangy and festive cranberry sauce.