03/19/2019
Time to fire it up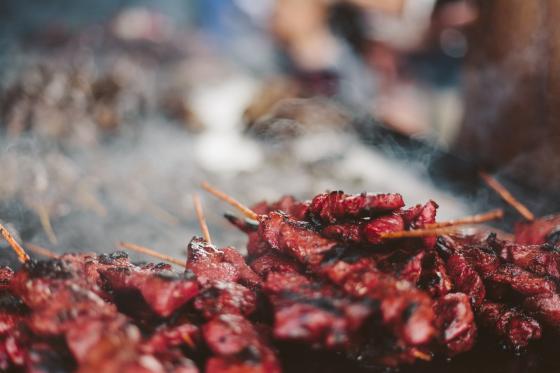 Beach days and barbecue parties might seem like months away for many U.S. consumers, but spring is the real beginning of the grilling season for retailers, as outdoor furniture and bags of charcoal start appearing at the front of the store. 
In fact, the sound of fires crackling and the aromas of chargrilled meat and vegetables are already palpable in many parts of the country where warm temperatures arrive early. 
So March is the perfect time for retailers to embrace America's love of barbecue by leveraging their private brands to create new grilling value propositions that cater to consumers' changing palates and unique needs, says Nicole Peranick, senior director of retail transformation at Stamford, Conn.-based Daymon, which provides private brands development.
The summer barbecue season presents a great opportunity for retailers to tie in many private brand categories, from meat, center store and dairy to bakery, wine and produce. And to win the grilling season with private brands, retailers should be taking a three-pronged approach: new cross-merchandising tactics, innovative promotions and bold flavor assortments.
"The summer barbecue evolution is taking on the forms of flavor innovation, redefining the center of the plate, and curating assortments around solutions to create one-stop shop destinations for today's always-on shopper," Peranick says. "To address shopper lifestyles that are becoming ever more urban and on-the-go, retailers are also bringing forth more relevant seasonal solutions through their private brands by creating connectivity across departments."
When it comes to the grilling season, all of this is coming to life in-store through new cross-merchandising strategies that more thoughtfully curate products to simplify the shop, Peranick says. 
For example, retailers such as Greensboro, N.C.-based The Fresh Market are putting their store brand Asian barbecue sauces and accompaniments in the meat and seafood department with signage on grilling to create a more complete seasonal narrative. Retailers are also leveraging the condiment and seasonings aisles by cross-merchandising private brand pulled pork sauces next to the sandwich buns in the bakery, or putting a cooler full of store brand pork ribs next to the fresh corn on the cob in the produce department.
"In addition to new merchandising approaches, retailers are expanding their assortments of own brand ready-to-cook grilling items, such as stuffed burger patties, kababs with meat and vegetables, pre-marinated chicken or pork, pre-made jalapenos with cream cheese and bacon, to name a few, to cut prep time out for the consumer and solve [the question of] 'what's for dinner?' " Peranick says.
At Carlisle, Pa.-based GIANT Food Stores, the goal is to elevate these products and solutions for customers in ways beyond the typical on-shelf placement. 
"We leverage off-shelf, custom display units, barges and end caps to merchandise products to both inspire our customers and make it easier to find the items they're looking for and need," says Ashley Flower, manager of external communications and community relations at GIANT Food Stores. "We're innovating with flavors, offering value-added items that save our customers time (baby back pork ribs), and adding something a bit more premium to the table (private brand Taste of Inspiration buns)."
Beyond merchandising, retailers are also leveraging their private brands in promotions that highlight store brands for the grilling season that are high quality yet low cost.
"Take Target's Made by Design housewares line. It includes many sleek, stylish, on-trend, yet affordable grilling items like a steel gas grill smoker box, steel grill topper pan, grill trivet, and stainless steel grill basket. Target gives the line prime merchandising placement," says Carol Angrisani, author of a food shopping e-newsletter and video series at StoreBrandsUSA.com.
Minneapolis-based Target is a good example of a retailer that creates big, colorful in-store displays of private brands that stop the shopper, Angrisani adds. Retailers such as Issaquah, Wash.-based Costco Wholesale, with its summer assortment already in stores, could focus on creating similar summer grilling displays in-store with an array of its best-selling private brand products for the grilling season.
Digital tools offering recipes, how-to videos and giveaways are another good promotional tool for retailers looking to showcase their outdoor cooking private brand products.
"As innovations in everything from 3-D     imaging to algorithms that drive recommendations continue to improve, perhaps the biggest 'merchandising' opportunity exists in the digital space" says Carol Spieckerman, a retail and brand thought leader, speaker, strategist, trainer and author.
When it comes to non-food, retailers should be integrating their own brand grilling tools and accessories into seasonal assortments for a true end-to-end solution for shoppers.
"The Kroger Co. not only has a variety of better-for-you foods and beverages under its Simple Truth store brand, but also non-food grilling accessories like its Simple Truth 100% natural hardwood lump charcoal," Angrisani says. "Another way retailers are differentiating is by offering products that make grilling easier and more convenient. Kroger, for instance, has instant light charcoal briquettes under its Kroger brand. The briquettes are ridged for fast lighting without the need for lighter fluid," .
While the meat department remains the star of the grill, Peranick says she is seeing retailers rethink grilling through the lens of veg-centric.
"Progressive retailers are translating these broader consumer shifts into new seasonal solutions," Peranick explains. "Think pre-cut and seasoned cauliflower and avocado steaks, pulled jackfruit, portabella burgers and plant-based patties. Expect to see the continued influence of plant-centric on private brand innovation across not only the seasons but also the store overall."
As meat lovers fire up the grill this season, they are also increasingly looking for non-traditional cuts, new flavor profiles, regional sauces and ethnic barbecue ingredients.
"On the flavor front, we are seeing two trends converge to bring new taste experiences into private brand grilling assortments: global fusion and regional distinction," Peranick notes." For example, barbecue sauces and rubs from around the world, such as Korean, Moroccan and Peruvian, or paying homage to specific profiles across the U.S., namely Kansas City, [Mo.], Memphis and Texas. Flavor innovation is also extending beyond food to create dynamic pairings with complementary grilling products, like infused charcoal briquettes that impart notes of hickory or mesquite to dimensionalize flavor."
According to Flower at GIANT, the grocer's top barbecue flavor trends for 2019 include:
• Regional flavors (Kansas City, Memphis, North Carolina).
• International influences (Korean, Asian, African).
• Alcohol-infused (bourbon, stout).
• Specific trending ingredients in barbecue sauces: honey, ginger, mustard, smoke, unique peppers .
"We find that grilling, outdoor eating and summer entertaining are universal trends that transcend generations," Flower says. "Millennials, foodies, everyone is excited about experimenting with new flavors and combinations. We aim to provide them the products and inspiration they need to win at the grill."
Flower says the retailer is also expanding the definition of "grilling season" into the "off-season" by educating its customers how to use these flavors and sauces across various cooking methods to provide them solutions year-round.
"Moving forward, it is incumbent upon retailers to constantly challenge themselves to get ahead of the changing shopper who continues to abandon conventions," Peranick adds. "Grilling is a perfect example. Interest in grilling is no longer reliant on the calendar. Consumers are shifting the script and embracing grilling as a year-round cooking solution. Retailers can use that to their advantage to create a more differentiated private brand narrative around grilling to enhance exclusivity."
Acosta, managing editor of Store Brands, can be reached at [email protected]