There they grow
Get great content like this right in your inbox.
Subscribe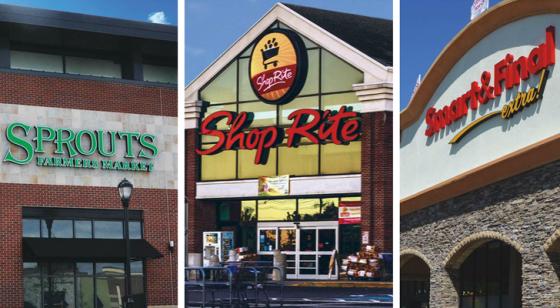 A number of grocery retailers have been struggling in recent years, facing stiff competition from new formats and more. But some others have been thriving — not only fending off the competition, but also growing at an impressive pace.
We are pleased to profile three retailers deemed "ones to watch": Sprouts Farmers Market Inc., Phoenix; Keasbey, N.J.-headquartered Wakefern Food Corp.; and Los Angeles-based Smart & Final Stores Inc. All three retailers boast comprehensive private brand programs that certainly help drive their success.
Balancing health and value
Sprouts Farmers Market ranked number 19 on the National Retail Federations 2015 "Hot 100" list, the highest of any food retailer. Although the first Sprouts store opened in 2002 in Chandler, Ariz., Sprouts' wild growth ride really began in 2011, when it joined with Henry's Holdings, which ran 35 Henry's Farmers Markets stores and eight Sun Harvest Market stores. The purchase of the 37-store Sunflower Farmers Market chain a year later only further fueled that ride. The natural and organic retailer currently operates more than 220 stores in 13 states. And it has a very aggressive growth strategy, opening 12 new stores in the first quarter of 2016 and announcing plans to open 12 more in July, August and September — and a total of 36 for the year.
But Sprouts' secrets to success go well beyond acquisitions.
"Our unique combination of health, value and customer engagement resulted in industry-leading comps of 5.8 percent and strong earnings growth in the high teens," noted Amin Maredia, Sprouts' CEO, in a 2015 earnings-related press release. "This momentum enables us to focus on our strategic priorities, including product and category innovation, in- and out-of-store customer experience and developing team members who can lead our new stores as we continue to grow."
Sprouts also "makes healthy eating affordable," notes Shannon Anderson, the retailer's private label director. "Rooted in health, uniqueness and value," Sprouts brand products resonate strongly with shoppers. The brand's target is the everyday shopper, he explains, and many products under the brand serve as "stepping stones" for shoppers beginning the journey to a natural and organic lifestyle.
"Sprouts brand products don't just look great; they taste great and are made to high quality standards, too," Anderson adds. "We draw on new food trends and the expertise of our team members, who are passionate about great taste and good nutrition, to ensure our private label [program] provides choices that taste better, look better and are even healthier than the national brands."
A healthful focus certainly doesn't equate to boring in terms of product launches. Anderson points to sriracha ketchup, organic kombucha, organic gelato and organic cold brew coffee as some of Sprouts' most exciting new product launches for 2016.
The Sprouts brand currently counts more than 250 Non-GMO Project Verified items and more than 350 organic items among the mix. The retailer is aiming to offer a total of 2,000 private brand items by the end of 2016, and the aforementioned attributes are a critical focus, he says.
"We're formulating our private label products with these attributes in mind so we can continue earning the confidence, trust and loyalty of our shoppers," Anderson states.
Sub-brands for in-store departments also are a current product-development focus for Sprouts. Those sub-brands, he says, include Sprouts Bulk Foods, Sprouts Old Tyme Butcher Shop and Fish Market, Sprouts Body Care Essentials, and Sprouts Deli & Bakery Market Corner.
Sprouts understands that trial is important, too, as its customers take the first steps toward adopting a more healthful lifestyle.
"We support customers on their journey to better health by offering a 100 percent satisfaction guarantee on not only Sprouts brand products, but on everything sold in our stores," Anderson says.
Critical to the business model
Smart & Final is by no means new — the 276-store no-membership-fee warehouse club chain was founded 140 years ago — but it does boast an aggressive new plan for expansion. In a March 9 press release announcing the retailer's 2015 financial results, David Hirz, president and CEO, noted that Smart & Final expanded its Smart & Final Extra! store base by nearly 30 percent and added two Cash & Carry stores in 2015 alone. And there's no slowdown in sight for 2016.
"We've set a new standard for growth at Smart & Final Stores and have made the necessary investments to support an accelerated pace of expansion in 2016," Hirz added. "We plan to increase our Smart & Final banner store base by 15 percent this year, driven by the successful acquisition of 33 store leases and related assets in central and southern California previously operated under the Haggen banner. In addition, we plan to open four to five new Cash & Carry stores in 2016."
Raymond Swain, vice president of corporate procurement for Smart & Final, attributes the past few years' success and growth spurt to two primary factors: a unique business model and dedicated associates.
"Smart & Final stores offer quality products at a great value in a convenient one-stop shopping location. We are here for the busy parents looking to serve their family a quick and healthy meal, the Little League snack shop, the local pizza business," he says. "Households, non-profits, and business customers alike can shop in a Smart & Final store for all of their everyday grocery and staple item needs, saving them time and money. We also attribute our success to our associates, who are committed to Smart & Final's core values, especially teamwork, and to the success of each other and of our company."
Playing a critical role in Smart & Final's business model are its own brands. As Swain explains, the retailer's store brands offer shoppers high-quality items at a value. They include two "power" brands, First Street (national-brand-equivalent tier) and Simply Value (value tier), as well as three niche tiers, Ambiance (hot beverages), La Romanella (Mediterranean fare) and Sun Harvest (natural, organic and earth-friendly products). Sun Harvest is the newest brand, introduced in 2015 to allow Smart & Final to respond to customers' desire for food and beverages free from artificial ingredients and preservatives, as well as non-food items made with recycled materials or without harmful chemicals.
"Our private label brands provide a significant contribution to our overall position of a value-oriented retailer that offers quality products in a convenient shopping experience," he says. "In some categories, these brands are the predominant brand offering, especially in categories dominated by our business customers."
Own brands also provide a means for Smart & Final to give back to the local communities in the U.S. states in which it operates (California, Oregon, Washington, Arizona, Nevada and Idaho). Swain notes that Smart & Final recently launched the "First Street First Percent" program, under which the retailer pledges to donate the first percent of net profits from the sale of First Street brand items to the communities it serves.
"Our customers believe it is important to give back to local communities, and by establishing First Street as 'the first private label brand with a purpose,' we give them the opportunity to feel good about the purchases they are making," he says.
The giving-back program isn't the only unique aspect of Smart & Final's own-brand program. As Swain explains, the retailer carries a very large assortment of store brand club-sized items, too. And it offers its foodservice and business customers a large assortment of restaurant-quality own-brand items at a value. Each brand also has a distinct brand identity.
"Great thought is given as to the product offering for any particular brand," Swain says. "For example, our La Romanella pasta is imported from Italy, whereas our First Street pasta is domestic."
To build awareness for its private brands among shoppers, Smart & Final integrates several own-brand-themed promotions into its merchandising calendar throughout the year, he says. The events — supported by print ads, displays and in-store signage — hone in on a single brand or group of products.
"We also use social media to encourage customers to engage with our brands," Swain says.
Offering a value proposition
Founded in 1946, Wakefern Food Corp. has grown into the largest retailer-owned cooperative in the United States. According to the company, its 50 members own and operate more than 260 supermarkets under the ShopRite and The Fresh Grocer banners in New Jersey, New York, Connecticut, Pennsylvania, Maryland and Delaware. In addition, Wakefern operates the Price Rite banner (50-plus stores) in Connecticut, Massachusetts, New York, New Jersey, Pennsylvania, Rhode Island, Maryland and Virginia through its wholly owned subsidiary PRRC Inc.
Like Sprouts and Smart & Final, Wakefern is in growth mode. At its annual shareholders meeting last October, the retailer cooperative reported record retail sales of $15.7 billion for fiscal-year 2015, a 6.7 percent increase from the prior year — and $12.8 billion in wholesale sales. During the same period, the company opened five ShopRite stores and four Price Rite stores.
And Wakefern's two private brands — ShopRite and Price Rite — are very positive contributors to the company's rapid growth, designed to be in line with the price-driven models of the ShopRite and Price Rite banners. The two brands, developed to be national brand equivalent at a value price, now account for more than $1 billion in annual retail sales, Wakefern says. The ShopRite brand also includes several sub-brands: ShopRite Imported, ShopRite Organic, ShopRite Kosher and ShopRite Auténtico (Hispanic fare).
Through the ShopRite website, Wakefern builds awareness for its ShopRite brand by making the brand an integral part of recipes. For example, a recipe for Chicken Souvlaki Skewers with Yogurt Dipping Sauce calls for seven ShopRite brand items as ingredients. The website also includes pages dedicated to new own-brand items, including "regular," imported and organic items.
The Price Rite website, too, heralds the 500-plus Price Rite products, albeit in a more tutorial manner.
"Price Rite brand products have been developed with the utmost care and with an eye for quality, as well as value," the site proclaims. "The quality of our products is comparable to the national brands but, in keeping with the Price Rite tradition, we offer them at an impossibly, inconceivably, incredibly low price every day!"
And Wakefern's Price Rite banner recently made its own brand part of the "Water for Flint" campaign from Rochester, N.Y.-based Jordan Health. In March, Price Rite in Rochester said it donated 4,000 bottles of Price Rite spring water for the campaign; earlier in the year, Price Rite's Syracuse, N.Y., store made a similar donation to the cause.