The sweet smell of success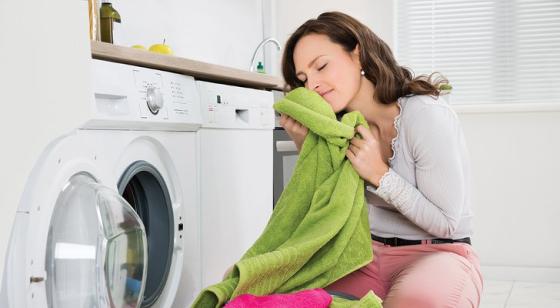 Fragrances remain a powerful purchasing driver among consumers, especially for cleaning products such as laundry detergent. According to "Home Laundry Products — US," an August 2015 report from global market research firm Mintel, 49 percent of consumers who use fabric softener and purchase home laundry products agree that scent is the most important attribute when choosing a product. Similarly, Mintel's May 2015 report "Dishwashing Products — US" states that 60 percent of dishwashing liquid purchasers enjoy trying new fragrances, and 45 percent believe a pleasant fragrance is among the most important product attributes.
This emphasis on fragrance in home-care products could be because the teenagers that "stalked" Bath & Body Works stores in the 1990s are now the consumers driving market trends, says Timothy Lauren, executive vice president fragrances for Bell Flavors and Fragrances Inc., Northbrook, Ill. And these same consumers expect to be "stimulated and entertained" by their home-care products' scents.
"Fragrance thus represents a key product development focus area for leading brands and competitors," states Stephen Brown, research analyst, household care, Mintel.
Offer consumers an escape
Specialty retailers such as The Yankee Candle Company and Bath & Body Works that focus heavily on selling scented products are now offering products that "set a scene" or offer an "exotic escape" to consumers, states Ryan Tuttle, research analyst for London-based Euromonitor International. Instead of simply a description of the scent — for example, Apple Spice — these retailers are, in many cases, naming their scents after specific locations. Yankee Candle currently offers scented items with names such as Napa Valley Sun and Bahama Breeze, while Bath & Body Works has items with names such as Bora Bora – Tiki Beach and Riviera Maya – Plumeria Petals.
And national brands seem to have caught on to this trend. For instance, Dawn, a Procter & Gamble brand, recently unveiled several new scented liquid dishwashing soaps under the label "Dawn Escapes." They carry the tagline: "Indulge your senses with scents inspired by exotic places." Fragrances include Fuji Cherry Blossom, New Zealand Springs, Mediterranean Lavender, Caribbean Breeze and Thai Dragon Fruit.
The line appeals to consumers wanting a scent that will "take them away" to a distant travel destination while they remain at home hand-washing dishes, Brown says.
"Gone are the days of cleaning products that are limited to the fragrance of lemon or lavender," says Steve Orson, senior perfumer, Bell Flavors and Fragrances. "The market has proven we love fun and escapism in our weekly chores."
Keep it natural, seasonal
Consumers are also demanding products that smell natural and simple, Lauren states.
Retailers, therefore, should be careful not to overwhelm consumers with a scent that resembles a pungent essential oil, cautions Roger Howell, Alpha Aromatics, Pittsburgh. The scent should be fresh and pleasant and "resemble" nature.
Consumers' increasing concern with health and wellness is driving the trend for natural scents, Orson says. Successful fragrances support the image of healthful "good-for-you" products and have shorter ingredient lists with fewer chemicals.
In addition to reformulating ingredient lists, national brands are redesigning product packaging to fit with the natural and health and wellness trends. For instance, traditional cleaning product brands that once built their product imagery on power are now tempering that imagery with naturally themed colors and graphics, Lauren notes.
Seasonal scents, which often fall into the natural category, remain popular as well. For instance, in summer, consumers are usually more interested in citrus and airy scents, while in fall, pumpkin rules all. And in the winter, baking scents are popular, Tuttle states. While seasonal scents are usually more popular among air-care products, retailers would do well to keep a pulse on what is happening within that market when marketing or introducing own-brand scented products.
"If the consumer is spraying pumpkin spice in the air during the fall, they're probably not going to want a heavy floral scented dish soap," he notes.
Men like scented products, too
Warm notes are especially popular among products that are marketed to men, says Kelli Heinz, director of marketing and industry affairs, Bell Flavors and Fragrances. For instance, herbaceous spicy notes such as coriander; citrusy, bright botanical notes such as lemon grass; and smoldering smoky notes such as embers with the scent of a burning fireplace have taken hold within the market. While these scents are primarily found in male health and beauty products, men are beginning to shop more at grocery stores for products such as laundry detergent and hand soap. Therefore, retailers might want to offer more private brand home care products with scents that appeal to men.
If a retailer isn't willing to take the plunge in offering and marketing private label laundry detergent or hand soap with a masculine scent, it might want to consider offering more products with a unisex fragrance profile.
"We're seeing a lot more unisex products, with women wanting a fragrance that would usually be [marketed] to men," Heinz adds.
Consider fragrance-free
Another trend gaining momentum among consumers includes "fragrance-free" products — especially in laundry care. According to Mintel, 19 percent of consumers believe fragrance-free is an important attribute when choosing
a laundry detergent. This could be because of consumer concerns with skin allergens or chemicals.
But fragrance-free products, especially in laundry care, could be a real opportunity for retailers' private brand programs.
"Laundry scent boosters are adding a fragrance to an already scented laundry detergent," Tuttle says. "These two scents could come into conflict. So private label could play up an unscented laundry detergent as something that could be well paired with whatever laundry scent booster the consumer chooses to add."
Not only would a store brand fragrance-free laundry detergent appeal to multiple groups of consumers, it also would play into another important trend: scent personalization.
Attitudes toward fragrance are shifting in the household category to embrace more personalized tastes, Brown says. Consumers enjoy combining scents to create a unique outcome or combining scented and unscented products. According to Mintel's August 2015 report, more than four in 10 regular laundry scent booster users sometimes use a fabric softener and a scent booster together in the same load. Procter & Gamble refers to this concept as "combination scents" and has determined ways of marketing to individuals who combine scents to achieve a personalized laundry experience.
Some consumers really want to be "blown away" by fragrance and to personalize their scents, Tuttle agrees. These consumers are even using scent as part of the décor of their home and want to be able to personalize that part of their décor as well. Retailers could benefit either by giving consumers a neutral palette to play with or by helping them to create a coherent scent experience throughout the home.