'Store Brands' serves up its annual industry awards
Get great content like this right in your inbox.
Subscribe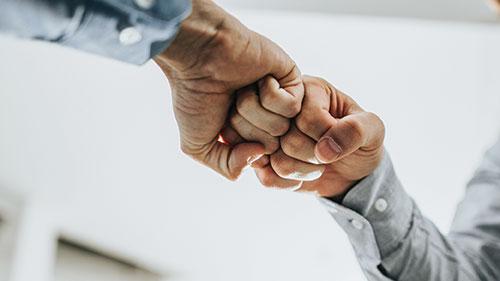 With 2018 nearly out the door, it's that time again — to recognize the difference makers in the private brands industry from the past year. From products to people to promotions, there's plenty to celebrate. So let's hand out the proverbial hardware.
The envelopes please …
THE "PRIVATE BRANDS PROWESS AWARD" GOES TO ...
Gil Phipps, The Kroger Co. — For his executive leadership and store brand savvy
It has been a good year for Gil Phipps, who once fronted a rock band before becoming a purveyor of private brands, specifically for The Kroger Co.'s Our Brands line of private brand products.
Under Phipps, who has led Kroger's store brands team for six years, Kroger achieved its highest-ever dollar share in the history of Our Brands in the Cincinnati-based retailer's 2018 first quarter. Phipps was also promoted by Kroger in August — named vice president of branding and marketing in addition to his role as vice president of Our Brands.
And Phipps, who played in rock brands from the time he was a teenager into his 30s and is a big music fan, got to see his favorite musician, the resourceful Jack White, twice on tour this summer.
To cap off the year, Phipps is being celebrated by Store Brands for his retail executive leadership of Kroger's store brands.
Anchored by Phipps, Kroger has one of the top private brands programs in the country, if not the world, led by lines such as Simple Truth, Kroger's line of organic, natural and free-from products, which achieved $2 billion in sales this year (another highlight for Phipps). Phipps is also a visionary, having created Kroger's HemisFares, a line of premium and authentic store brand products that continues to grow with exclusive offerings.
Phipps has a bachelor of arts degree in English and philosophy from the University of Texas at Austin, so his affinity for music is logical. He even wrote his own songs. "Some of them had food references in them," Phipps says. "So I guess I should have seen this coming."
He's talking about his grocery industry career, of course. And while Phipps no longer plays in a band, the music industry's loss has been the grocery industry's gain, especially regarding
store brands.
"Who knew that this industry was going to be one of the most exciting and competitive industries in the world?" Phipps says.
It's a long way from where Phipps where grew up in central Texas … or maybe not. Phipps' parents operated a boarding school there and the family lived on the premises. It might sound like a stifling place to grow up, but it was anything but. The school was located on 440 acres of rolling hills, waterfalls and swimming holes. Phipps embraced the experience, from schooling to exploring the land to hanging out with many of the students, who came from all over the country and the world.
"I'm sure that had something to do with it," he says of the experience and how it honed his artistic and imaginative approach to his trade.
At Kroger's headquarters in Cincinnati, Phipps and his team occupy the 15th floor of the downtown skyscraper. To create a creative atmosphere, Phipps encourages team members to decorate their offices to show off their personalities. For example, one team member, who is a jazz guitarist, decorated his office to look like a jazz nightclub.
Also, on the outside walls of their cubicle offices, team members post what they are working on so others can see.
"We all know what everybody is doing," Phipps says. "We have conversations and build on ideas together as opposed to everybody doing their own thing by themselves."
It's work, but it sure is fun.
"It's a blast," Phipps says. "We're all having fun together. We're all creating new products together."
Phipps may be the team leader, but he's the polar opposite of the boss who pulls rank.
"I know it's my job to be a leader, but I often view myself just as a team member," he says. "I don't ask people to do stuff that I wouldn't do."
For Phipps and his team, it's ultimately about satisfying Kroger's customers.
"It's about going on a journey with our customers and creating more products that they love," he says. "We hope they are as excited about what we are doing as we are."
THE "TAKING IT TO ANOTHER LEVEL AWARD" GOES TO ...
ShopRite — For its new ShopRite Trading Company line of premium products
These are not your father's private brands. They are far from it.
In May, Keasbey, N.J.-based ShopRite introduced a premium line of products under its ShopRite Trading Company store brand with the aim to take its customers on a "culinary journey across the globe" with imported and domestically sourced foods. The products are available at all of the more than 270 ShopRite stores located in New Jersey, New York, Connecticut, Maryland, Delaware and Pennsylvania.
Described in a press release as a mix of "inspirational, artisanal and distinctive" goods, the new line's foods and flavors are imported from Italy, Ecuador, Spain and Greece. Other products are inspired by Asian, Indian, Greek and Latin cuisines. 
Products include Arugula Wood-Fired Crust Pizza from Italy, Marinated Quartered Artichoke Hearts from Peru and Marinated Mixed Olives from Greece.
"We sent our ShopRite experts around the world in search of the very best ingredients and finest products," said ShopRite Spokeswoman Karen Meleta, in a statement announcing the line.
Going global to discover and develop new private brand products has become hot territory for private brands. Like we said, ShopRite Trading Company is not your father's private brands.
THE "GET REAL AWARD" GOES TO ...
Walmart — For its Sam's Choice Italia line
Many Americans are fond of true Italian food. Now they can buy a bunch of it at Walmart.
The Bentonville, Ark.-based retailer teamed with the Italian Trade Agency on a new private brand — Sam's Choice Italia — featuring a line of authentic Italian cuisine at low prices.
Sam's Choice Italia features 40 products, including boxed dinners, bagged pastas, pesto and pasta sauces, canned tomatoes, balsamic vinegar and frozen pizzas. Walmart is working with multiple large suppliers on the new line — all based in Italy.
"Teaming up with the Italian Trade Agency is one of the many ways our Sam's Choice brand brings authentic gourmet foods to families across America at everyday low prices," said Jack Pestello, senior vice president of private brands for Walmart, in a statement announcing the line late last year. "Sam's Choice Italia is just the latest example of how Walmart is continuing to improve and innovate [its] private brand offerings while staying true to quality and everyday low prices."
Walmart said the Sam's Choice Italia products were put through extensive testing conducted at Walmart's Culinary and Innovation Center to ensure the flavors in each product stayed true to their Italian roots. It's the first time the Italian Trade Agency has worked with a U.S. retailer on a full line of private brand products.
"We are committed to bringing authentic Italian offerings to American households, so when Walmart approached us with this idea, we were immediately interested," said Michele Scannavini, president of the Italian Trade Agency, in a statement. "The Sam's Choice Italia recipes have high-quality ingredients from right here in Italy, so we can guarantee an authentic Italian experience for customers."
THE "WE ALL SCREAM FOR ICE CREAM AWARD" GOES TO ...
Albertsons Cos. — For its Signature Reserve ice cream line
We can agree, perhaps, that June marks the beginning of ice cream season in the U.S. So it was perfect timing for Albertsons Cos.
In early June, the Boise, Idaho-based retailer announced that the first products it was introducing under its new Signature Reserve premium private brand line were seven new ice cream flavors — all guaranteed to make customers scream very loudly. And, yes, Albertsons takes indulgence to a new level by featuring ice creams with ingredients and flavors from around the world, including Brazilian Guava Cheesecake, Madagascar Vanilla, Colombian Cold Brew Caramel, Bourbon Maple Blondie, Indian Cardamom Pistachio, Caramel Apple Chai and Belgian Chocolate Almond.
"For life's special and indulgent moments, Signature Reserve offers unparalleled quality and exquisite taste for customers who are obsessed with the exceptional," Albertsons said in a press release announcing the line.
The only problem for consumers by offering seven ice creams — each with luscious and tantalizing flavors — is deciding which one to try first.
THE "GROOVY SNACK AWARD" GOES TO ...
Trader Joe's — For its Organic Hemp Seed Bars
More food manufacturers are using hemp in food products for taste and health reasons. Enter Trader Joe's, which is always on the cusp of developing innovative private brand products.
Trader Joe's Organic Hemp Seed Bars, which debuted last summer, contain organic almonds, cashews, crisped brown rice, gluten-free rolled oats, wild blueberries, currents and hulled hemp seeds. Trader Joe's says the hemp seeds offer an "earthy flavor" and plenty of nutritional benefits including amino acids and fiber. But remember, hemp is not what you think it is, and it will not alter your thinking.
While hemp and marijuana are both from the cannabis plant, hemp contains only a trace of the hallucinogenic THC (tetrahydrocannabinol) that is found in marijuana. According to Healthline (healthline.com), a health information website, hemp seeds are rich in two essential fatty acids — linoleic acid (omega-6) and alpha-linolenic acid (omega-3) — and 25 percent of total calories from hemp seeds are from high-quality protein.
Despite the difference in hemp and marijuana (although hemp is often and wrongly used interchangeably with marijuana), we couldn't resist applying some 1960s verbiage to this award.
THE "YOU CAN'T BEAT THAT COMPARISON AWARD" GOES TO ...
Sam's Club — For its Member's Mark Southern Style Chicken Bites
Sam's Club garnered much social media attention after releasing its Member's Mark Southern Style Chicken Bites in August. The Bentonville, Ark.-based warehouse club describes the product as "light, crispy breading leading to a juicy, flavorful bite" with "a hint of dill rounding out the flavor." But online foodies hailed the Member's Mark private brand product as tasting just like Chick-fil-A's chicken nuggets.
Not a bad comparison, considering Chick-fil-A's popularity with the masses.
Here's what one customer wrote in reviewing the product on Sam's Club's website:
"Best store-bought nuggets we've ever had. They are similar to Chick-fil-A tenders with the slight pickle flavor. My husband simply said "OMG" 3 times after taking a bite, so I knew they were going to be amazing because he doesn't comment on food unless it really does him. These will be a staple in our home!"
Here's what another customer wrote: "These chicken bites were absolutely delicious! There is nothing to compare them with except the famous ones we love @one particular restaurant."
Sam's Club's chicken bites come in 3-pound bags and are made with 100 percent white chicken meat. It's an excellent product and a fine example of just how far private brands have come in terms of quality and differentiation.
Sam's Club isn't promoting that the nuggets taste like Chick-fil-A's, but we're pretty sure the retailer isn't complaining about people saying they do.
THE "KEEPING IT REAL AWARD" GOES TO ...
CVS Pharmacy — For its CVS Beauty Mark campaign
CVS Pharmacy should be applauded for the bold move to become more transparent in a product category known more for concealing than revealing. In January, the Woonsocket, R.I.-based drugstore chain announced it was developing new standards for post-production alterations of the beauty imagery the drugstore chain uses or develops for its stores, websites, social media and printed marketing materials. 
As part of this initiative, the retailer introduced the CVS Beauty Mark, a watermark used to highlight imagery that has not been materially altered. The CVS Beauty Mark began appearing on CVS Pharmacy-produced beauty imagery in 2018 with the goal of all images in the beauty sections of CVS Pharmacy stores reflecting transparency by the end of 2020.
For this initiative, "materially altered" is defined as changing or enhancing a person's shape, size, proportion, skin or eye color; reducing wrinkles; or modifying any other individual characteristics.
CVS Pharmacy said it is working together with key brand partners and industry experts to develop specific guidelines in an effort to ensure consistency and transparency.
"As a woman, mother and president of a retail business whose customers predominantly are women, I realize we have a responsibility to think about the messages we send to the customers we reach each day," said Helena Foulkes, president of CVS Pharmacy and executive vice president of CVS Health, in a press release. "The connection between the propagation of unrealistic body images and negative health effects, especially in girls and young women, has been established. As a purpose-led company, we strive to do our best to [ensure that] all of the messages we are sending to our customers reflect our purpose of helping people on their path to better health."
THE "LET THERE BE LIGHT AWARD" GOES TO ...
Metro — For its glow-in-the-dark facial tissue box
Late last year, Montreal-based Metro Inc. introduced a new-limited edition glow-in-the-dark box for facial tissues in its private brand Irresistibles Signature Collection. The retailer said it was the first company in North America and possibly the first company in the world to launch a tissue box with this technology.
The box was designed and printed using phosphorescent ink for a "celebratory and festive customer experience," Metro said. Using a pattern of circles, the design is intended to mean something different to everyone who sees it, from polka dots to planets to bursting champagne bubbles. Tissues in the glow-in-the-dark box are priced the same as those in the regular Irresistibles 88-sheet facial tissue box.
The idea for the glow-in-the-dark box came from Marie Horodecki-Aymes, Metro's director of design and packaging for private brands. Horodecki-Aymes, realizing the importance of utility in packaging, says the glow-in-the-dark box also allows consumers to locate the box in the dark in case they have to blow their noses at 3 a.m.
"It's about providing our customers with simple and useful solutions," she says.
THE "STRIKE A CHORD WITH YOUR CUSTOMERS AWARD" GOES TO ...
H-E-B — For its Selena tote bags shopper marketing campaign
San Antonio, Texas-based H-E-B, which has long partnered with local celebrities like the San Antonio Spurs to promote its brand, scored mega-publicity with its new reusable Selena tote bags last winter, created in honor of the late Selena Quintanilla-Pérez, an acclaimed Mexican-American singer and songwriter from Texas whom Billboard magazine deemed the top-selling Latin artist of the 1990s and who is still referred to as the "Queen of Cumbia" by her many fans.
H-E-B Spokesperson Regina Garcia unveiled the collaboration in a video posted on Facebook the night before the bags went on sale March 2. The tote bags featured black and white photos of Selena.
"Today is an amazing and exciting day for us here at H-E-B," Garcia said on Facebook. "We have teamed up with the Selena Foundation to bring you, our customers, a limited-edition product."
The tote bag led to long lines at many H-E-B locations, according to a report on MySanAntonio.com. "H-E-B officially started selling the highly coveted Selena tote for $2 at 9 a.m. By 9:15 a.m. the bags were listed on eBay for as much as $50," the news site said.Later in the day, H-E-B announced on its Facebook page that the tote bags were sold out. "The passion from Selena fans has been incredible and has demonstrated a strong following from around the nation," the post said. "It is great to be a part of the love that Selena continues to inspire across all generations."
H-E-B donated $25,000 to the Selena Foundation.
THE "SUPER-COLOSSAL CUSTOMER SERVICE AWARD" GOES TO ...
Wegmans Food Markets — For becoming the first Aira-enabled supermarket chain in the U.S.
Wegmans Food Markets is well-known and highly regarded for its superior customer service. But the Rochester, N.Y.-based retailer took that to another level when it became the first Aira-enabled supermarket chain in the U.S. last summer.
Aira, powered by AT&T, is a San Diego-based startup that makes use of wearable technology, artificial intelligence and live, human assistance to deliver real-time visual description for people who are blind or have low vision. Using a smartphone or a pair of smart glasses, an Aira "Explorer" can connect to a remote, trained professional who can provide assistance on-demand using a live camera stream, GPS, maps, and information sourced from the web.
As the first partner in the Aira supermarket network, all Wegmans stores are now Aira-access locations, giving any member of the blind and low-vision community free access to Aira's service while in Wegmans stores. Blind and low-vision shoppers can download the Aira app on their smartphones and use it to connect to a remote, sighted agent to access information on-demand. On request, Aira agents can help shoppers navigate the store, find specific items and identify the shortest checkout lines all at just the touch of a button.
"We are committed to providing incredible customer service to all our shoppers," said Linda Lovejoy, community relations manager for Wegmans, in a statement. "Our partnership with Aira helps us deliver on this commitment, giving our blind and low-vision customers access to this innovative service and the ability to navigate our stores easily and efficiently."
THE "YOU NAILED THAT CHIP AWARD" GOES TO ...
The Kroger Co. — For its Kroger Nashville Style Hot Chicken Kettle Cooked Potato Chips
The chips aisle, from potato to corn to tortilla, has become a hotbed of flavor innovation for store brands and national brands. Frito-Lay has led the way, introducing a spectrum of savory spuds to crunch and munch under its Lay's Tastes of America flavored-potato chip lineup. Some of the tastes Lay's potato chips have capitalized on are chile con queso, crab spice, deep-dish pizza, fried pickles with ranch, lobster roll, pimento cheese and Thai sweet chili.
But Lay's isn't the only trailblazer when it comes to flavored potato chips. Several store brands aren't content to imitating and have introduced their own flavors, including The Kroger Co., which rolled out its Kroger Nashville Style Hot Chicken Kettle Cooked Potato Chips earlier this year.
Not all of the flavors, whether national brands or private brands, are home runs. Some miss the mark entirely. But Kroger crushed it out of the park with its Nashville chicken variety. The chips may not be organic or free from a slew of undesirable ingredients, but the product's innovative flavor, which capitalizes on the popularity of Nashville hot chicken, is spot on.
THE "STEPPING UP BIG TIME AWARD" GOES TO ...
Retail Business Services, Ahold Delhaize USA — For its commitment to make all of its private brands clean label by the end of 2025
Retail Business Services, the Salisbury, N.C.-based services company of Ahold Delhaize USA, threw down the gauntlet — to itself. In October, Retail Business Services announced it was making "a landmark commitment" to make the private brand products it provides to all Ahold Delhaize USA banners, including Food Lion, Giant Food, Giant/Martin's, Hannaford, Peapod and Stop & Shop, free from a list of undesirable ingredients by 2025. That list includes synthetic colors, artificial flavors, artificial preservatives, artificial sweeteners, MSG and high-fructose corn syrup. 
Retail Business Services' private brand lines include retailer namesake lines, Nature's Promise, Taste of Inspirations, CareOne, Smart Living, Always My Baby, Etos, Companion, Limited Time Originals, Guaranteed Value and Cha-Ching.
"We're extremely proud to make this commitment and deliver cleaner, more transparent, and more nutritious private brand products, while preserving the great value, taste and quality consumers expect and deserve on these items," said Juan De Paoli, senior vice president of private brands for Retail Business Services, in a statement. "At our core, we are about making it easier for everyday shoppers to buy better, and this initiative does just that."
Retail Business Services said it also plans to continue product innovations that reduce salt and sugar; advance transparency and sustainable chemistry practices used in products and packaging; and dramatically reduce plastic and packaging waste.
In an interview with Store Brands earlier this year, Jac Ross, vice president of private brands innovation for Retail Business Services, emphasized the importance of offering cleaner and healthier foods. But Ross noted that such products must taste great — not good, great.
"Good is not enough," she added. "Good is the enemy of great. Because if somebody settles on [a product] being just good enough, that suggests there is something after that."
THE "HANS SOLO WOULD BE PROUD AWARD" GOES TO ...
Southeastern Grocers — For its "Star Wars" promotion
Jacksonville, Fla-based Southeastern Grocers has long recognized the power of creative promotional campaigns and customer engagement. But the parent company of Winn-Dixie, BI-LO, Harveys and Fresco y Más felt it needed to do something that would have an even greater impact.
"We'd tried different things, including back-to-school and football programs, but we wanted something that was bigger," Adam Kirk, Southeastern Grocers' senior vice president of trade planning said. "We wanted something that would really resonate across a broad cross-section of our customer base."
In 2017, the company was approached with the ideal opportunity: a partnership with Walt Disney Co.'s Lucasfilm and a merchandising company to launch a mega-promotional campaign at Winn-Dixie and BI-LO stores in conjunction with the December 2017 international release of "Star Wars: The Last Jedi."
The Star Wars promotion, which ran from Nov. 25, 2017, through Jan. 16 and was exclusive to Southeastern Grocers in the U.S., featured several components that worked synergistically to build excitement and sales, Kirk noted. 
First, the campaign centered on the collection of 72 Cosmic Shells, each an octagon-shaped trading card with a picture of and information about a character from the new Star Wars film. With a $20 purchase, a customer would receive a pack containing two Cosmic Shells. By spending $100, a shopper would get five packs of shells. In addition, purchasing five specific items from participating vendors would earn customers another pack.
Second, the Cosmic Shells triggered the activation of virtual reality (VR) never-before-seen Star Wars movie clips, 12 in all, Kirk explained. 
Customers could view these clips with a $3.99 pair of special VR goggles and download the clips via Southeastern Grocers' VR goggles smart phone app. The goggles and app also enabled customers to experience the sensation of flying a Millennium Falcon as well as call up augmented reality (AR) Star Wars characters and vehicles in the store.
Elaborate kick-off events in several stores helped spur interest in both "Star Wars: The Last Jedi" and the Southeastern Grocers promotion. 
Encouraged to wear their own Star Wars costumes, customers at the stores could interact with well-trained Stormtroopers and had the chance to win prizes. 
"This created a huge amount of excitement in our stores," Kirk said.