Staples to develop more private label products
Get great content like this right in your inbox.
Subscribe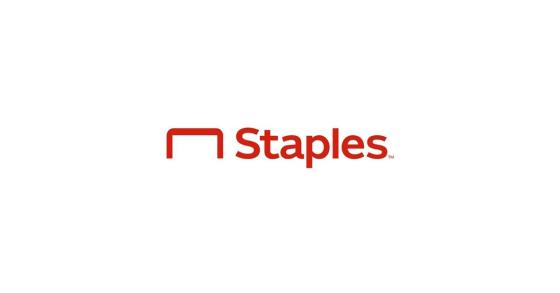 Staples Inc. is revamping its brands by focusing on its office life positioning.
As part of the revamp, the retailer replaced its signature slanted L logo with a streamlined mark whose main component is an actual staple. The new modernized icon is meant to reflect Staples' "brand evolution and the enhanced experience it is delivering to its customers," the company said. It also is a more literal representation of the Staples name.
"Our new logo is symbolic of the commitment we are making to our customers: They are innovative, forward-thinking problem-solvers, and it's important for them to know that we are, too," said Marshall Warkentin, chief marketing officer, Staples.
The logo is also one component of the brand overhaul, which includes the debut of an interactive digital experience designed to connect business customers to products and solutions in a variety of ways, from intelligent content and peer recommendations to intuitive shopping and buying tools. It also features a product solution guide, called "The Loop," for business professionals. Staples will also launch new pages on Twitter, LinkedIn, Instagram, and Facebook, with a new hashtag of #WorklifeSolutions.
In addition, Staples unveiled five private label brands, each targeting a specific business need: Tru Red (business essentials such as pens, notebooks, and shredders), NXT Technologies (connective solutions for business teams), Coastwide Professional (professional-grade facility supplies), Union & Scale (furniture and décor), and Perk (breakroom products). Additional products from each brand will be introduced throughout 2019.
In explaining the brand revamp, Staples said it is committed to helping business professionals make their workplaces more productive and connected, and to provide products and services designed to help inspire colleagues to do their best, most creative work. The recognition that work can be more than just a job, but rather a career fueled by purpose, people and fulfillment, is what Staples refers to as "worklife".
"Our customers deserve more than just an algorithm for ordering products for their business," said Sandy Douglas, Staples CEO. "They are creative, collaborative, idea-driven professionals, and the go-to person for their workplace. Our team's role in their success is to provide product and service solutions at great prices, and to understand their business needs."