Snackworthy adds two private label snacks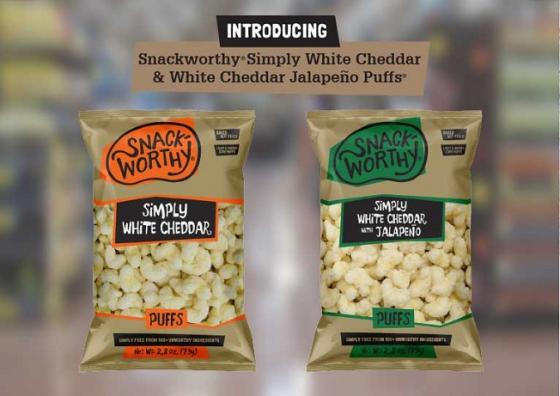 Mesa, Ariz.-based Snackworthy has added two additional snack products available for private brands, Simply White Cheddar Puffs and Simply White Cheddar Puffs with Jalapeño.
"These savory flavors join our popular line of Simply Puffs including Butter Toffee, Cinnamon Roll and Sea Salted Caramel flavors," said Christie Frazier-Coleman, vice president of marketing for Lehi Valley Trading Company. "Consumers continue to reach for savory snacks in the grocery and convenience aisles — especially those with a kick."
The overall Snackworthy line of snacks launched in 2016 after parent company Lehi Valley Trading Co. researched consumer purchasing behaviors and snacking inclinations to create a line of snack foods, according to the company.
Lehi Valley Trading Co. also offers Simply Puffs for private labeling with these additional flavors: butter toffee, cinnamon roll, caramel, sea salted caramel and coconut.