Setting a new standard, naturally
Get great content like this right in your inbox.
Subscribe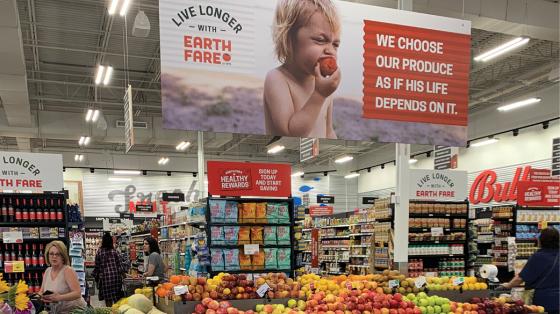 If you ask Frank Scorpiniti, the president and CEO of Earth Fare, about the mission of his fast-growing retail empire, he is quick to correct you. 
"We're trying to have a higher purpose," Scorpiniti says in an exclusive interview with Store Brands. "We are a health care provider. And I think, if you're a health care provider, and the starting point is 'do no harm,' then you can't put the deleterious chemicals on the shelf that are everywhere else today. That's just not what we choose to do. So many of our customers that have traded with us for a long time, they enjoy that they can trust us with their families and do their only shop with us."
At a time when the retail industry is crowded with everyone from Amazon to dollar stores to convenience stores to drugstores selling groceries, Earth Fare is trying to raise the standards of retail and the food industry ever higher — with private brands playing a major role. Earth Fare is, in fact, another one of many natural grocery players in retail, but it's not just another Sprouts Farmers Market, Lucky's Market or other specialty grocer trying to take share from supermarkets and mass retail. Earth Fare is different because it has made an aggressive and bold push nationwide to sell what it calls "truly natural foods." 
After the National Center for Health Statistics first reported in 2015 that life expectancy for Americans declined for the first time in more than two decades, Earth Fare seized on that data and decided to take the "clean label" movement to the next level. In the years since 2015, life expectancy in the U.S. has continued to decline, something that hasn't happened in more than 100 years, according to the Centers for Disease Control and Prevention.
In 2017, Earth Fare accelerated its expansion plans and launched a new campaign called "Live Longer With Earth fare" aimed at empowering Americans to take back their health through their food choices. The company expanded what it calls its "Food Philosophy" to forbid hundreds of chemicals and ingredients from making their way onto store shelves. The standard is among the strictest in U.S. food retail. 
Today, Earth Fare sells foods and products that are free of hormones, antibiotics, preservatives and artificial ingredients. The grocery chain boasts more than 4,000 non-GMO items storewide, with more than 1,000 gluten-free products and a wide assortment to meet other dietary needs as well. 
Earth Fare has also been extending these strict standards to its private brands program, which it has been aggressively expanding almost as much as its store footprint. The company now has a roster of more than 1,300 private label products and all of them are made with only non-GMO ingredients. At least half of the retailer's store brands are also certified organic. 
As shoppers become more conscientious about health and wellness, there's a growing demand not just for stores with natural foods, but also for stores with stricter food standards like Earth Fare's, Scorpiniti says.
"Our pledge is what makes us different from any other retailer today," he adds. "The ethos of our business is that there's truly a spirit in people's minds, whether it's our customers or our team members, that they believe in this mission, that we're helping people live healthier lifestyles and making it easy to do so. And that's what helps us attract some of the best people in the industry to work for us. And that's the enthusiasm at retail that we bring to our customers."
Southern roots
Earth Fare, with its strict natural Food Philosophy, might seem like a recent entry into the grocery space from the more health-conscious West Coast. But the chain actually started back in 1975 as a tiny one-room shop in Asheville, N.C., by a man named Roger Derrough. He wanted to open a store where shoppers could feel confident enough that they didn't necessarily have to turn around every package to look at the ingredients. Back then, the company was called Dinner for the Earth. 
"Roger came up with the name Dinner for the Earth because he thought food grown ecologically was good for the Earth," said Laurie Aker, a spokesperson for Earth Fare who showed off the company's 51st store in the northern suburbs of Tampa, Fla., earlier this year. "In the early 1990s, Derrough decided to expand the smaller operation into a premier grocery store chain."
In 1993, Earth Fare began to define its Food Philosophy, starting by banning hydrogenated oils. Over the years, the company's philosophy continued to evolve. Earth Fare was the first major grocer to ban high-fructose corn syrup. The company says its employees read product labels so that shoppers don't have to. Its list of banned items, called the "Boot List," regulates the brand's Food Philosophy and has grown to include over 100 ingredients, including artificial fats and trans fats, added hormones, artificial sweeteners, bleached or bromated flour, antibiotics, artificial preservatives, and artificial colors and flavors. Earth Fare's early and aggressive push into clean label has resonated with shoppers and paid off for the company. 
Since the 1990s, the retailer has grown to having a footprint of 54 stores across the Southeast, Midwest and Mid-Atlantic. The company now plans to at least double its store footprint by 2024. The rapid expansion follows the chain's new access to capital after Oak Hill Capital, a private equity firm, acquired an 80 percent interest in the brand in 2012. 
In 2015, Earth Fare reportedly had more than 2,500 employees and estimated revenues of $239 million, according to the Charlotte Observer.
"We know where the next 50 stores are," Scorpiniti says. "Our team has been to the locations, and we're under various levels of negotiations with landlords. We announce them as they're signed. Florida is definitely an area of focus for us."
The company says it tries to localize each store as much as possible through its Community Advisory Boards program.
"Whenever we go into a new market, we hand-select anywhere from 15 to 25 individuals. It's an opportunity for us to meet with them and ask them, 'What are your ideas and thoughts and suggestions? What is your neighborhood in need of most regarding healthy food options?' " Aker says. "To my knowledge, I don't think any other grocery store has a program quite like ours. So at the end of all the meetings, we put these ideas on features in-store, and we merchandise products that the board feels the community will gravitate toward."
A wellness experience
While Earth Fare differentiates itself with strict standards on natural foods and a focus on wellness, the retailer also extends those standards to how it builds and operates its stores.
Each Earth Fare store is an easy-to-shop, 25,000-square-foot box with a reflective roof designed to keep the store cool sustainably. The stores feature concrete flooring free of harsh chemicals and, if a customer has to stop at the restroom, he or she will find organic hand soap. The water misters over the fresh produce use only filtered, reverse osmosis water to ensure that organic produce stays organic and free from contaminants in tap water. 
With more shoppers looking to food as a way to prevent and treat disease, Earth Fare has hired a Chief Medical Officer to advise the leadership team and write customer communications in-store. Dr. Angela Hind, M.D., a former internist, works across all departments to implement and oversee a corporate health and wellness strategy that fulfills the grocer's guiding principles of new product selection and merchandising to ensure the healthiest assortment in stores.
"Our country has an unprecedented epidemic of chronic illness from the food we eat," Hind says. "Grocery stores have enormous power and responsibility to step up and be part of the solution by providing healthy food to everyone. That is Earth Fare's mission, and my role as chief medical officer demonstrates Earth Fare's commitment to being a place of wellness for its customers, its staff and for our society."
For Scorpiniti, Hind's role is a deeply personal reminder of his drug store days. Scorpiniti is a pharmacist by training who led transformations at Rexall Pharma Plus in Canada and Duane Reade in New York before becoming CEO of Earth Fare in 2015.
"As a pharmacist, here's what I saw. My patients just kept getting sicker and sicker. They started with an anti-hypertensive drug. Then they're on an antilipidemic drug. Then they would get on something for diabetes. And then they would graduate to insulin. And it goes on and on," Scorpiniti says. "And so I asked myself, how do we stop all that? I believe we stop all that with what we eat."
Elevating private label
Earth Fare has been leveraging its intense focus on wellness and clean label products to also take private label to the next level. The company offers private brand products in categories across the store, from pantry staples to fresh meats and produce to personal care products.
"That is what sets us apart from a lot of the grocery stores where there's natural and private brands," Aker says. "We have a private brand team that actually goes out and visits with the different vendor facilities to make sure certain practices are being followed 100 percent across the board."
Around four years ago, Earth Fare launched a rebranding of its private label program, Aker says. 
"We really wanted the package to speak to the consumer," Aker says. "We wanted to tell a story through the photography on it, and the packaging now is just beautiful." Along with the rebranding, Earth Fare greatly expanded its assortment of private label products. Earth Fare now offers three tiers of private label, from value products to specially curated premium lines. The company says its store brand offerings help create a value proposition for the natural foods shopper that is irresistible.
"We're really proud of our private brand program," Aker says. "It's very affordable, it's a compelling value, it offers great selection. I think that when people come in here and see our private label, they think, 'I can afford healthy eating.' We're trying to make healthy eating easy and accessible for everyone everywhere. Private brands are helping us do that. And we'll be growing that program more and more."
Its latest private label line, a premium range called Handpicked, Discovered by Earth Fare, launched last year and has been a big hit with shoppers. The curated line of globally inspired products with sophisticated flavor profiles adheres to the grocer's stringent Food Philosophy.
"Our Handpicked product line is free of artificial ingredients and harmful additives, and — like all of our private label food products — is sourced using non-genetically modified ingredients. The result is unique, flavorful and authentically sourced products," Scorpiniti says.
To create the new line, Earth Fare says its private brand team traveled the globe, sourcing frozen vegetarian entrees from Thailand; hand-topped, wood-fired pizzas from Modena, Italy; and award-winning brie exclusively from a famous creamery in Vermont.
When it comes to higher quality in private label, Earth Fare also extends that to the meat and seafood department, which carries an impressive array of private brand fresh and frozen meats and sustainable seafood, much of which is organic. The company recently launched a private label frozen shrimp line and two meal solutions programs called 123 Meat and 123 Fish, many of which feature Earth Fare private brand ingredients. Each meat or seafood product comes fresh or frozen, already marinated or seasoned, and ready-to-cook. 
"We have the highest quality meat and seafood in the industry, hands down. And our private brand chicken is free of GMOs," Aker says. "All of the seafood that's sold at Earth Fare will be 100 percent traceable, sustainably sourced as well as additive free."
Earth Fare has what it calls a Day Boat program, in which the retailer is able to buy from seafood suppliers whatever is on the boat for that day, no matter how small or how large the catch. 
"The program offers security for these folks that are going out there, but also it means our seafood isn't sitting on the boat for days on end," Aker says. "So with the Day Boat program we can offer seafood that is extremely fresh. From water to here in the store it's about a 24- to 48-hour turnaround, which is phenomenal for a grocery store." 
At the Earth Fare store in north Tampa, shoppers ogled exclusive features not seen in any other grocer in the area, such as a self-service juicing station and bulk oil and vinegar stations (including private label options), as well as organic foods and spices sold in bulk. An extensive prepared foods department with many organic options also awaited shoppers, along with a fresh salad and hot bar and ready-to-go packaged meals. The bakery offered a tempting display of fresh-baked goods, including traditional French macarons, a 98-cent signature baguette and several artisan bread options. All of the breads and many of the other bakery products were organic.
While Earth Fare has seen success differentiating itself through a focus on wellness and clean foods, Scorpiniti says there's room for Earth Fare to grow even more because it offers something that its competitors do not.
"When we launched the Live Longer campaign in 2017, we issued a challenge to any retailer in America. We said we'd fly to their office, we would put our entire management team on an airplane, and show any retailer how to be a clean retailer," Scorpiniti says. "Nobody took us up on that challenge. But we're going to continue to make health a priority. We could sell more stuff, but we would not sleep well at night doing it. We're not going to go there. We are growing at 20 percent a year or so."
Acosta, managing editor of Store Brands, can be reached at [email protected]