September 2016: Spotlight on nutritional beverages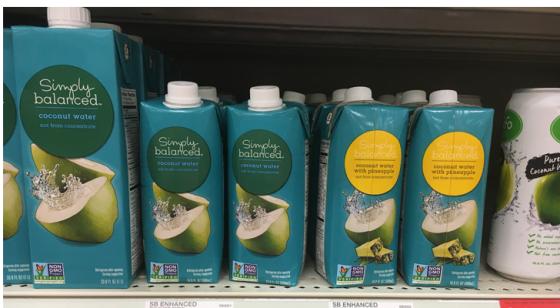 These days, many consumers rely on store-bought beverages to do much more than quench their thirst. They look to value-added beverages to help them with everything from nutritional and vitamin supplementation to workout recovery and weight loss. And retailers that invest thoughtfully in product development here could grab their fair share of a growing market segment. But they also need to attract attention to own-brand nutritional beverages via well-thought-out merchandising efforts.
To see what retailers are doing well and not so well here, we visited three Chicago-area stores: a Mariano's store operated by the Roundy's Inc. division of The Kroger Co., Cincinnati; a SuperTarget store operated by Minneapolis-based Target Corp.; and a Jewel-Osco store operated by Albertsons LLC, Boise, Idaho. Our visits took place in mid-August. In all of the stores, the nutritional beverages were located in a number of aisles/departments, depending on the beverage type.
Mariano's
Foot traffic in the Mariano's store was very heavy during our Saturday lunch-time visit. Despite the crowd of shoppers, the store was neat, clean and fairly well-stocked. We noticed no store brand offerings within several nutritional beverage categories, including protein beverages, vitamin-enhanced waters and sports drinks.
It's worth noting that the Mariano's banner is in the process of adding Kroger niche/premium brands such as Simple Truth and Private Selection to many categories (we even spotted an end-cap display of Kroger brand peanut butter), which could create confusion as the brands are mixed in with the remaining private brand products under the Roundy's and Topco Associates LLC's brands.
The upside:
The store hung large shelf tags advertising 50 percent off on discontinued own-brand Slim Fast equivalent powders under the Top Care brand (Top Care Slim Supreme Shake Mix), making the products easy to spot. (It was unclear as to whether or not the store was discontinuing the items to make room for another alternative under a Kroger brand.)
The store merchandised three facings of its Simple Truth Organic Coconut Water (aseptic-packaged Original variety) on a shelf to the right of 12-packs of Simply Roundy's Sparkling Water and above LaCroix Curate items. Although the products seemed a bit out of place, large signage adequately called out the promotional price of $1.75.
A large mid-aisle display in the store's perimeter featured Simple Truth Organic Coconut Water among many other Simple Truth items on promotion.
To the right of 11 facings of various varieties of Lifeway Kefir and one facing of Redwood Hill Farm Goat Milk were three facings of Simple Truth Organic Kefir (Original, Blueberry and Strawberry). They were the only organic kefir items, and large signage told shoppers the items were on promotion for $1.99.
The downside:
The Chocolate variety of Top Care NutriSure Nutrition Shakes (the store brand equivalent to Ensure) needed to be restocked.
The store merchandised two facings of Simple Truth Coconut Milk to the right of So Delicious Organic Coconut Milk in a refrigerated case and three facings of Simple Truth Organic Chocolate Soymilk next to four facings of Silk Light Almond Milk. However, the Simple Truth items got lost among a sea of Silk offerings on the other shelves, and no shelf tags called out any price advantage or even the organic status of the own-brand soymilk.
SuperTarget
During our early-evening visit on a Saturday, foot traffic in the SuperTarget store was moderate. The store was neat and clean, although a number of items needed to be restocked. We could find no private brand offerings within a number of nutritional beverage categories, including protein beverages, vitamin-enhanced waters, sports drinks and kefir/yogurt-based beverages.
The upside:
The packaging for the Simply Balanced Coconut Water and Simply Balanced Coconut Water with Pineapple really stood out on the shelf based on the shape of the aseptic cartons, the powerful packaging design and the eye-level placement.
The downside:
The six-packs of bottled Market Pantry Chocolate Nutrition Shake Plus (the equivalent to the Ensure Plus Nutrition Shake) not only were mixed in with the "regular" Market Pantry Nutrition Shake items, but were retailing at the same price as the Ensure equivalent ($7.99).
A large shelf tag informed customers that they could receive a $5 store gift card with the purchase of three four-packs or six-packs of Ensure nutritional beverages. No incentive/discount was offered for store brand items.
A large shelf tag pointed to a two-for-$3.00 sale of cans of CoCo Joy Coconut Water, but the Simply Balanced equivalent to the left of this product was retailing at its regular price of $1.99.
Two of the store's refrigerated Simply Balanced Almond Milk varieties were out of stock.
We noticed no displays featuring any own-brand nutritional beverages.
Jewel-Osco
Foot traffic in the Jewel-Osco store we visited was moderate during our Sunday mid-morning visit. The store was neat, clean and well-stocked. Of the three stores we visited, this store offers the least in the way of private brand nutritional beverages. We noticed no private brand sports drinks, vitamin-enhanced water, protein drinks, weight loss beverages and nutritional shakes. However, the store did offer two lower-priced, lesser-known brands in the nutritional shake (Intrust brand) and weight loss/protein (Premier Protein brand) areas.
The upside:
A couple of Jewel-Osco's O Organics Soymilk facings had large shelf tags touting "O Organics. Organics from the Source."
The downside:
We noticed at least five end-cap and mid-aisle displays showcasing national brand nutritional beverages of one type or another.
The biggest downside was the lack of own-brand participation within most of the nutritional beverage categories.