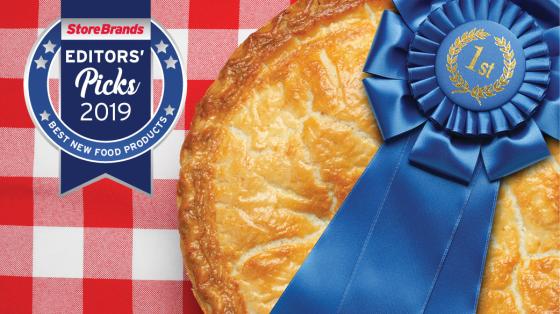 Sales of private-branded food products are on the rise. And it's easy to understand why.
The results of our Store Brands 2019 Editors' Picks Awards in 30 food categories provide substantial evidence of the quality, innovation and value occurring in the store brands industry. Our program, open to private label manufacturers and retailers that self-manufacture their own brands, recognizes the best new food product concepts available for private branding. We'll continue our Store Brands 2019 Editors' Picks Awards in August with the best new beverages in private brands, and in October with the best new non-food products.
Considering the food products we sampled and judged, it's no wonder that some manufacturers and retailers are experiencing unprecedented success with their private brands. We received nearly 250 entries of food products in this year's competition. Most of the products entered are on target in what store brands are becoming. We are thoroughly impressed with what manufacturers and retailers are doing to differentiate on many levels. Premiumness is definitely at a lofty level in store brands.
To be eligible for entry in this year's competition, the products must have been introduced in 2018. A team of editors judged the entries on taste and mouthfeel, innovation, on-trend impact and appealing presentation. Gold, silver and bronze honors are issued in most categories, but some categories received only gold or gold and silver awards.
We congratulate the following winners in the categories listed on the following pages:
BREAD PRODUCTS
GOLD: FGF Brands Inc. — Signature Select Original Mini Naan Bread (Albertsons Companies brand) and Specially Selected Mini Naan Bread (ALDI brand)
Downright delicious. Light and airy with a buttery and slight salt flavor. According to FGF Brands, the bread is baked in a patented high-heat stone oven to replicate traditional methods.
SILVER: Ardent Mills LLC — L'oven Fresh Marbled Cinnamon Breakfast Bread and L'oven Fresh Apple Strudel Breakfast Bread (ALDI brands)
Excellent flavor. The cinnamon and apple strudel flavors, combined with great mouthfeel, make for a memorable eating experience. The breads also contain no artificial preservatives or flavors and no high-fructose corn syrup.
BRONZE: (tie) Wholesome Harvest — Specially Selected Maple French Toast Bagels (ALDI brand)
A fabulous breakfast treat that's not just for breakfast. Maple French toast flavor is unmistakable but not overpowering.
La Fournee Doree — Specially Selected Brioche Hot Dog Buns and Specially Selected Brioche Rolls (ALDI brands)
Light and puffy but rich and flavorful. The French would be proud and impressed.
CANDY AND CHOCOLATE
GOLD: Storck USA — Moser Roth Dark Collection: Caramel Sea Salt (ALDI brand)
The phrase "to die for" comes to mind when experiencing this high-end product. The sea salt and caramel provide a heavenly distinction. A slight crunch adds to a savory experience.
SILVER: Lily O'Brien's Chocolates —Specially Selected Caramel Crave (ALDI brand)
Something here for every flavor palate. The 15 individual caramel-filled chocolates come in five on-trend flavors, including maple caramel, apple pie, espresso, caramel ganache and salted caramel.
BRONZE: Natra Chocolate America — Choceur Gift Card Holder Chocolates (ALDI brand)
The Belgian chocolate not only tastes great, but this is also a great idea as the product is packaged to be presented with a gift card. The chocolate just might be better than any gift card.
CEREAL AND GRANOLA
GOLD: Southern Bakeries — Millville Oats & Honey Bar Granola
and Millville Cinnamon Bar Granola (ALDI brands)
The former is super crunchy with a buttery oats and honey flavor. The latter features a bright cinnamon flavor. Both make for an excellent breakfast option or snack.
SILVER: Post Consumer Brands — Millville Original Balance Multigrain Cereal (ALDI brand)
Now this is a healthy cereal that blows away expectations. Great crunch and flavor.
BRONZE: Attune Foods — Strawberry- and Vanilla-Flavored Granola (Smart & Final brand)
Nice combination of flavors. Product contains hemp and flax, both trendy ingredients.
CHEESE
GOLD: Somerdale International —Specially Selected Normandy Honey & Pecan Baking Brie and Specially Selected Normandy Cranberry Baking Brie (ALDI brands)
Portion size is perfect as some brie wheels are too big. Nuts taste fresh and are nicely seasoned in honey and pecan version. Cheese has a high-quality taste in both versions. Both are also very creamy.
SILVER: CA Form USA Corp. — Specially Selected Red Wine Cheese and Specially Selected Sparkling Wine Cheese (ALDI brands)
Wine provides a subtle but not overpowering taste. High-quality presentation. Made from Italian-imported cheese and gluten-free.
BRONZE: Coombe Castle International — Happy Farms Preferred Valentines Day Cheese Assortment: Wensleydale with Raspberries & White Chocolate Waxed Heart (ALDI brand)
Excellent and creative example of a seasonal store brand. And as far as taste, this combination works pretty darn well.
CONDIMENTS
GOLD: Aurora Products — Wellsley Farms Organic Salad Topping (BJ's Wholesale Club brand)
Made with sweetened cranberries, sesame sticks, walnuts, pepitas and sunflower seeds. Great combination and very innovative. Perfect for a salad or a snack or even on top of a chicken breast, not to mention other foods.
SILVER: George DeLallo Co. — Park Street Deli Olive Variety Pack: Provolini Antipasta; Park Street Deli Olive Variety Pack: Pitted Olives Jubilee; Park Street Deli Olive Variety Pack: Jumbo Pitted Kalamata Olives; and Park Street Deli Olive Variety Pack: Greek Feta Salad (ALDI brands)
The products in this line feature olives that don't have a metallic taste (like many packaged olives). The olives taste fresh and are not overly salty. Perfect for parties.
COOKIES, CAKES AND OTHER SWEET SNACKS
GOLD: The Kroger Co. — Simple Truth Chocolate Cake with Coffee Frosting (Kroger brand)
Coffee cake never tasted so good, but this product provides a new twist on the standard version. The chocolate is moist and tasty. The coffee frosting, which is only on the top of the cake, is rich and flavorful. Sold under Kroger's popular Simple Truth line, the product is made with cage-free eggs, which is pointed out on the packaging. This is indulgence done right.
SILVER: The Father's Table — Signature Select Cheesecakes (Albertsons Companies brand)
The 40-ounce version features 12 varieties of cheesecake, including New York, turtle, blueberry, chocolate, brownie, raspberry, chocolate chip, chocolate cherry, strawberry, chocolate marble, vanilla bean and raspberry white chocolate. The cakes look luscious and taste the same. In fact, they look so good that you don't want to eat them. But you do!
BRONZE: (tie) Delighted By Hummus LLC — Park Street Deli Vanilla Bean Dessert Hummus and Park Street Deli Brownie Batter Dessert Hummus (ALDI brands)
We are impressed with this sweet take on hummus, which works wonderfully. Rich, creamy and delectable.
Give and Go — Sweet P's Bake Shop's Eggnog/Gingerbread Mini Muffin Combo, Apple Cinnamon and Cinnamon Bun Mini Muffins, Apple Caramel Cupcakes, Unicorn Mini Cupcakes, Birthday Cake Cupcakes (Topco Associates brands)
We love some of the unique flavor profiles here under the Sweet P's Bake Shop line. The products are yummy and perfect for many occasions.
CRACKERS
GOLD: M&M Food Market (TWI Foods) — M&M Baguette Crisps
These bite-sized toasted baguette crisps are infused with parmesan and garlic. Full flavor and super crispy for a terrific crunch. Love the golden brown edges.
SILVER: Rovira Foods Inc. — Honey & Oats Soda Crackers
According to the company, these are the first soda crackers available in the U.S. made with honey and oats. Nice taste and texture.
DIPS
GOLD: Duke Sandwich Productions — Park Street Deli Buffalo Chicken Party Dip (ALDI brand)
To think it all started with the Buffalo chicken wing many years ago. This innovation is creamy with a nice texture and a sharp (but not too sharp) taste that pays homage to its origin.
SILVER: Cedar's Mediterranean Foods — Park Street Deli Classic Hummus Mini Cups and Park Street Deli Red Pepper Hummus Mini Cups (ALDI brands)
Creamy with excellent texture and taste. Also very convenient.
BRONZE: Simply Fresh Foods — Little Salad Bar Layer Dip
(ALDI brand)
A healthy combination of pinto beans, guacamole, salsa and cheese (cheddar and Cotija). A dipper's delight.
FROZEN FRUIT
GOLD: Nature's Touch Frozen Foods — Naturalia Frozen Fruit (Metro brand)
We sampled the frozen strawberries and frozen mangoes (there are also frozen raspberries, frozen blueberries and a frozen berry mix) and were impressed. When thawed, the fruit holds its texture, firmness and tastes great. The company touts that products are tested twice for pesticide residue (at the farm and its facility).
FROZEN SNACKS AND APPETIZERS
GOLD: Kahiki — Firecracker Chicken Egg Rolls
An explosion of flavor with excellent mouthfeel. This combination of spicy white chicken meat with red and green cabbage, yellow carrots and diced jalapenos in a crispy red wrapper was the clear-cut winner.
SILVER: The Kroger Co. — Private Selection Calabrese Salami
& Marinated Peppers Pizza (Kroger brand)
The verbiage on the package claims that the product's ingredients — calabrese salami, arugula pesto, marinated red peppers and Grana Padano cheese — will cause mouths to water. A taste of this, and it's more like Niagara Falls.
BRONZE: Kahiki — Black Pepper Chicken Potstickers
This product takes a few minutes of stove-top prep time, but the effort is worth the few minutes it takes. Luscious, to say the least.
FROZEN VEGETABLES
GOLD: Seneca Foods — Frozen Veggie Sides
Super convenient with on-trend and tasty flavors, including creamy veggies and rice; pasta primavera; super green and barley; cauliflower with veggies and quinoa; Asian-style veggies and rice; corn and black beans; and firecracker corn.
SILVER: Ittella Foods International — Season's Choice Garlic Riced Cauliflower and Season's Choice Plain Riced Cauliflower (ALDI brands)
Riced cauliflower is low-carb, gluten-free and on-trend.
ICE CREAM AND FROZEN DESSERTS
GOLD: G.S. Gelato & Desserts — Extra Choco Cherry Oat Milk Frozen Dessert, Strawberry Oat Milk Frozen Dessert, Cold Brewin' Coffee Oat Milk Frozen Dessert and Oatmeal Cookie Oat Milk Frozen Dessert
Innovative on many fronts, starting with oat milk, which is made by blending water and oats and then straining the liquid. Not only dairy-free, but oat milk also packs many nutrients. And then there are the many tastes displayed by this product line, which is outstanding.
SILVER: Albertsons Companies — Signature Reserve Brazilian Guava Cheesecake Ice Cream (Albertsons Companies brand)
Oh … my … goodness! Can ice cream taste any better? A perfect blend of ingredients that combines on-trend flavors.
BRONZE: Casa del Gelato —Specially Selected Lemon Italian Ice Cream Cups, Specially Selected Chocolate Italian Ice Cream Cups and Specially Selected Black Forest Italian Ice Cream Cups (ALDI brands)
An impressive line of high-end products all falling under the heading of "delectable sweet treats."
JAMS, JELLIES AND PRESERVES
GOLD: Crofters Food Ltd. — Signature Select Preserves,
including Apricot Preserves, Cherry Preserves, Four Fruit Preserves, Wild Blueberry Preserves, Blackberry Preserves, Raspberry Preserves, Strawberry Preserves (Albertsons Companies brands)
It was tough deciding which preserve in the line is the best because they are all splendid — offering a texture, taste and appearance that are exceptional. We are particularly fond of the wild blueberry, blackberry and four-fruit offerings.
MEAL SOLUTIONS AND MEAL KITS
GOLD: DePalo Foods — Mama Cozzi's Pizza Kitchen Pepperoni Calzone and Mama Cozzi's Pizza Kitchen Four Cheese Calzone (ALDI brands)
These calzones offer a fine meal solution for several reasons. First, they're delicious. Second, they're convenient — they can be prepared in a microwave in two minutes. Third, they're something a bit different. Would love to see Mama Cozzi add some new varieties.
SILVER: (tie) Aryzta LLC — Mama Cozzi's Pizza Kitchen
Southwest Style Flatbread (ALDI brand)
Flavors abound in this concoction of Monterey jack and cheddar cheeses, diced chicken breast, tomatoes, onions and jalapenos with a barbeque sauce and chipotle ranch drizzle.
Kahiki — Orange Yuzu Chicken
A delicious stir fry that combines lightly breaded white chicken meat with carrots, sugar snap peas, water chestnuts, and red peppers in an orange yuzu sauce.
BRONZE: (tie) Gehl Foods — Equate High Performance Protein Shake (Walmart brand)
This ready-to-drink product, which comes in chocolate and vanilla flavors, may just be the best protein shake we've ever tasted. Each 11-ounce serving contains 30 grams of protein and a slew of other vitamins and minerals.
The Kroger Co. — Private Selection Cup & At 'A.M. Egg Frittata (Kroger brand)
Billed as breakfast in a cup, this product solves the portable hot egg breakfast problem in minutes. And the product solves it well with a tasty mixture of eggs, carrots, broccoli, red bell peppers and mushrooms.
MEAT (JERKY)
GOLD: The Kroger Co. — Private Selection Carne Asada Jerky (Kroger brand)
Unbelievable aroma and flavor. When you open the package, it smells just like fresh-cooked carne asada. Jerky has a nice color with visible fresh spices. Not too salty. Delicious.
MEAT, SEAFOOD AND POULTRY (FROZEN)
GOLD: AZ Gems — Fremont Fish Market Medium Raw Peeled Shrimp (ALDI brand)
OK, so frozen shrimp isn't really innovative, but so what? This product cooks up well in minutes and tastes exquisite. Its packaging shouts that it's all natural and contains no preservatives. It is also sustainably sourced, a big differentiator for private brands these days.
SILVER: The Kroger Co., Maple Breakfast Meatballs (Kroger brand)
Meatballs for breakfast? Why not? This is a bit of an innovative risk but it works. The fully-cooked meatballs are tender and tasty, and not overpowered with maple taste. Meatballs and eggs anyone?
BRONZE: Tri-Union Frozen Products —Fremont Fish Market Cooked Shrimp in Medium, Large and Jumbo Sizes
(ALDI brand)
No matter the size, these are high-quality and sustainably sourced products.
MEAT, SEAFOOD AND POULTRY (PROCESSED)
GOLD: The Kroger Co. — HemisFares Beech Wood Cold Smoked Salmon (Kroger brand)
Perfectly smoked with mild beech wood. Rich in color and taste; the salmon just seems to melt in your mouth. The product also tells a fine story about its origin and sustainable characteristics. HemisFares is Kroger's ultra-premium line and this product represents the line well.
SILVER: Daniele Inc. — Appleton Farms Prosciutto (ALDI brand)
This is an excellent prosciutto made by a family company that knows how to make it.
BRONZE: Carl Buddig — Lunch Mate Tubs in various protein selections including uncured honey ham, uncured smoked ham, lower sodium uncured honey ham, oven-roasted turkey breast, rotisserie chicken breast and roast beef (ALDI brands)
Deli meat done right by a manufacturer that has been making it for more than 75 years. Also, deli meat done right at a tremendous value — $3.99 for 16 ounces.
PASTA AND PASTA MIXES
GOLD: Agrusa Inc. — Signature Reserve Pasta Penne Rigate, Signature Reserve Pasta Linguine, Signature Reserve Pasta Orecchiette, Signature Reserve Pasta Fusilli, Signature Reserve Pasta Bucatini (Albertsons Companies brands)
Quite frankly, this is some of the finest pasta we have ever tasted, which is a reason we decided to award the entire line and not just one product. The dough of the pasta is bronze die-cut for a rougher texture and a porous surface, which means it "catches" the pasta sauce. The pasta is also slow-dried to enhance natural flavor, according to the manufacturer. This is pasta on another level. Oh yeah, it's made in Italy.
SILVER: The Kroger Co. — HemisFares Spinach & Grana Padano Filled Pasta (Kroger brand)
Imported from Italy and tells a story — "Our authentic Italian recipe honors the centuries-old pasta making tradition of the Emilia-Romagna region." Feels like you're eating something totally different. And this is excellent ravioli.
BRONZE (tie) — Nuovo Pasta Productions — Priano Butternut Squash Ravioli and Priano Pumpkin Sage Ravioli (ALDI brands)
We like the innovation here. The flavors grab your attention. The pasta backs up the innovation with savory products.
Seviroli Foods — Ravioli Portobello Mushroom
Ravioli is packed with portobello and cremini mushrooms, and ricotta and Parmesan cheese, which makes for a solid combination.
PEANUT AND NUT BUTTER
GOLD: Hampton Farms — Wellsley Farms Almond Butter (sold at BJ's Wholesale Club)
The dry roasting gives it a not-too salty flavor. Not oily or greasy like many other almond butters. Very good almond flavor.
PEANUTS AND NUTS
GOLD: The Kroger Co. — Chipotle Citrus Cashews (Kroger brand)
Blown away by this product. The crunchy exterior of these nuts is addictive. They are not too sweet, not too salty and completely delicious.
SILVER: Marathon Ventures — Everything Bagel Flavored Cashews (Fresh Thyme Farmers Market brand)
This might be a bit of an off-the-wall combination, but that's what innovation is all about sometimes. And this savory combination of cashews, seeds and spices is spot on.
BRONZE: Star Snacks — Wellsley Farms Roasted Mix Nuts (BJ's Wholesale Club brand)
Nice combination of peanuts, almonds, cashews, filberts and pecans — a high-quality mix. Excellent taste and texture. Not too salty like so many nut products. 
PET FOOD
GOLD: Sunshine Mills — Pure Being Premium Salmon and Sweet Potato Dry Dog Food and Pure Being Premium Chicken and Brown Rice Dry Dog Food (ALDI brands)
Clearly, premium dog food, which is on-trend with many pet lovers. Billed as "natural dog food" that contains no corn, wheat or soy; no by-product meal; no added artificial color; and no artificial preservatives. Our panel of dogs enjoyed both versions.
PLANT-BASED AND DAIRY-FREE FOODS
GOLD: Ungar's — Earth Grown Chickenless Patties (ALDI brand)
These soy-based patties offer excellent taste and texture, and are on-trend as vegetarian and vegan options that contain no artificial colors and preservatives.
SILVER: (tie) Ethical Brands — Simply Nature Organic Soybean Spaghetti, Simply Nature Organic Black Soybean Spaghetti and Simply Nature Organic Edamame Spaghetti (ALDI brands)
Pasta has an unfamiliar look (color doesn't have that pasta color) but it looks great once cooked. Taste was excellent. The best part is the nutrition. High in protein and fiber and low in carbs. Keeps you full a longgggg time.
Don Lee Farms — O Organic Quinoa & Kale Veggie Patties (Albertsons Companies brand)
Impressive combination of organic ingredients — patties also contain carrots, onions and spices — that result in a savory taste.
BRONZE: Earth Grown — Vegan Cream Cheese (ALDI brand)
Smooth and creamy — hard to believe it's a vegan product. Nicely done.
SALTY SNACKS
GOLD: Snack Innovations — Fava Bean Chips
Snack Innovations bills itself as a company offering "better-for-you snacks reinvented." No argument here. Fava beans are said to be loaded with vitamins, minerals, fiber and protein. These chips, with their chili cheese flavor, offer a bold and distinct flavor. This is innovation on myriad levels.
SILVER: The Kroger Co. — Kroger Cuban Sandwich Style Chips (Kroger brand)
Wow! Delicious and not too salty. We could instantly taste the Cuban flavors, notably the ham, pork, Swiss cheese and tangy notes of pickles and mustard. Amazing product and super innovative, as Cuban sandwiches are on-trend now.
BRONZE: Cornfields LLC — Simply Nature Organic White
Cheddar Puffs (ALDI brand)
Tastes better than cheese puffs. Wonderful cheddar flavor. Soft and buttery. Yum!
SAUCES AND SALSA
GOLD: Celtrade Canada — Signature Select Line of BBQ Sauces, including Habanero Lime Tequila, Hawaiian Style Hot Rum, Southern Whiskey, Chipotle Craft Beer and Sweet and Tangy Bourbon (Albertsons Companies brands)
An excellent line of sauces that all feature a "spirited" taste. Color and texture are exceptional. Taste is rich. These are go-to sauces for any barbecue, but we wouldn't limit them to just barbecues.
SILVER: The Kroger Co. — Private Selection Huli Huli & Rum BBQ Sauce (Kroger brand)
Delicious aroma — you can smell the rum and pineapple when you open
the bottle. Sauce is thick and rich.
BRONZE: Simply Fresh Foods — Simply Nature Organic Medium Salsa and Simply Nature Organic Mild Salsa (ALDI brands)
Nice chunky blends of tomatoes, onions, jalapeno peppers, cilantro, vinegar and seasoning.
SHELF-STABLE FRUIT
GOLD: Pouchtec — Simply Nature Superfruit Chia Strawberry Banana Squeezies and Simply Nature Superfruit Chia Blackberry Squeezies (ALDI brands)
These organic fruit blends, which come in squeezable one-serving packages, are made with real fruit and contain no preservatives. The chia seeds, regarded as one of the healthiest foods on the planet, also add to an excellent texture.
SILVER: NSI Group LLC — Simply Nature Freeze Dried Fruit: Strawberries; Simply Nature Freeze Dried Fruit: Fuji Apples; and Simply Nature Freeze Dried Fruit: Asian Pears (ALDI brands)
Excellent color, texture and aroma with a satisfying taste. Fruit in a pouch concept is very innovative.
BRONZE: (tie) Sun Pacific — Specially Selected Cara Cara Oranges (ALDI brand)
Firm to the bite. Delectable rich color. Juicy and sweet with a memorable aroma.
BRONZE: Pacific Coast Producers — Full Circle Market/Yellow
Cling Peach Slices and Full Circle Market/Yellow Cling Pear Slices (Topco Associates brands)
OK, we've seen this before — canned fruit. But these products are different.
They are packed in 100 percent fruit juices, not some sugary-laden syrup. Packaging is also non-BPA (bisphenol A). Taste and mouthfeel are outstanding.
SHELF-STABLE VEGETABLES
GOLD: Seneca Foods — Chef's Best Veggie Trays
Get your veggies — and get them fast because they are shelf-stable and microwaveable. And they taste superb! Varieties include firecracker corn, corn and black beans, carrots, and green beans.
SNACK BARS
GOLD: Schulze & Burch — Millville Protein Peanut Butter
Dark Chocolate Chewy Bar and Millville Protein Peanut, Almond and Dark Chocolate Chewy Bar (ALDI brands)
Thick and tasty and loaded with protein (10 grams per bar) and fiber. A sweet, salty and healthy treat.
SPICES AND SEASONINGS
GOLD: The Spice Lab — Hawaiian Hula Rub
A fantastic combination of spices, including salt, brown sugar, dehydrated soy sauce, red chili flakes, sesame seeds, ginger and more. This concoction can punch up any dish with its distinct but not overpowering flavor.
SILVER: The Kroger Co. — Simple Truth Organic Truffle Parmesan Seasoning (Kroger brand)
Amazing product for fries, vegetables, eggs and pretty much any dish
where you want a deeply delicious flavor.
BRONZE: Cumorah Marketing Systems LLC — Mama's Rub
and Hot Mama's Rub
We love the fiery look. This is sweet heat done right!
TRAIL MIX
GOLD: Woodstock Farms Manufacturing — Raspberry Fruit Trail Mix, Wasabi Ginger Trail Mix, Blueberry Hemp Trail Mix and Orange Ya Glad Trail Mix
We had a difficult time picking one of these trail mixes over the other so we decided to pick all four. We are impressed with the innovation, not to mention the distinct blends and tastes.
SILVER: TreeHouse Foods — Wellsley Farms Peanut Buttery
Trail Mix (BJ's Wholesale Club brand)
Delicious fresh-tasting trail mix. Not too sweet, not too salty. Each flavor is accurately represented.
BRONZE: Bakery on Main — Specially Selected Organic Original Coconut Clusters and Specially Selected Organic Original Chocolate Coconut Clusters (ALDI brands)
Coconut remains a popular flavor and these crunchy blends are also on trend by being organic.
YOGURT
GOLD: Schreiber Foods — Specially Selected Indulgent Honey Greek Yogurt (ALDI brand)
While the popularity of Greek yogurt is waning, consumers still love that it's packed with protein. Hence, we like this yogurt for its health attributes but not at the expense of a sweet honey taste.
SILVER: Albertsons Companies — Open Nature Vanilla Icelandic Yogurt (Albertsons Companies brand)
Icelandic yogurt is thicker than Greek yogurt. It's also growing in popularity because of its healthy benefits. This product doesn't disappoint.