Nuts for healthy snacks
Get great content like this right in your inbox.
Subscribe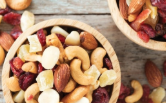 A new year means new trend predictions from experts who are busy prognosticating which food trends retailers and suppliers should be getting ahead of in 2019.
Hemp is in. Sustainability is out (replaced by regenerative agriculture). Plant-based keeps expanding its footprint across the store as everyone from grandma to Generation Z goes to The Kroger Co. for vegan string cheese and milks made from cashews. And sugar is out, as 84 percent of Americans are limiting it or cutting it out completely, according to market researcher Mintel.
But there is one food trend that continues to have staying power year after year: consumers' love of snacking on nuts and trail mixes.
Specifically, private-branded nuts and trail mixes are seeing a jump in innovation (and sales) as health-conscious consumers increasingly want a value-priced snack to contribute to their overall nutrition for the day. Nuts and trail mixes, which tend to offer good sources of protein, also supply nutrients that people often have trouble fitting into their diet, such as antioxidants, fiber and healthy fats. Private brands retailers such as Target are finding success in "snackable" dried fruits, nuts, seeds and mixes that are packaged into convenient individual portions, and these snacks are being re-defined as somewhere between healthy and indulgent.
At Tipp City, Ohio-based Trophy Nut Co., a manufacturer of nuts for private brands, product researchers have been hard at work coming up with what they believe will be the hottest nut and snack trends in the coming year. And when it comes to private-branded nuts, the trends are all about bold new flavors.
"The biggest trend that we're seeing now in store-branded nuts is retailers really spending some resources to go beyond what we call the core 14: the roasted salted peanuts, cashews, almonds … the same items every retailer typically has," says Scott J. Reindel, vice president of business development and retail strategy at Trophy Nut. "So retailers are going outside of those nuts, they're going after different flavors, and they're paring down their assortments to make room for more private label."
Reindel says retailers are "picking off the low hanging fruit" in their assortments to make way for own brand nuts and snacks that are true differentiators.
"Because the capabilities of private brands manufacturers are there, they can put a greater amount of effort into the products, not just duplicating, but improving them. So in private label you're getting into flavored almonds, you're getting into other innovations that typically you didn't see," Reindel says.
As private brands manufacturers such as Trophy Nut and others have begun blending snack nuts with more add-ins and flavors, consumers may think they're getting a snack that's both healthy and indulgent, which is consistent with the way shoppers are eating. 
Ninety-four percent of adults snack at least once daily, and 50 percent snack two to three times a day, according to Mintel. Various factors determine snacking habits, but typically snackers seek fuel or indulgence or both — and they can find both in nuts and seeds, trail mix and similar snacks. 
The rise of snacking is creating ample opportunity for retailers and suppliers of store brands nuts and trail mixes to leverage these behaviors into sales. From a look at the recent U.S. sales data, CPG marketing strategies seem to be working.
Private brands today comprise nearly $1.5 billion of sales in snack nuts with national brands accounting for $2.9 billion, according to market researcher Information Resources Inc. (IRI). Store brands snack nut sales were up 18.3 percent for the 52 weeks ending Dec. 2, 2018, when compared to the previous period, while sales of national brands were down 5 percent. Private brands account for nearly $531 million of sales in trail mixes with national brands accounting for $418 million. Store brands trail mix sales were up 4.7 percent during the same period.
Reindel highlighted Kroger as a retailer doing a great job of capitalizing on trends in own brands nut snacks.
"The one that does the best job in my opinion by far right now is Kroger," Reindel says. "They have introduced a pretty extensive line of Private Selection (Kroger's store brand) nuts and trail mixes. And they've really amped up their selection in nuts. They have done a really nice job of balancing their banner brands and their premium brands in the category."
The global nuts market is anticipated to grow at a compound annual growth rate of 5.2 percent through 2023, while the trail mix market is projected to grow at 5.6 percent during the same period. Private brands have an opportunity to capture much of these sales because price leads consumer decisions when purchasing nuts, seeds and trail mix, according to Mintel.
In a "2018 Nuts, Seeds and Trail Mixes" market report, Mintel reported that two-thirds of consumers say price is a prime driver of their purchases of nuts, seeds and trail mixes, "far outpacing the impact of flavor, health, or natural ingredients." Mintel also points to the need for more marketing and product innovation for nuts, seeds and trail mixes to be used at other times of the day, or in other meals. In addition, pairing nuts and seeds with other protein-rich components (such as meats or cheeses) for snacks or even entrees might offer a compelling value proposition for consumers.
Acosta is managing editor of Store Brands.