A noshing nation
Get great content like this right in your inbox.
Subscribe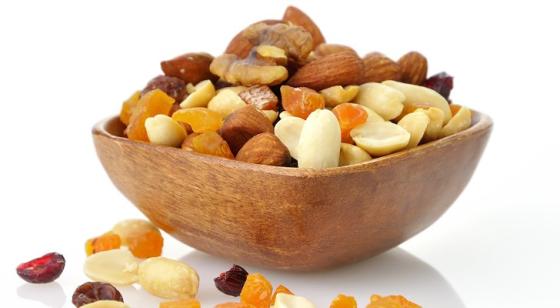 Time-pressed consumers want nutritious, energy-enhancing, portable non-perishable mini-meals that can be eaten virtually any time or anywhere. And they're increasingly turning to dried fruit and nut snacks for these mini-meals.
In general, consumers are buying more trail mixes and nuts, and roughly half of them are replacing meals with snacks at least three to four times a week, especially around breakfast, says Rich Robbins, director of sales, private label, for Trophy Nut Co., Tipp City, Ohio.
These same consumers tend to snack more frequently around breakfast time, adds Scott Reindel, vice president of business development and retail strategy for Trophy Nut Co. Snacking has become a more popular mid-morning activity, with 30 percent of it occurring before lunch. One of Trophy Nut's bestselling items is a soft-bite granola with dried strawberries and other fruit. It is popular with the breakfast crowd in convenience stores and other retail formats.
And these consumers are looking for products with short, readable, easy-to-understand ingredient lists — with those ingredients offering some type of health benefit, Robbins notes. In fact, 42 percent of consumers purchase snacks that offer health benefits.
For instance, nutrition-dense "super-foods" such as raw nuts, chia seeds and quinoa are hot commodities; and dried fruit, with its intense sweetness and energy-boosting properties, provides a healthful alternative to candy, as well as the nutrients of fresh fruit, says Adel Boulos, vice president of Montreal-based Amira Enterprises Inc.
"It's really an exciting time for private brands in the better-for-you snack category that features nuts, dried fruit, trail mixes and seeds [because] today's consumer is turning health and wellness trends into habits," declares Wesley Edwards, channel account manager, Woodstock Farms, Edison, N.J.
Offer bold flavors
Dried fruit and nut snack consumers want big bold flavors from their snacks, too.
"Thirty-two percent of consumers like to eat snacks that add excitement and flavor experiences," Robbins states. His company's Flavor Adventures line incorporates buffalo, smoky bacon cheddar and chipotle-lime notes.
More and more people are looking for nuts that have some type of flavoring, agrees Elie Cohen, vice president of sales for Bassé Nuts in Ouest Laval, Quebec. For instance, Sriracha and jalapeño flavors are now mainstream.
"Savory, ethnic-type flavors seem to be more prevalent," adds Mike Swiatkowski, vice president of sales for Akron, Ohio-based Hickory Harvest Foods. Hickory Harvest is currently introducing trail mixes with Asian flavors such as soy, wasabi, sweet chili and mango.
While savory is important, indulgent sweet flavors and ingredients — such as chocolate chips — are still much in demand, Swiatkowski reminds retailers.
Retailers could even offer indulgent sweet flavors such as dulce de leche, caramel or cocoa-dusted almonds, Cohen says.
And retailers could offer seasonal flavors to appeal to consumers' changing tastes during the year, Edwards states.
"A pumpkin crème seasoning can be used in a fall/winter trail mix comprised of pumpkin seeds, roasted almonds, diced apples, chocolate chips and coconut chips during colder months," he says. "That can be replaced with a sangria fresh fruit blend of diced apples, pineapple chunks, banana chips, diced mango and cherries with a fun sangria flavor for the spring and summer months."
Looking to the future, retailers will want to continue to innovate with flavor, Edwards advises.
"Private brands that incorporate unique flavors provide differentiation for retailers in the marketplace and a destination for consumers," he adds.
Effective packaging
In the better-for-you space, strive for clarity of communication and be sure to call out key attributes such as organic or free-from attributes, Reindel recommends.
"One way to do this is with color," he says. "Make it clearly defined with color. Make it easy for consumers to identify."
Retailers could also experiment with different packaging formats.
Stand-up pouches with zip-up tops are proving popular in this category for their convenience, affordable price and attractive packaging, Boulos reports.
And trail mix packaging should have a window so consumers can see what they're buying, Swiatkowski says.
However, Robbins does not recommend windows for nuts or mixes that have a lot of spice or seasoning.
"It just becomes messy, and you can't see the product," he says.
While stand-up gusset bags offer a larger area for branding and merchandise attractively, they do take up more shelf space than other options, Robbins notes. He suggests a mix of cans, jars and bags.
Retailers could also offer single-serve bags or multipack bags to appeal to on-the-go consumers, Edwards says.
And for retailers that want to sell larger amounts of dried fruit and nut snacks, attractive acrylic jars that consumers could reuse to store dry grocery items such as pasta, rice or beans could be attractive to consumers, adds Cohen.
Encourage purchases
Getting consumers to try a product for the first time can be a big hurdle, especially with new or bold flavors, Robbins says. So it is very important that retailers engage in marketing and promotional activities to encourage consumers to experience the product.
In particular, they should target millennials. Millennials are a major influence on the way people are snacking, Reindel says. To develop this group's loyalty, retailers should embrace digital marketing and social media especially, because millennials research everything online and create active networks of like-minded consumers.
And retailers shouldn't become complacent when it comes to marketing store brand dried fruit and nut snacks.
"It's more competitive now than ever in the snack space," Reindel says.
Swiatkowski recommends that retailers make good use of promotions because the category often comprises impulse items.
"Everyday 10 for 10 [dollars] is an effective promotional strategy to market nuts and dried fruits. 'Trial and trade-up' is another strong marketing technique in this category," Reindel says.
Retailers could also merchandise dried fruit and nut snacks in multiple parts of the store.
"I always advise my customers that if they want to promote dried fruit and nuts, to place them in the fresh produce section of the store," Boulos says.
Do offer fruit and nut snacks with bold flavors.
Don't include windows on packaging when the product is heavily spiced.