The next Sriracha
Get great content like this right in your inbox.
Subscribe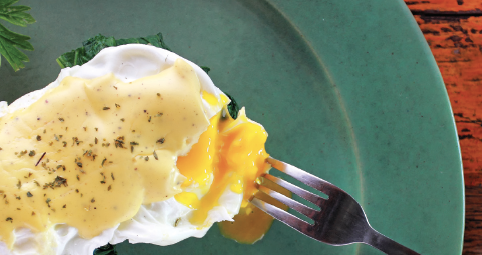 Move over Sriracha. There's a new sauce in town, although this one is not really new. You could even say it's retro.
While food retailers and manufacturers have been rushing to develop new sauces and marinades that leverage the popularity of Sriracha and other top-selling hot sauces, shoppers might be gravitating to old (and creamier) standbys in the condiment aisle in 2019.
During the 52-week tracking period ended Dec. 2, 2018, market researcher Information Resources Inc. (IRI) reports that private brand hollandaise/ bearnaise/dill sauce sales rose 55 percent to about $638.2 million. Sales of private brand horseradish sauce rose 28 percent to $3.4 million.
Premiumization in grocery is not new, of course, but the trend seems to be hitting the sauces and marinades categories more as shoppers increasingly use sauces and marinades to cook at home in an effort to eat what they perceive as better-for-you meals.
According to the latest market study released by Technavio, the sauces, dressings, and condiments market in the U.S. is set to grow at a compound annual growth rate of almost 3 percent until 2021.
"A major driver influencing the demand is the increasing number of cost-conscious consumers that eat at home," the Technavio report states. "Consumers are buying ready-made sauces and dressings to add to their food. With a diverse ethnic population in the U.S., the demand for ethnic and spicy sauces is increasing. This is opening up many opportunities for vendors to manufacture new culturally authentic products."
Retailers and suppliers looking to freshen up their private brand sauce programs beyond, say, Sriracha barbecue sauce (as found in Trader Joe's, for example) might think about developing new products that are classic creamy concoctions (a fresh béarnaise sauce, for example) or a sauce that incorporates spicy flavors with a creamy base (an ancho chili béchamel sauce).
According to market research firm Transparency Market Research, the horseradish sauce market in particular is expected to grow as consumers seek out the ingredient more and use it with a variety of foods, including sandwiches, burgers and even tacos. Up to 80 percent of the world's horseradish is grown in the United States, according to the International Horseradish Festival, which is held in Illinois every year and has grown in popularity among foodies looking for spicy flavors that are locally or regionally produced.
Yet, while classic sauces such as horseradish creams and hollandaise might be experiencing a resurgence in popularity among consumers, the age of Sriracha (and the love of Asian sauces) is certainly not over.
"One of the few changes in table sauces segment is the sudden rise in the demand for hot sauces, including tabasco, Sriracha, chipotle sauce, habanero sauce, and hot salsa sauce," said Akash Pandey, a lead food research analyst from Technavio. "The influx of multicultural groups in the U.S. is a major factor that influences the adoption of these sauces."
In fact, store brand Asian sauce and marinade sales rose 26 percent to $23.4 million during the same period ended Dec. 2. Sales of private brand hot sauce were up 11 percent to $22.3 million. Manufacturers of branded and store brand sauces such as Virginia-based Sky Valley Foods are trying to work with retailers to leverage these growth opportunities.
"What we're trying to do is really just pay attention to the trends and the competition out there and make sure that we're constantly innovating around what the consumer is looking for," says Joel Minkoff, product development research chef for Sky Valley Foods. "So, for example, we are launching a lot of authentic ethnic marinades and sauces around Asian, Thai and Peruvian cuisines."
Minkoff says Peruvian food has become really popular among consumers and Peruvian ingredients, especially chilies, are becoming more available.
 "We see more Peruvian restaurants opening," Minkoff says. "We see recipes popping up online for Peruvian food. So we see that as a trend we want to tap into."
The challenge in working with retailers, Minkoff says, is getting them to expand beyond teriyaki sauce or other common ethnic marinades.
"They feel very comfortable doing very basic Asian sauces but then to get them to extend into some riskier areas like Peruvian, that's where the challenge really is," Minkoff says. "So what we try to do is work with some of the retailers that are better at taking a little bit more risk — Whole Foods Market, The Kroger Co. — and go into other ethnic platforms or other organic platforms to make sure that they're staying ahead of the competition."
Other areas in the sauces and marinades categories seeing an abundance of innovation include better-for-you, plant-based, diet-specific and vegan options. Consumers are increasingly seeking clean-label sauces that have health attributes, whether "low FODMAP" (for people with sensitive stomachs), paleo or dairy-free. As public concern over sugar and salt intake increases, manufacturers are also answering with low-sugar or low-salt sauces. Suppliers are also paying more attention to the authenticity of their recipes, because consumers are studying labels carefully, Minkoff says.
Acosta, managing editor of Store Brands, can be reached at [email protected]