Nellson Nutraceutical opens new nutrition bar plant
Get great content like this right in your inbox.
Subscribe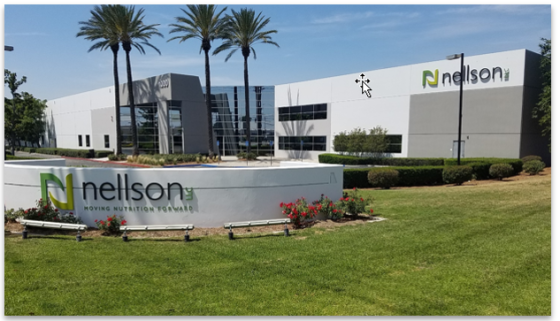 Anaheim, Calif-based Nellson Nutraceutical LLC, a manufacturer of private brand nutritional bar and functional powder products, has opened a new nutrition bar manufacturing plant in Ontario, Calif. The 300,000-square-foot facility provides state-of-the-art bar processing technology and capabilities, according to the company.
"This project began in 2016 when we decided it was better to build from scratch rather than retrofitting our aging facility in Irwindale, Calif.," said Nellson CEO Jamie Better in a statement. "Our goal was to construct a world-class nutrition bar facility that would provide our brand customers unmatched R&D expertise and the latest process and manufacturing innovations for nutrition bars as well as a first-rate working environment for our employees. This is the first new facility of its kind in North America in at least the last 16 years and is an important strategic investment for Nellson, as we gear up to meet customers' rapidly evolving demands in a dynamic nutrition market across multiple segments, including sports performance, wellness, weight management, functional and medical nutrition."
The new facility enhances Nellson's ability to work with its customers on the next generation of bars, providing custom formulation, benchtop replication and consumer samples and testing, the company stated.
"Our investment of about $70 million in the Ontario facility, along with our recent acquisition of Genysis Brand Solutions are the latest steps in Nellson's aggressive transformation under the ownership of [private equity firm] Kohlberg & Co.," Better added.
The Ontario plant offers the following features, the company stated:
A  streamlined layout with segregated lines — providing brand confidentiality, allergen control, food safety, efficient sanitation, as well as flexible production capabilities.

In-line process capabilities enabling new formats, such as slabbed and extruded bites, triple layer bars and unique custom shapes.

In-line dual mixing capabilities to optimally blend a range of ingredients, from very fragile cereal or crisp-based layers to very dense high protein doughs.

New high-speed packaging capabilities to support on-trend consumer demands.

Multiple pack-outs on a single line for optimal efficiency and increased flexibility.

State-of-the-art R&D collaboration center supporting customer formulation, commercial scale-up and consumer testing

Smart technology and energy-efficient systems to conserve energy, water and other resources, with programs to maximize recycling and reduce waste.

 Expansion space to support future growth
"We've created a world-class manufacturing center for our customers and a world-class environment for our people," said Bart Child, Nellson's senior vice president for commercial development, during a press event coinciding with the plant's grand opening on March 14.
Founded in 1962, Nellson has more than 50 years of diversified expertise in nutrition platforms for bars and powders, serving the sports nutrition, wellness, weight management, functional, and medical nutrition market segments.