05/31/2018
Medal worthy: 2018 Editors' Picks Awards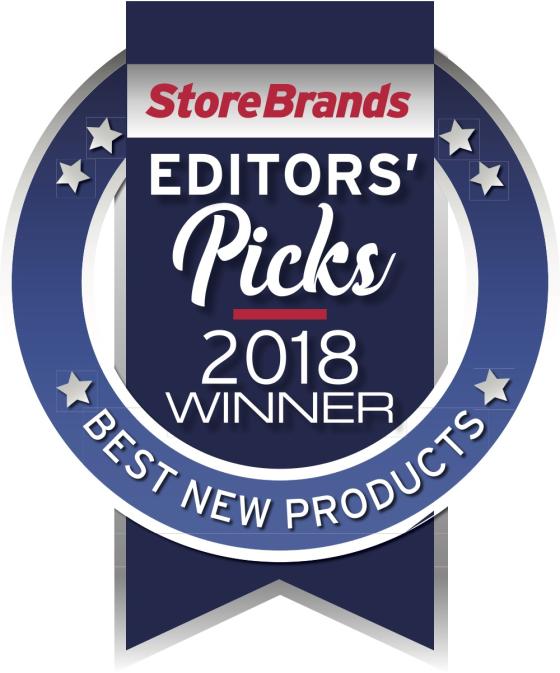 Private label pundits predict that store brands could be on the cusp of major growth in the next few years. But to take store brands to another level, retailers will need to infuse their own-brand offerings with premium-level products.
If the entries in Store Brands' 2018 Editors' Picks Awards competition are any indication, premium products are permeating the industry. The manufacturers and retailers that submitted entries for our product competition are clearly innovating, and have embraced and invested in ingenuity in many facets of food and non-food private brand categories.
This year, manufacturers and retailers submitted more than 200 products in our competition, nearly double from last year. The sheer assortment of entries in our third-annual Editors' Picks Awards competition impressed those who evaluated the product samples.
Open to private brand manufacturers and retailers that self-manufacture their own brands, the Editors' Picks Awards program recognizes the best new product concepts available for private branding. To be eligible for entry in this year's competition, the concepts must have been introduced in 2017.
A team of editors judged the food and beverage entries on taste and mouth feel, innovation, on-trend impact and appealing presentation, while assessing non-food entries on their functionality/usefulness, innovation, on-trend impact and appealing presentation.
Despite formidable competition, products from more than 60 vendors stood out for their differentiation and exclusivity in 30 categories.
Gold, silver and bronze honors were issued in most categories, but some categories received only gold or gold and silver awards. We congratulate the following winners:
Baby Food
Gold:  The Kroger Co. — Simple Truth Organic Fruit & Veg Puree Blueberry, Banana, Kale & Spinach
Millennials seek nutrient-rich organic food for themselves, and they want the same healthful, sustainably produced products for their young families. This convenient, squeezable-pouch baby food product blends a variety of fruits and vegetables for a blast of antioxidants, vitamins and fiber.
SILVER: Baxters North America — Little Journey Sweet Pea White Chicken Puree (Sold at Aldi)
Packaged in a squeezable pouch, this baby food delivers a high-protein combination of chicken and pea that tastes good too.
BAKING MIX
Gold: The Mason Jar Cookie Co. — Celebrate! Cookie Mix and All Natural Buttermilk Chocolate Chip Pancake Mix
The delicious, fun-to-make candy-covered cookies with sprinkles will put smiles on kids' (and adults) faces. The rich-tasting golden and fluffy buttermilk pancakes will too. Even if you don't indulge, these products might coerce you to do so. They are premium while catering to consumers' desire for convenience.
BEVERAGES/COFFEE (GROUND AND WHOLE BEAN)
GOLD: Trilliant — Uniquely J Peruvian Coffee, Organic and Fair Trade (Sold by Jet.com)
All of the judges enjoyed this coffee. The grounds have an attractive dark color, and the aroma and taste is superb. Being organic and Fair Trade, it is on trend.
SILVER: Paramount Roasters — Barissimo Fair Trade Certified Organic Peru Whole Bean Medium Roast (Sold at Aldi)
Rich in taste, the manufacturer notes that "all chemical substances are eliminated to ensure the natural flavor profile of this bean is not altered in any way.
BRONZE (TIE): The Kroger Co. — Hemisfares 100% Jamaica Blue Mountain Coffee Whole Bean Medium Roast
A balanced and smooth flavor with hints of chocolate and citrus. The beans are grown on the Jamaica Blue Mountains — a one-of-a-kind micro climate that creates the ideal conditions for producing the original Arabica Typical varietal brought to Jamaica back in 1728, according to Kroger.
Farmers Brothers — Giant Eagle Market District Direct Trade Colombia Medium Roast
A clean taste that is not overpowering or acidic. According to the manufacturer, the coffee beans are grown in rich soil near the Rio Magdalena River in Colombia.
BEVERAGES/COFFEE (SINGLE SERVE)
GOLD: Mother Parkers Tea and Coffee — Nespresso Compatible Espresso Capsules
Delicate and savory sweet with a lightl syrupy mouthfeel. We also enjoyed the slight orange zest aroma.
SILVER: Trilliant — Uniquely J Organic, Fair Trade Badass
Expresso, Intensity 10 (Sold at Jet.com)
This is a strong espresso, but it's not bitter or harsh. It's smooth to drink
and has a nice full body and rich flavor with some fruity notes.
BEVERAGES/JUICES AND SMOOTHIES
GOLD: OKF Corp. — OKF Green Smoothie
You can't help but feel about good drinking this. And its blend of apple, kiwi and mango tastes fresh and fabulous. Talk about a beverage that goes down easy. This smoothie also contains Lactobacillus, which provides health benefits.
SILVER: Smart Juice — SimplyNature Organic Antioxidant Power
(Sold by Aldi)
This refreshing 100 percent organic juice combines pomegranate, tart cherry, red grape, purple carrot, cranberry and blueberry and bursts with flavor.
BRONZE: Lassonde Beverages Canada — Specially Selected 100% Pure Black Cherry Juice (Sold by Aldi)
Derived from concentrated ripe, whole unsweetened black cherries, this drink packs a flavorful punch. Its also on trend with no added sugars.
BEVERAGES/MILK
GOLD: HP Hood — Friendly Farms Chocolate Almond Milk
(Sold at Aldi)
This product had us at the first sip — its creamy chocolate and nutty flavor made for a great taste and a savory experience. It's also packed with Vitamin E.
SILVER: Jasper Products — Friendly Farms Coconut Milk Original
(Sold at Aldi)
Products made from coconuts continue to flourish. There's no doubt that this product, which provides a very satisfying taste and mouthfeel, will keep the coconut trend going strong.
BEVERAGES/SPORTS DRINKS
GOLD: The Kroger Co. — Simple Truth Organic Electrolyte
Solution Wild Berry
A stand-out product that is on trend in a big way. More and more consumers are concerned about staying hydrated and this good-tasting organic beverage catches your attention with the words "electrolyte solution." There are also no artificial colors, flavors or sweeteners. Electrolytes never tasted so good.
BEVERAGES/WATER
GOLD: The Maple Guild — tapt Vitamin Electrolyte Antioxidant Mineral Infused Tree Water Made from Maple Syrup
Water — make that infused tree water — never tasted so good, especially with a hint of organic maple syrup. Plant-based products are on trend, and this product certainly delivers on innovation. It could also be classified as a "super drink," considering it contains electrolytes, antioxidants, vitamins and minerals. It comes in seven fruity flavors.
SILVER: Mapco Express — Good Livin' Sparkling Water
Bubbly (of course) and refreshing.
BRONZE: Independent Beverage Co. — Puraqua Belle
Vie Grapefruit Sparkling Water (Sold at Aldi)
The grapefruit taste is subtle but pleasing.
BREAD
GOLD: La Fournee Doree — Specially Selected Sliced Brioche Loaf
(Sold at Aldi)
Imported from France, this sliced bread loaf is "scrumptious," noted one editor. The product is perfect for busy, discerning millennials who would not only enjoy the bread themselves but also use it for their young kids' lunchbox sandwiches. A premium product, the bread represents Aldi's new emphasis on baked goods.
SILVER: Pita Bread Factory — L'Oven Fresh Wraps, Spinach Herb
(Sold at Aldi)
This vegan bread option is a delicious, on-trend lunch solution, ideal for a variety of nutrient-dense fillings.
CANDY
GOLD: Chocmod USA Inc. — Snacking Chocolate Coconut & Quinoa
Call it candy with some on-trend flair, notably quinoa, a popular superfood. Chocmod's new truffles are made in three recipes — cranberries, hazelnut and coconut. All make for a delightful sweet treat and scored high with our judges on taste and mouthfeel.
SILVER: Redland Foods — Peaceful Piranha Caramel
Cashew Popcorn
An innovative sweet treat that surely has customers of Hy-Vee, where the exclusive Peaceful Piranha line is a store brand, coming back for more.
BRONZE: Chocolate Lugano — Easter Collection Lugano
& Jorge Bischoff
This product would give exclusivity to any retailer, considering its packaging and the bracelet that is included. The tasty bitter chocolate contains walnut seeds, almonds and pistachios.
CHIPS
GOLD: The Kroger Co. — Kroger Nashville Style Hot Chicken Kettle Cooked Potato Chips
It's not organic and free from what some may deem undesirable ingredients. But the innovative flavor, which capitalizes on the popularity of Nashville hot chicken, is spot on. Eating these chips, you might not need the real thing to satisfy a Nashville chicken crave.
SILVER: Snack Innovations — This Chip is Awesome
The name of the chip is a bit … well … vain, don't you think? But this organic popcorn chip, which features chia, flax and quinoa in its ingredients, has room to brag.
BRONZE: Severance Foods Inc. — Simply Nature Organic Multigrain Tortilla Chips (Sold at Aldi)
Nothing flashy about this chip. It simply looks tantalizing in the package and has the crunch and taste to back its look. And being organic, it's on trend.
DAIRY
GOLD: Commonwealth — Friendly Farms Crazy for Coconut Tilts Greek Yogurt (Sold at Aldi)
The low-fat Greek coconut yogurt can be combined with the almond and chocolate chip topping by just tilting the package. Healthful while indulgent, convenient yet fresh, the product is definitely on trend. Retailing for just 89 cents a unit at Aldi, this yogurt line is a phenomenal value, the judges agreed.  
SILVER: Biazzo — Biazzo Dairy Fresh Mozzarella Snack Sticks
Unlike string cheese, these all-natural fresh mozzarella sticks have a smooth, soft texture and a subtle, not salty, flavor that is pleasing to sophisticated palates.
BRONZE (tie): The Kroger Co. — Carbmaster Low Fat Peach
Cottage Cheese
This convenient, healthful and tasty product, with 5 grams of sugar and 15 grams of protein, epitomizes why cottage cheese has suddenly become so trendy.
Commonwealth — Friendly Farms Key Lime Crunch Tilts Greek Yogurt (Sold at Aldi)
This low-fat Greek yogurt scored high in taste and mouthfeel. The rich key lime taste was spot on.
DAIRY-FREE PRODUCTS
GOLD: Natural Fit Food Products — Dairy-free Cheddar Cheese
Billed as an alternative for cheese, this dairy-free product hits the mark. Simply put, it looks like cheese and tastes a lot like cheese with the help of water, coconut oil, pea protein, sea salt and other ingredients.
FROZEN DESSERTS
GOLD: G.S. Gelato & Desserts — Mango Sorbet with Semi-
Candied Fruit
"Delicious!" agreed the judges when sampling this sorbet. Made from Alphonso mangoes from India, the product is free of artificial ingredients, fat and trans fat, dairy and gluten and has just over 100 calories per serving. Marketed as a sustainable product, the sorbet is available in a premium recyclable or reusable clear plastic pint.
FROZEN FRUIT
GOLD: Wawona Frozen Foods Corp. — Season's Choice Tropical Blend (Sold at Aldi)
Sometimes the freshest fruit is in the freezer case, the product frozen at the peak of freshness. Reminding judges of a tropical vacation, this blend is delicious and healthful, without added sugars and with plenty of vitamin C and antioxidants.
FROZEN VEGETABLES
GOLD: The Kroger Co. — Mini Sweet Potatoes with Moroccan Inspired Artisan Seasoning Blend
We were a bit skeptical about this product, mainly because the preparation sounded too easy: Heat the sweet potatoes, add a bit of butter and the seasoning blend, and basically have at it. But wow! Talk about a quick fix for an outstanding, tasty and healthy product. And the Moroccan-inspired seasoning makes for a great flavor combination. Kudos to the product developers for a simple but successful innovation.
SILVER: The Kroger Co. — Petite Potatoes with Smoked Gouda, Onion & Thyme Artisan Seasoning Blend
The smoked gouda, onion and thyme seasoning blend is the near-perfect complement for this dish.
BRONZE: Crops dbs RR Foods — Mediterranean Quinoa with Spinach, Garbanzo Beans, Red Peppers and Onions (Sold at Aldi)
Indeed, an excellent medley of ingredients with a subtle but sensational flavor.
HEALTH, BEAUTY AND MEDICAL PRODUCTS
GOLD: Sterling Global Products — Bob's Insect Repellent Wipes
The wipes are exceptionally useful and convenient while still reflecting the company's commitment to sustainability, and health and wellness. The wipes are made of a 100 percent biodegradable, paraben-free material that feels soft on the skin. Available in travel-sized packs, the wipes are much more portable than spray-on insect repellent; they are ideal for outdoor events and can be used by the entire family.
SILVER: Vertex/Product Launchers — Vertex Toothbrush
The inventor of this product spent many hours in his kitchen experimenting with different toothbrush head shapes and handle designs; the result is this ergonomically designed toothbrush with a T-shaped head, a round grip and 360-degree operation that allows the user to access hard-to-reach dental areas.
BRONZE: Royal Labs Natural Cosmetics — Harris Teeter Traders French Lavender Body Lotion
The delightful lavender scent of this lotion and its moisturizing properties suggest relaxing and luxuriating at a high-end spa; this is a product that can kindle the consumer's imagination.
HOUSEHOLD PRODUCTS
GOLD: Freudenberg Household Products/O Cedar — ProMist Max Microfiber Spray Mop
This company's mission is to take the "work" out of "housework," and the ProMist Max Microfiber Spray Mop delivers multifaceted convenience. First and foremost, the labor-saving tool contains a vessel for cleaning solution, which allows for more continuous mopping. The mop's large dual-sided microfiber mop head also promotes efficiency and productivity. The mop pad can be cleaned in a washing machine, which helps lessen landfill waste. "Why didn't anyone think of this before?" asked one editor.
SILVER: Berkley Green — Uniquely J Fragrance Sparkling Grapefruit Scented Bathroom Cleaner (Sold at Jet.com)
In the past, many consumers dreaded cleaning because of harsh chemical smells; this bathroom cleaner, which is free of formaldehyde and chlorine, has a fresh fruity scent but gets the job done.
BRONZE: Berkley Green — Uniquely J Fragrance Free Wood Floor Cleaner (Sold at Jet.com)
This scent-free wood floor cleaner contains plant-based ingredients and is free of harsh chemicals. It also has an easy-to-use spray trigger that boosts productivity.
MEAL SOLUTIONS
GOLD: International Delicacies Inc. — Earthly Grains Ready-to-Eat Quinoa Meal/Spicy Jalapeño & Roasted Peppers (Sold at Aldi)
An innovatively packaged ready meal, this product not only boasts the complete protein of quinoa, but also is spicy and delicious. "I love this product," said one judge. "It has a marvelous flavor and is healthful and extremely convenient."
SILVER: Ungar's Food Products, dba Dr. Praeger's Sensible Foods — Earth Grown Vegan Veggie Burger (Sold at Aldi)
Unlike some vegan burgers that attempt to mimic the look, taste and even the bloodiness of ground beef, this product "is proud to be what it is," allowing the delightful flavors and appearance of the vegetables it contains to shine through.
BRONZE: Oggi Foods Inc. — Gluten-Free Cauliflower Crust
Vegans, people with gluten sensitivities and anyone else with discerning taste will relish the flavor, texture, performance and versatility of this pizza crust.
MEAT (FROZEN)
GOLD: The Kroger Co — Private Selection Peri Peri Seasoned Chicken  Breasts and Private Selection Shawarma Seasoned Chicken Breasts
These frozen chicken breasts, which come in individual packages, are simply outstanding. The chicken cooks up moist and tender, but it's the precise on-trend flavor seasonings that take these products to another level. The Peri Peri Seasoned Chicken Breasts feature an exotic, bursting flavor. The Shawarma Seasoned Chicken Breasts also feature a distinct, pleasing flavor.
MEAT (JERKY)
GOLD: Fusion Ranch — Simms Artisan Jerky – Spicy Garlic Pork
(Sold at Aldi)
This bold-tasting jerky is near-perfectly seasoned for an onslaught of taste. The pork is tender, unlike other overly chewy jerkies. It is also on trend in that it contains no preservatives.
MEAT (OTHER PROCESSED)
GOLD: Godshall's — Artisan Butcher Korean Barbecue Flavor Uncured Bacon
This value-added bacon is thick and juicy and a wonderful blend of somewhat spicy and sweet flavors. We are impressed that the manufacturer provides detailed, varied cooking instructions for the product, which comes in several flavors.
SILVER: Salm Partners — Parkview Uncured Angus Beef Franks (Sold at Aldi)
The "free from" angle weighs heavily here: uncured; nitrite-free; and no fillers, artificial color and flavors. That's all good news, especially considering this is one excellent-tasting frankfurter.
BRONZE (TIE): The Kroger Co. — Private Selection Natural Hardwood Smoked All-Beef Hot Dogs Made with Beef Brisket
These delicious smoked hot dogs are a premium product with a terrific taste and mouthfeel. They would be great with a wide assortment of toppings but would be equally delicious eaten plain, without condiments.
Salm Partners — Parkview Select Cuts Hot Italian Style Uncured Cooked Chicken Sausage (Sold at Aldi)
We like a lot of things about this chicken sausage, including that it contains no artificial colors or flavors and no by-products or fillers. But what we liked most was its biting taste.
OILS AND VINEGARS
GOLD: The Maple Guild — Maple Vinegar
This Vermont-produced vinegar is made with organic maple sap that is allowed to naturally ferment for months, then aged in wine barrels from Napa Valley. The maple vinegar is unfiltered and contains prebiotic and probiotic benefits. "This product is authentic, interesting and flavorful," commented one editor who judged the entries.
SILVER: La Tourangelle — Uniquely J California Single Origin Extra Virgin Olive Oil (Sold at Jet.com)
Made from five different kinds of non-GMO olives from a single farm in California, including Manzanillo and Koroneiki, this tasty olive oil is cold-pressed to preserve nutrients and is an excellent value at $13.99 for a full-liter bottle.
BRONZE: La Tourangelle — Uniquely J Organic Virgin Coconut Oil (Sold at Jet.com)
Expeller-pressed to preserve nutrients, this unrefined coconut oil has a fresh, pure coconut flavor and can be used in many ways such as for frying coconut shrimp or adding to baked goods.
PASTA AND MACARONI
GOLD: Karlin Foods — Live Gfree Gluten-Free Deluxe Rice Shells & Cheese (Sold at Aldi)
The whole-grain brown rice shells make for a delectable taste. The creamy cheddar cheese sauce is the icing on the cake, so to speak. In 10 minutes, consumers can prepare an outstanding side dish or snack, thanks to this product's easy preparation.
SILVER: TreeHouse Foods — Harris Teeter Traders Sprouted & Ancient Grain Blend Multigrain Pasta
With a blend of sprouted whole wheat, semolina, quinoa, millet and sorghum, this pasta provides excellent flavor with or without sauce. As the product says on its packaging, "There's a reason why 'ancient' grains have survived over the centuries."
BRONZE: Karlin Foods — Simply Nature Organic Deluxe Shell Pasta with Cheese Sauce (Sold at Aldi)
This creamy, cheesy tasty pasta will definitely satisfy the organic crowd.
PET FOOD
GOLD: American Nutrition — Nature's Source Dog Food in Three Flavors: Salmon & Sweet Potato; Lamb & Brown Rice; and Chicken and Brown Rice
American Nutrition recognizes that contemporary "pet parents" want even higher-quality food for their pets than for themselves. The company's dog kibble comes in customizable formulas, including the three entered in this competition, which combine visible pieces of carrots, cranberries, peas and apples with lamb, chicken or salmon. "How can dry dog food look so fresh?" asked one judge.
SILVER: Mountain Country Foods — Pure Being Grain-Free Dog Treats in two flavors: Chicken and Beef & Cheddar (Sold at Aldi)
"My dogs love these treats," said an editor who brought the sample home for her terriers, noting that the grain-free treats reflect consumers' growing concern about feeding their dogs a less-than-natural diet.
BRONZE (tie): American Nutrition — Nature's Source Chicken, Brown Rice & Pea Cat Food
Cats, which can live well into their teens, benefit from and enjoy more natural food; this healthful premium kibble is priced 10 to 15 percent less than comparable quality national brands.
ConSup North America — Pure Being Adult Dog Food (canned) in three varieties: Salmon & Potatoes, Beef & Chicken and Chicken & Vegetable Stew (Sold at Aldi)
Dogs devour these delicious and nutritious meals, while their caregivers can rest assured that the moist dog food is clean label — without artificial flavors or preservatives.
Sunshine Mills — Pure Being Natural Cat Food in two
flavors: Salmon, Brown Rice & Sweet Potato; and Chicken & Chickpea
(Sold at Aldi)
Millennials seek unique flavor combinations for themselves and favor globally inspired high-protein cuisine. Hence, this cat food resonates with young adults who want only the finest products for their pets.
SAUCES, SALSAS AND DIPS
GOLD: The Kroger Co. — Private Selection Chimichurri Finishing Sauce
Traditionally used in Argentinian cuisine, this small-batch steak finishing sauce took judges on an international taste adventure. A thick, spicy sauce, it combines the flavors of garlic, red wine vinegar and fragrant herbs to add pizzazz and uniqueness to any cut of steak. One judge remarked on the product's versatility.
SILVER: Italian Rose Garlic Products — Italian Rose Ghost Pepper Fresh Salsa|
This amazing salsa delightfully blends fresh and fire-roasted tomatoes with herbs and a blast of ghost chili peppers, a combination sure to entice millennials and others with adventurous palates.
BRONZE: Good Foods — Little Salad Bar Southwest Guacamole (Sold at Aldi)
Made with fresh avocados, this flavorful vegan, gluten-free dip is not only on trend, but also absolutely delicious, the judges agreed.
SHELF-STABLE VEGETABLES
GOLD: Seneca Foods — Baked Beans in Four Flavors: Original, Country Style, Savory Molasses and Sweet Bourbon
The baked bean isn't exactly a prominent 21st-century innovation. But it's the flavors of these beans — not to mention the convenient packaging and short cooking time in the microwave — that bring this product all together to make it on trend. Oh, and these beans taste good!
SNACKS
GOLD: Redland Foods — Culinary Tours Kettle Cooked Peanuts Peruvian Style Chili
A bold, spicy taste and gratifying crunch that will command your attention. Peanuts offer a wonderful chance for manufacturers to innovate with the right taste and this manufacturer hit it out of the park. Culinary Tours is a Topco Associations brand.
SILVER: Woodstock Farms — Organic Morning Commuter Trail Mix
Snacking has never been more popular, and this product offers consumers a healthy alternative with an organic combination of apple cinnamon granola oat clusters, dark chocolate coffee beans for a hint of chocolate java, sweet cranberries, dry-roasted salted peanuts and crisp banana chips.
BRONZE: Redland Foods — Culinary Tours Kettle Cooked Peanuts Rendang Curry
A peanut and a trendy, savory flavor. This product meets all the qualifications for a successful private brand.
SNACK BARS
GOLD: The Yes Bar —The Yes Bar/Macadamia Chocolate Snack Bar
Yes, we are absolutely down with The Yes Bar being successful as a private brand. We love the healthy and on-trend ingredients: nuts, seeds, dried fruit and spices. It is also low in sugar. But what we love most is the magnificent and distinguished taste.
SILVER: Nutri-Nation Functional Foods — Elevation Better for You Bar by Millville/White Chocolate Macadamia Nut (Sold at Aldi)
How can something that tastes this good be better for you? Just try this snack bar. Fiber and protein never tasted so good.
BRONZE: Leclerc — Fresh Direct Just Nut Bars
A great example of almonds, peanuts, dark chocolate, walnuts and seasoning coming together and just clicking.
SPICES AND SEASONINGS
GOLD: The Spice Lab — Himalayan Pink Salt
There's that old mantra: If it tastes good, it's probably not good for you. But Himalayan pink salt tastes better than regular salt … and is cleaner and healthier too. The Spice Lab says its Himalayan Pink Salt is hand-mined deep in the Himalayan Mountains from salt beds formed in the Jurassic era more than 250 million years ago. Two words: Think pink.
SILVER: Gel Spice — Stonemill Lemon Pepper Salt Free Seasoning Blend (Sold at Aldi)
Don't want salt but want taste? This seasoning blend gets the job done with its subtle but impactful lemon flavor.