04/30/2019
Sponsored Content
Marconi Fresh Harvest Extra Virgin Olive Oil Bag-In-Box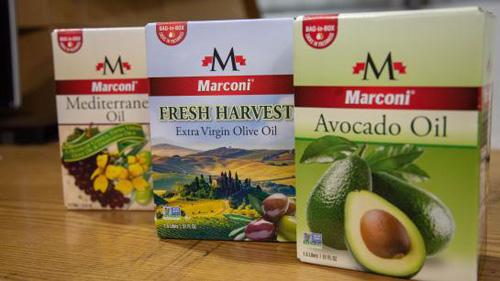 Catania Oils, leading processors and packers of edible oils including olive, vegetable, blended and specialty oils, launched its Marconi Fresh Harvest Bag-In-Box Extra Virgin Olive Oil. Marconi's Fresh Harvest olive oil is sourced six months of the year from the Northern Hemisphere and six months from the Southern Hemisphere. When combined with Catania's new bag-in-box packaging, the olive oil retains that pressed-in freshness even longer.
The box blocks harmful light from hitting the product directly, preserving the flavor and integrity of the oil; and the sealed bag helps retain the oil's freshness by keeping air away from the product. Both the bag and box are recyclable for less environmental waste.
Catania Oils' Senior Vice President of Retail Mark Coleman notes: "When we travel the world to source our olive oil, we're touching the olive, looking at its color, looking for ripeness, and Fresh Harvest is harvested at the very beginning stages. We're proud to introduce such high-quality olive oil to the market and into our customers' everyday cooking."
The Bag-In-Box is offered in a 1.5-liter retail size. In addition to Fresh Harvest, Catania is offering two other varieties, Avocado Oil and a Mediterranean Blend.