Mandarin Orange Chicken rules again
Get great content like this right in your inbox.
Subscribe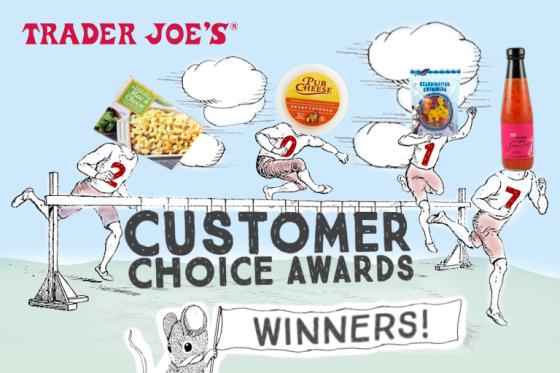 Trader Joe's announced the winners of its ninth-annual Customer Choice Awards, which focuses entirely on the retailer's private brands. Once again, voters made the Monrovia, Calif.-based retailer's Mandarin Orange Chicken as their Favorite Overall product.
Runners up in the Favorite Overall category are:
Everything But The Bagel Seasoning
Unexpected Cheddar
Dark Chocolate Peanut Butter Cups
Cookie Butter
Here are the other category winners and runners-up:
Favorite Bakery
Winner: Almond Kringle
Runners up: Sliced French Brioche, Chocolate Brooklyn Babka, Sliced Sourdough Bread, Organic Baguette
Favorite Beverage
Winner: Spiced Cider
Runners-up: Brewed Ginger Beer, Wine. All Of It, Sparkling Mineral Water, Triple Ginger Brew
Favorite Candy
Winner: Dark Chocolate Peanut Butter Cups
Runners-up: Scandinavian Swimmers, Dark Chocolate Covered Almonds, English Toffee, Dark Chocolate Covered Espresso Beans
Favorite Cheese
Winner: Unexpected Cheddar
Runners-up: Double Cream Brie, Cheddar Cheese With Caramelized Onions, Smoked Gouda Pub Cheese
Favorite Coffee
Winner: Cold Brew Coffee Concentrate
Runners-up: French Roast, Wintry Blend, Pumpkin Spice, Organic Fair Trade Sumatra
Favorite Condiment
Winner: Organic Ketchup
Runners-up: Green Dragon Hot Sauce, Sweet Chili Sauce, Everything But The Bagel Seasoning, Organic Sriracha & Roasted Garlic BBQ Sauce
Favorite Frozen Appetizer
Winner: Spanakopita
Runners-up: Spinach & Artichoke Dip, Chicken Gyoza Potstickers, Vegetable Bird's Nests, Bacon Wrapped Scallops
Favorite Frozen Dessert
Winner: Hold The Cone! Mini Vanilla Ice Cream Cones
Runners-up: New York Deli Style Cheesecake, Macaron Variés, Key Lime Pie, Sublime Ice Cream Sandwiches
Favorite Frozen Entrée
Winner: Mandarin Orange Chicken
Runners-up: Joe's Diner Mac 'n Cheese, Chicken Tikka Masala, Hatch Chile Mac 'n Cheese, Kung Pao Chicken
Favorite Health/Beauty
Winner: Tea Tree Tingle Shampoo
Runners-up: Coconut Body Butter, Honey Mango Shave Cream, Organic Argan Oil, Jojoba Oil
Favorite Holiday
Winner: Candy Cane Joe-Joe's
Runners-up: Mini Dark Chocolate Mint Stars, Dark Chocolate Covered Peppermint Joe-Joe's, Jingle Jangle, Panettone
Favorite Home
Winner: Flowers
Runners-up: Lavender Dryer Bags, Liquid Laundry Detergent, Pop Up Sponges, Bath Tissue
Favorite Meal on the Go
Winner: Black Bean & Jack Cheese Burrito
Runners-up: Cubano Seasoned Wrap, Tofu Spring Rolls, Joe's Diner Mac 'n Cheese, Southwest Salad
Favorite Meat/Meatless
Winner: Soy Chorizo
Runners-up: Meatless Meatballs, Spatchcocked Lemon Rosemary Chicken, Carne Asada, Uncured Applewood Smoked Bacon
Favorite Produce
Winner: Bananas
Runners-up: Avocados, Teeny Tiny Avocados, Riced Cauliflower, Brussels Sprouts
Favorite Snack
Winner: Peanut Butter Pretzels
Runners-up: Organic Corn Chip Dippers, Roasted Plantain Chips, Cornbread Crisps, World's Puffiest White Cheddar
Favorite Pumpkin
Winner: Organic Pumpkin
Runners-up: Pumpkin Butter, Pumpkin Bread & Muffin Mix, Pumpkin Pancake Mix, Pumpkin Ice Cream