Mainstream … and building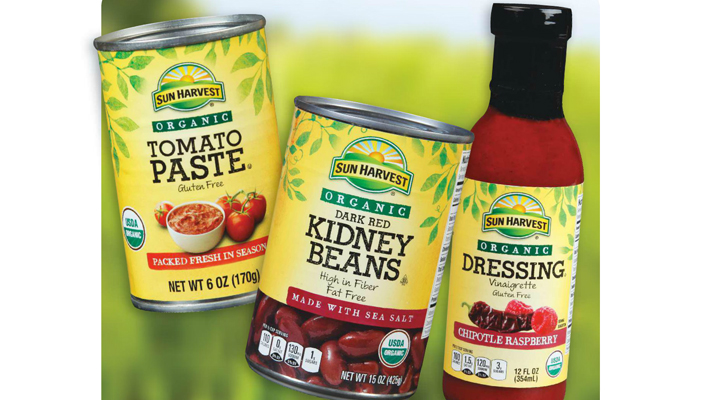 Sales within the U.S. center-store shelf-stable grocery segment have grown 10 percent since 2010, according to "Center of the Store — U.S.," a January report from global market research firm Mintel. New introductions have succeeded by catering to consumer health and wellness demands, including demands for natural and organic products.
Most U.S. consumers now buy natural and/or organic foods and beverages, states "Natural and Organic Foods and Beverages in the U.S.," a July 2014 from the Packaged Facts division of Rockville, Md.-based MarketResearch.com.
But there's a wrinkle, at least on the organic side. While some folks consider organic foods essential, especially for baby food and other children's food products, others feel they're an unnecessary indulgence that can be ignored should food money become tight, relays "Organic Packaged Food in the US," published in April 2015 by London-headquartered market research firm Euromonitor International.
Although natural and organic food and beverage sales are hard to calculate since this market includes every food category — with natural or organic defining products in varying manners and degrees — sales are increasing. Between 2014 and 2019, the U.S. retail market for natural and organic foods and beverages is expected to grow by 62.1 percent, with total annual sales increasing from $53.5 billion in 2014 to $86.7 billion in 2019, for a compound annual growth rate of 10.1 percent, Packaged Facts predicts. Organic packaged food increased 6 percent in value sales in 2015, reaching $14.8 billion, adds Emily Balsamo, Euromonitor research analyst.
Although products certified organic under USDA's National Organic Program (NOP) as containing 70 percent or more organic ingredients contribute to 34 percent of the natural channel and are growing almost on par with the natural channel overall, their growth in the specialty and conventional channels outpaces overall channel growth, says Kora Lazarski, strategic alliance manager for Chicago-based SPINS LLC. The company is a provider of retail consumer insights, analytics and consulting for the natural, organic and specialty products industry. Last year, the specialty channel grew 7.4 percent, while organics in the specialty channel grew 9 percent. The conventional channel grew 2 percent last year, while organics grew 12.4 percent, she adds.
Private brands making headway
Although natural and organic food and beverages certainly mesh with the mega trend of health and wellness, staying abreast of what other attributes define "healthy" is tough. Shoppers constantly redefine their ideas of healthful eating — plus they are reading ingredient labels more scrupulously.
"Shoppers are seeking out relatively short ingredient lists containing only items they know and can easily pronounce," Balsamo says. "Many count ingredients, not calories," she adds.
Private label remains a driving force behind organic's growth in many categories, says Mike Hackbarth, vice president, private brand and customer demand, The Fremont Co., Fremont, Ohio. "Private brand organic ketchup represents over 60 percent of all organic ketchup sold in 2015," he adds. "Private brand organic has filled the consumer need for a high-quality organic offering at a significant savings versus organic brands."
Many new introductions of ketchup, barbecue sauce and other shelf-stable products also are substituting high-fructose corn syrup (HFCS) with sugar, he adds.
Since organic packaged foods have become more mainstream, many grocery and non-grocery retailers continue building their organic products portfolio, states Euromonitor study Organic Packaged Food in the US," published in April 2015.
Austin-based Whole Foods Market, which had been pejoratively nicknamed "whole paycheck," took steps in 2016 to lower its prices to squash that moniker, Balsamo says.
"The move to lower prices comes while big-box retailers are increasingly investing in organic offerings," she adds.
And Walmart, Bentonville, Ark., partnered with Boulder, Colo.-based Wild Oats Marketing in 2014 to create an exclusive line of organic products.
"As of mid-2015, that retailer offered 1,600 organic grocery items, including the Wild Oats line," Balsamo says. "Target, Kroger [which expanded its Simple Truth organic brand], Trader Joe's and ALDI all made waves in 2015 and 2016 by increasing their organic portfolios."
One very significant change in the organic retail landscape is the impending opening of the Whole Foods' 365 by Whole Foods concept, she adds. The new private brand-heavy banner, with the first store set to open in May, is to be much more democratically priced than Whole Foods. It will carry fewer products and target lower-income areas not yet penetrated by Whole Foods Market. Expansion of organic offerings by major retailers is expected to increase.
Capitalize on trends
Reorganizing center store might influence shoppers to buy more food products, suggests Mintel's center-store study. This reorganization could entail further segregation of private brand natural and organic food products, making them easier to locate. More food pairing suggestions and phone app-friendly store maps could also greatly appeal to shoppers.
Offering great-tasting new products in trending flavors and various package sizes at favorable prices always satisfies varying household needs. As a result, new product opportunities abound.
"Energy bars and gels, baby food and bread and baked goods lead, with the largest overall sales volume in center-store certified NOP plus-70 percent organic products, although oils and vinegars are catching up with the largest absolute dollar change in center-store products in the last year," Lazarski says. "These all include private label."
Consumers also want hot and spicy when it comes to condiments and other products.
"Sriracha and jalapeño have joined Tabasco/cayenne hot sauce-style ingredients to meet consumers' desires for ethnic flavors and/or new cooking trends," Hackbarth says. "Retailers should offer these same flavor profiles in organic and/or non-HFCS products."
Focus on packaging
Eye-catching package design and graphics also attract shoppers. Recipes are welcome, while user-friendly, sustainable packaging drives repeat sales.
For healthier-alternative products such as organic soup and almond milk, products processed via ultrahigh temperature are popular.
"These products come in [flexible] cartons [versus cans or glass jars/bottles]. Gable-top cartons are also extremely popular," Balsamo says. "Downsizing is also a trend, which lends itself well to portion control."
Variety in package sizes with easy-open and easy-close features, plus resealable standup pouches, are being sought by more on-the-go shoppers.
"Organic ketchup and other items used to be traditionally sold in smaller sizes, but supermarkets and wholesale clubs are now offering larger family and combo packs," Hackbarth says.
Upside-down (UPSD) ketchup bottles are increasing in popularity, too.
"Brands and retailers continue using UPSD bottles on premium formulations to offer consumers a better package," Hackbarth notes. "The 20-ounce private brand UPSD organic ketchup is the leading organic ketchup sold because it meets the consumers' desire for quality formula, packaging and value."
Get their attention
Smart retailers merchandise their own-brand organic SKUs in line within the category, as well as the specialty area — if the store has one, Hackbarth says.
"The key to generating incremental sales for any condiment is off-shelf merchandising in other areas of the store with complementary menu items," he adds. "Fremont packs most ketchup sizes in display-ready open-front cases to save money in store and make it easier to merchandise off shelf."
While cross-merchandising also catches consumer attention and increases sales opportunities, sampling eliminates barriers for first-time purchases. Two-for one promotions also attract more frugal consumers, Mintel's center-store study suggests.
Look ahead
In June, Vermont will become the first state to require GMO labeling, Balsamo says. Mandatory GMO labeling from this state and others in the future is expected to result in a sharp increase in organic product production, as organic products, by definition, are GMO-free.
"Increasing prevalence of organic products will mean lower prices and better access for Americans," she adds.
If organic prices decline, there could be opportunity for retailers to expand organic awareness beyond more-affluent consumers; roughly 50 percent of consumers with a household income of less than $50,000 do not purchase organic foods, says William Roberts Jr., senior food and drink analyst for Mintel and author of "Organic Food and Beverage Shoppers U.S.," published in March.
"With more mass merchandisers getting into organic food, price points should drop," he adds.
Still, some consumers remain skeptical of organics due to the preponderance of natural claims plus their limited awareness of organic regulations.
"Companies will need to address consumers in a more open and transparent way to maintain credibility in this confusing market," Roberts cautions.