Lidl says Kroger lawsuit aims to disrupt its store openings
Get great content like this right in your inbox.
Subscribe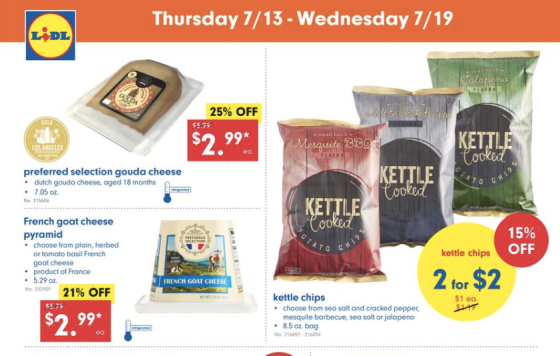 If you think The Kroger Co.'s lawsuit against Lidl for trademark infringement was intended to throw rain on Lidl's parade of store openings in the United States, you are not alone. So does Lidl.
Last Friday, in court papers filed in Virginia U.S. District Court, Lidl stated that Kroger is using the lawsuit to "disrupt the on-going launch of a new, emerging competitor that offers consumers high-quality products at far lower prices."
Germany-based Lidl, which opened its first 10 deep-discount stores in the United States in June with many more openings slated for this month, has received much positive fanfare in the national and trade media. On June 30, Cincinnati-based Kroger sued Lidl claiming that Lidl's "Preferred Selection" private brand too closely resembles Kroger's "Private Selection" store brand, which Kroger created 20 years ago.
"As a direct result of Lidl's wrongful conduct, Kroger has suffered and will continue to suffer irreparable injury," Kroger stated in the lawsuit.
But Lidl, which offers an assortment that is 90 percent private brands, also said in court papers that Kroger is trying to paint the deep-discount retailer as a "copycat" and "distract from the positive reviews garnered by Lidl's launch" and "drive up Lidl's costs by having to defend against Kroger's spurious claims."
According to a story at Cincinnati.com, Lidl is demanding a jury trial in its response to the lawsuit.
Kroger said it learned of Lidl's Preferred Selection logo after Lidl filed paperwork last September with the U.S. Patent and Trademark Office in advance of registering for a trademark. Kroger said it made Lidl aware of its concerns and filed a notice opposing the logo in March with the U.S. Patent and Trademark Office. Kroger has asked the federal court to issue an injunction ordering Lidl to immediately stop using the "Preferred Selection" logo and to pay attorney and court fees.
But Lidl said Kroger filed the suit and motion for a preliminary injunction on the Friday evening before the long July 4th weekend, and "sought to have a hearing just days later to try to ram through extraordinary competitive relief to which it is not entitled."
Lidl also said that "Kroger has offered a striking absence of evidence in support of its claims."
Kroger's Private Selection consists of artisan foods and gourmet groceries. Lidl's Preferred Selection brand includes sustainability-certified fresh and frozen seafood, fresh-cut flowers, European-style cured meats, imported chocolate, fresh bread and other products.
For more on the lawsuit, see coverage in Business Insider.