Kroger's private brands soar to a new level
Get great content like this right in your inbox.
Subscribe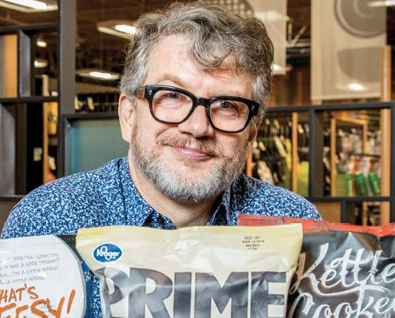 Private brand pundits have been saying for months that the store brands industry is on the verge of taking off like a Boeing 747. If The Kroger Co. is any indication, that may be happening now.
Last week, when Kroger announced its first-quarter earnings, the Cincinnati-based grocery chain also announced it had achieved the highest-ever dollar share in the history of its Our Brands, its line of private brand products, under Gil Phipps, Kroger's vice president of Our Brands.
"In the first quarter, Our Brands made up 28.7 percent of unit sales and 26.7 percent of sales dollars," Kroger Chairman and CEO Rodney McMullen said in an earnings call transcript offered by Seeking Alpha. "Our Brands achieved a 5.1 percent sales growth at a 3.4 percent unit growth in the first quarter led by double-digit growth again in our popular Simple Truth and Simple Truth Organic lines."
Last fall, Kroger announced its Restock Kroger plan to "redefine the food and grocery customer experience." Restock Kroger is fueled by capital investments, cost savings and free cash flow. The plan also calls for Kroger's Our Brands to play a pivotal role in the strategy.
"Our Brands is another example of how we are redefining the grocery customer experience," McMullen said. "Kroger customers choose to put more of Our Brands in their baskets and pantries every day. Our Brands grew faster than the national brands in nearly every department and gained significant share overall [in the first quarter]."
For the first quarter ending May 26, Kroger announced net earnings of $2.0 billion, or $2.37 per diluted share. Kroger's first-quarter adjusted net earnings were $626 million, or $0.73 per diluted share. Net earnings for the first quarter 2017 were $303 million, or $0.32 per diluted share, and adjusted net earnings for the first quarter 2017 were $546 million, or $0.58 per diluted share. Total sales increased 3.4 percent to $37.5 billion in the first quarter compared to $36.3 billion for the same period last year. Total sales, excluding fuel, increased 2.3 percent in the first quarter over the same period last year. Excluding fuel and the effect of Kroger's recently sold convenience store business unit, total sales increased 2.8 percent.
Kroger's stock has risen significantly in the past week.
"Everything we do supports our customers engaging seamlessly with Kroger," McMullen said in a press release announcing the earnings.
In the first quarter, Kroger also announced its digital sales increased 66 percent from the previous year's quarter.