Kroger talks top food trends for summer 2018
Get great content like this right in your inbox.
Subscribe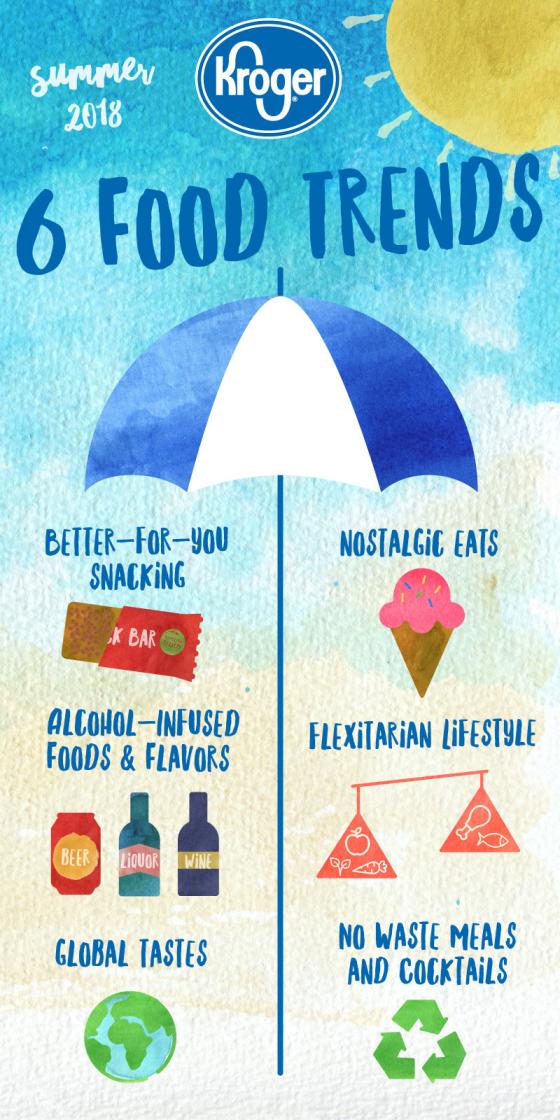 Kroger announced in early June its top predictions for this summer's food trends — and the Cincinnati-based retailer reveals the private brand products it's planning to capitalize on in regard to the trends. Kroger, of course, offers an array of private brands under its Our Brands segment, including Simple Truth, the Kroger brand and Private Selection.
Here are Kroger's top trends for the summer:
• Better-for-you snacks — healthy snack bars for on-the-go summer snacking, neighborhood barbecues and backyard soirees and family road trips; and fun twists on poolside sipping of seltzers, as well as a new sparkling, hydrating coconut water that doubles as a cocktail mixer. Products include Simple Truth Sparkling Coconut Water, Simple Truth Seltzer Waters, Kroger Fizz & Co. Seltzers with a hint of classic cola flavors, Simple Truth Pack Bars and Simple Truth Date Bars.
• Alcohol -infusions — Kroger says its flavors for new store brand products are inspired by the rise in craft brewing. The popular trend has influenced culinary creations with spirits and wine, from wine-infused steak sauce to bourbon-infused cola. Its store brand products include Private Selection Craft BBQ Sauces with beer- and wine-infused flavors, Private Selection Wine Infused Steak Sauces, Brown Butter Bourbon Truffle Ice Cream and Private Selection Bourbon Barrel Cola.
• Global tastes — Kroger says innovations abound from around the world, celebrating flavors with America's global heritage. These include Korean-inspired spices to African Peri Peri sauces. Kroger's products include Private Selection 24-Hour Marinated Jerky, Private Selection Wing Sauces, Private Selection General Tso's Chicken Potato Chips, and Private Selection Imported Calabrese Salami & Marinated Peppers Artisan Stone Fired Pizza.
• Nostalgia noshing — Kroger said it's reinventing cherished childhood favorites into creations for grown-up enjoyment, from mac and cheese sauces and twists on pimento cheese to retro and creative ice cream flavors. Kroger's products include Simple Truth Low Cow Lite Ice Cream in birthday cake flavor, Private Selection Mac & Cheese Sauces (bacon and aged cheddar, truffle and aged cheddar, roasted onion) and Kroger Real Sugar Sodas.
• No waste meals, cocktails — More than ever, American families are trying to minimize food waste, according to Kroger, like getting creative with leftovers, buying only what they need for meals, properly storing food to extend freshness and repurposing ingredients for inventive dishes and cocktails.
• Flexing the flexitarian lifestyle — Flexitarian practices are on the rise, Kroger states. Today's dairy- and meat-free alternatives like meatless burger patties, coconut milk creamers, instant chia oatmeal and meatless crispy tenders offer loads of flavor and enjoyment. Kroger's store brands in this segment include Simple Truth Meatless Patties and Crumbles, Simple Truth Coconut Milk Coffee Creamer, Simple Truth Frozen Almond Ice Cream and Simple Truth Almond Milk Pudding.