Kroger reports record results for private brands in third quarter
Get great content like this right in your inbox.
Subscribe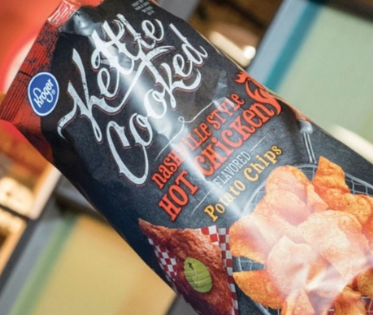 In its 2018 third-quarter earnings report, Cincinnati-based The Kroger Co. said its private brand product lines, Our Brands, comprised 28.7 percent of unit sales and 26.6 percent of dollar sales —both records for a Kroger third quarter.
"Simple Truth and Simple Truth Organic is our fastest-growing brand with sales up double digits again in this third quarter," Kroger CEO Rodney McMullen said in an earnings conference call to discuss Kroger's third-quarter results. "As we've shared previously, Our Brands account for four of the top five items sold through Kroger pickup and 41 of the top 50 items sold on Kroger Ship.
Speaking of Kroger Ship, the retailer's online market for pantry for household goods, Kroger also announced that its digital sales grew by over 60 percent in the third quarter.
"Our seamless coverage area now reaches more than 90 percent of Kroger households," McMullen said. "Kroger Ship is now available in all supermarket divisions. Ship customers can shop from a curated selection … of more than 50,000 grocery and household essentials that matter the most to our customers plus our 4,500 Our Brands products available only from Kroger."
Kroger's net earnings in the third quarter of 2018, which ended Nov. 10, were $317 million. Total sales decreased 0.3 percent to $27.67 billion in the third quarter compared to $27.75 billion for the same period last year. Excluding fuel, the convenience store business unit divestiture and the merger with Home Chef, Kroger said total sales increased 1.7 percent in the third quarter over the same period last year.
Kroger said its third-quarter adjusted operating net earnings were $394 million. The adjustment item relates to the change in the market value of Kroger's investment in Ocado securities. Net earnings for the third quarter 2017 were $397 million. Kroger reported identical sales growth, without fuel, of 1.6 percent for the third quarter of 2018.
Gross margin was 21.6 percent of sales for the third quarter.
McMullen said Kroger is transforming its business model.
"We're moving from a traditional grocer to a growth company with both a strong customer ecosystem that offers anything, anytime, anywhere and asset-light, high-margin alternative partnerships and services," he added.