Kroger opens Culinary Innovation Center
Get great content like this right in your inbox.
Subscribe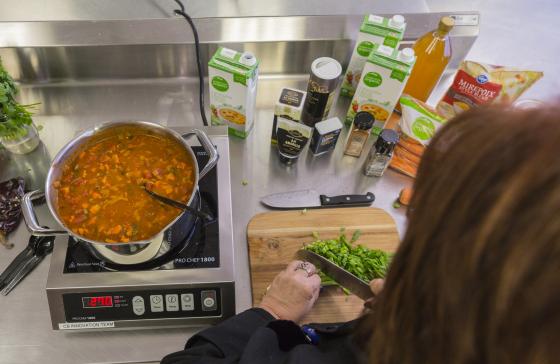 The Kroger Co. opened a Culinary Innovation Center in downtown Cincinnati, where the supermarket chain is headquartered. The Culinary Innovation Center is a state-of-the-art test kitchen and education center.
"As we focus on redefining the customer experience and developing talent through food inspiration and uplift, as outlined in Restock Kroger, this R&D lab will allow us to accelerate product development for Our Brands, produce new recipes for Prep + Pared Meal Kits, explore new restaurant concepts, host food tastings and focus groups, and increase our associates' culinary knowledge," said Daniel Hammer, Kroger's vice president of culinary development and new business.
Kroger commenced construction on the 12,000-square-foot center in March 2017. The commercial kitchen features multiple cooking stations, spaces and capabilities, including technology that allows video streaming of educational sessions to Kroger associates across the country. The building has received a LEED (Leadership in Energy and Environmental Design) rating.
"The center gives our culinary team a fun, modern space to innovate and experiment with food trends, flavors, and ingredients to create new experiences for our customers," Hammer added. "Our new center is one more tool we have to keep our pulse on customer trends and expand our foodie culture."