Kroger to offer $1M prize
Get great content like this right in your inbox.
Subscribe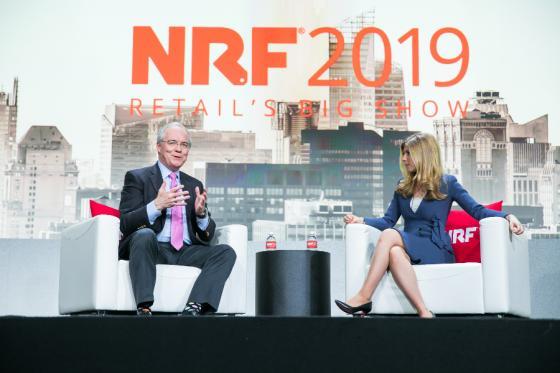 Kroger Co. is offering a prize of up to $1 million for the best ideas about how to eliminate waste.
Kroger CEO, Rodney McMullen, talked about the program and huge prize Sunday morning at the National Retail Federation's NRF 2019: Retail's Big Show in New York, in a presentation moderated by CNBC's Sara Eisen, according to the Cincinnati Business Courier.
"Next month we'll announce a prize of up to $1 million for a profit company or a not-for-profit company in terms of how do you eliminate waste," McMullen said during his keynote presentation.
Specifics aren't available yet, but Kroger spokeswoman Kristal Howard confirmed the supermarket company will make an announcement early next month.
According to the Cincinnati Business Courier, the program is part of Kroger's Zero Hunger | Zero Waste initiative launched in late 2017. That program calls for it to eliminate hunger in the communities it serves and to eliminate waste across the company by 2025. Waste elimination initiatives include food donation and recycling to divert waste from landfills.
McMullen said Kroger tested a similar program with Cincinnati startup facilitator Cintrifuse and its Spry Labs spinoff, which took place in November. The Zero Hunger | Zero Waste Open was a competition tied to the establishment of Kroger's $10 million Zero Hunger | Zero Waste Innovation Fund. It sought ideas to end hunger and eliminate food waste and involved a $10,000 cash prize.  
"We had over 80 applications," McMullen said at the NRF event. "We talked about it locally but we ended up having people across the world apply. We were blown away by the interest. It's a great opportunity for all of us to make the world a better place. We know we can't do it on our own."