Kroger launches better-for-you products app
Get great content like this right in your inbox.
Subscribe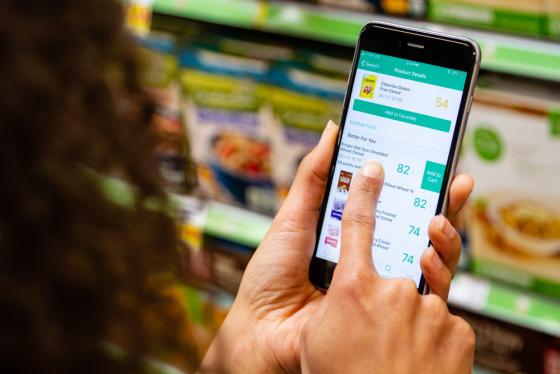 Cincinnati-based The Kroger Co. has launched a free, data-driven app called OptUP, what it hopes will pave a new way to shop for food with more information on healthier products in the palm of customers' hands.
"Kroger's new OptUP app is transformational for the food retail industry," said Colleen Lindholz, president of Kroger's pharmacy and The Little Clinic, in a press release. "The app puts nutritional information at your fingertips, and makes finding and buying better-for-you products easier and simpler."
Lindholz said the app was created as a part of Kroger's recently launched Wellness Your Way platform, which supports the Restock Kroger initiative, a customer service enhancement that invests in private brand growth, digital technology and store resets.  "As part of redefining the customer experience, we are encouraging our shoppers to engage in a balanced, holistic approach to self care," Lindholz added.
OptUP incorporates such features as:
·scoring"grocery products shoppers buy using nationally recognized dietary guidelines;
·providing personalized product recommendations;
·displaying a household OptUP score, based on a nationally recognized dietary standard enhanced by Kroger's registered dietitians;
·scanning and searching items to find nutrition facts and product alternatives; and
·adding better-for-you options to a digital cart for curbside pickup or delivery
"Kroger's new OptUP app brings a new level of gamification to grocery; one that combines eating well and e-commerce. With healthy eating being one of the leading consumer behaviors driving e-commerce, the combination should help Kroger increase online sales," said Sylvain Perrier, president and CEO of Charlotte, N.C.-based digital solutions provider Mercatus. "What's surprising here is Kroger's choice to go at it alone, rather than partnering with a leading provider such as Under Armour's MyFitnessPal or WeightWatchers. A partnership would allow Kroger to deliver a more complete end-to-end experience and capitalize on the massive existing user-base behind these apps."
Others consider the focus on health a wise move. "It's a powerful retention strategy for grocery retailers," noted Dan Jones, vice president of Topco member solutions and business development, customer intelligence division, at Symphony RetailAI, a Dallas-based global artificial intelligence-enabled solutions provider. "A health-committed customer will seek out product recommendations from a variety of outlets, and the OptUP app looks at shopping history to help customers evaluate options to ultimately make healthier purchasing decisions.
Retailers who adopt and innovate on their health and wellness strategies, as Kroger is doing, are well-positioned to lead with these important customers in the competitive retail industry."
Kroger said it will continue to improve the app with more features and enhanced personalization for customers' specific health needs and preferences. Customers can download OptUP through the App Store or Google Play store.