Instant Replay
Get great content like this right in your inbox.
Subscribe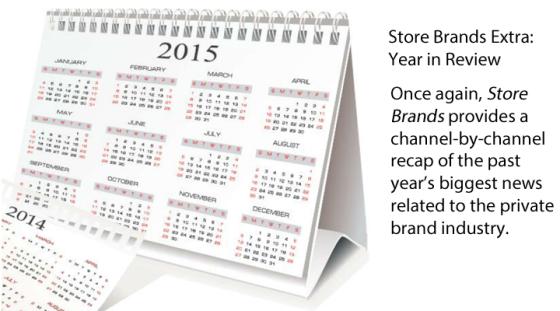 Another year has (almost) come and gone, and Store Brands is pleased to once again bring readers an "instant replay" of some of the biggest news related to the store brand industry. Our channel-by-channel, month-by-month coverage covers news occurring between November 2013 and early October 2014.
Grocery/supermarket channel
In November 2013, Pleasanton, Calif.-based Safeway Inc. completed the sale of the net assets of Canada Safeway ULC (formerly Canada Safeway Ltd.) in November to Sobeys Inc., a wholly owned subsidiary of Empire Company Ltd., in accordance with the asset purchase agreement announced on June 12 and the consent agreement with the Competition Bureau announced on Oct. 22.
Spartan Stores Inc. and Nash Finch Co., meanwhile, announced the completion of their merger on Nov. 19. Spartan Stores, headquartered in Grand Rapids, Mich., said the combined company would use the corporate name SpartanNash Co., with the official name change effective as of the annual shareholders meeting in May 2014.
And the Yucaipa Companies, a Los Angeles-based private investment firm, said in November that it completed the acquisition of Fresh & Easy LLC, El Segundo, Calif., from Cheshunt, England-based Tesco PLC.
Also in November, the Stop & Shop Supermarket Company LLC, Quincy, Mass., said it was kicking off its holiday giving season by asking customers to join in its mission to share meals and give thanks to communities across the Northeast. And the retailer's private brands played a role in these efforts. Customers could purchase "Trimmings Boxes" for $10 at their local Stop & Shop stores, giving store brand holiday trimmings to those in need, the retailer said.
The same month saw another retailer, Salisbury, N.C.-based Food Lion, tying store brands into a holiday-themed effort. The Food Lion Store Brands Holiday Bake-Off gave the retailer's Facebook fans a chance to win a $500 Food Lion gift card. Entrants were tasked with submitting a holiday recipe that called for at least one Food Lion store brand product as an ingredient.
In December, ALDI Inc., Batavia, Ill., announced a five-year strategic plan to open 650 new stores across the United States. The grocery retailer launched its expansion efforts with the decision to build its regional headquarters and distribution center in Moreno Valley, Calif.
December also brought with it the shuttering of Safeway-owned, Chicagoland-based Dominick's stores. Roundy's Inc., Milwaukee, signed a definitive agreement to acquire 11 Dominick's stores from Safeway in a $36 million cash-and-lease-assumption transaction. Roundy's said the stores would be converted to the Mariano's banner, its growth banner.
Hannaford Supermarkets, Scarborough, Maine, started out the month of December by offering several ways for its shoppers to help fight hunger during the holiday season. Shoppers could purchase a "Helping Hands" box filled with basic non-perishable foods under the my essentials store brand for local food pantries and/or participate in a "Buy 1, Give 1" promotion tied to select my essentials brand items.
The arrival of January 2014 saw some significant personnel changes at two retailers.
Schnuck Markets Inc., St. Louis, announced that Todd Schnuck, brother of chairman and CEO Scott Schnuck, would become president and CEO in March. The retailer also said Scott would remain chairman and assist Todd in the transition through September, while older brother Craig would formally retire from the company and become chairman emeritus. In addition, Schnucks said Anthony Hucker would partner with Todd to lead the management team.
Meanwhile, The Great Atlantic & Pacific Tea Co. (A&P), Montvale, N.J., announced that CEO Sam Martin departed the company. The retailer said it would name a new CEO at the appropriate time during its 2014 planning process.
On the new product side in January, Montreal-based Metro Inc. launched its Irresistibles Life Smart pole-caught canned tuna in Metro and Super C stores in Quebec, and in Metro and Food Basics stores in Ontario. The skipjack tuna is very resilient — thanks to its rapid growth and very high fertility— and pole-caught, an "ancestral fishing technique that is practiced while respecting marine resources," the retailer noted.
In February, Ahold USA, Carlisle, Pa., announced that Rick Herring, president of the Giant/Carlisle division, would retire effective Feb. 14, after nearly 25 years with the company. The retailer said Bhavdeep Singh, executive vice president of operations for Ahold USA, would oversee the Giant/Carlisle division on an interim basis until a permanent replacement was named.
That same month, Store Brands announced the selection of ALDI as our 2014 Retailer of the Year. The honor was based on ALDI's strong commitment to value- and innovation-focused private brand product development and its continuing expansion resulting from that commitment.
And SnackHealthy Inc., a Jupiter, Fla.-based manufacturer and distributor of organic, natural and healthful food products, announced in February that it received purchase orders totaling $7.3 million to supply one of Asia's largest retailers with organic milk sold under Safeway's O Organics brand. The orders mark SnackHealthy's next step in its Asian rollout of organic milk products through its export division, Healthient.
Meanwhile, Metro announced in February that its line of Irresistibles Life Smart products won first prize in the Improved Food Product — Large Company category at the 2014 DUX Gala. The Irresistibles Life Smart product line sets itself apart, thanks to its appeal to foodies and focus on offering shoppers the ability to eat healthfully every day at an affordable price, the company said.
Also in February, the Independent Grocers Alliance (IGA), Chicago, said it donated $290,000 to Wounded Warrior Project (WWP). The third annual IGA exclusive-brand national marketing initiative, which ran in participating IGA stores from Memorial Day weekend through Labor Day weekend in 2013, accounted for almost $200,000 of the donation. During the initiative's promotional period, IGA donated a portion of the proceeds from the sale of IGA exclusive-brand water, hot dog and hamburger buns, and ice cream featuring specially marked WWP packaging.
March brought with it significant news on the acquisition front.
Safeway and Boise, Idaho-based Albertsons announced a definitive agreement under which AB Acquisition LLC would acquire all outstanding shares of Safeway. Safeway's board of directors unanimously approved the agreement.
That same month, the Loblaw Companies Ltd., Brampton, Ontario, said it completed the acquisition of Shoppers Drug Mart Corp., Toronto, which is now a unique and separate operating division of Loblaw.
Meanwhile, Supervalu Inc., Eden Prairie, Minn., announced plans for a streamlined independent business organization. As part of the new structure, the company's independent business was consolidated from three regions to two: East and West.
Supervalu said the new East and West independent business regions would be located in Mechanicsville, Va., and Hopkins, Minn., respectively. The company named Kevin Kemp president of the East region and Bill Chew president of the West region.
Also in March, Ahold USA said it named Tom Lenkevich to head its Giant/Martin's division. Lenkevich had been chief operating officer and senior vice president of retail operations for Earth City, Mo.-based Save-A-Lot.
And A&P said it named Paul Hertz president and CEO. Hertz had served as chief operating officer since joining the company in 2010.
On the private brand side, Ahold USA said it received Rainforest Alliance certification for its Simply Enjoy teas and UTZ certification for its Simply Enjoy coffees. The farms from which the retailer sources the teas met the sustainability standards of the Sustainable Agriculture Network for Rainforest Alliance certification, and the farms from which the retailer sources the coffees met the standards for protecting the environment and promoting good social practices needed to receive UTZ certification.
Speaking of sustainable practices, Roundy's announced the introduction of Roundy's Fisherman's Reserve — a range of premium frozen seafood that offers shoppers "incredible selection, premium quality and ocean-fresh flavor" — in the March 2014 issue of its Roundy's Release internal newsletter.
Also in March, The Kroger Co., Cincinnati, said it partnered with the Cincinnati Reds to introduce a line of cobranded products in time for the 2014 baseball season. The products included Reds water; Reds brat buns; Reds cherry ice, lemon ice and strawberry ice; Reds potato chips; Reds freshly roasted salted peanuts; Reds corn dogs; and Reds soft pretzels.
In April, Weis Markets, Sunbury, Pa., announced the promotion of Maria Panko from manager of private brands to senior manager, private brands and specialty, organic, natural and ethnic foods.
April also brought with it several store brand-related campaigns. A&P banners Waldbaum's and Pathmark said they would be hosting a store brand celebration event on April 5. During the event, the stores promoted private brand products such as America's Choice, Home Basics, Food Basics, Chef Mark, Woodson & James, Greenway, Live Better and Via Roma. The event also featured free samples. The A&P banner hosted its own store brand event on March 29.
And Jacksonville, Fla.-based Bi-Lo Holdings, parent company of BI-LO and Winn-Dixie grocery stores, announced the launch of its annual PAWS "Feed the Love" community donation program to benefit area food banks and nonprofit partners dedicated to eliminating hunger for pets in their local communities.
During the program's duration, customers could purchase for donation a $5 prepackaged bag of pet food with their My BI-LO Bonuscard or Winn-Dixie Reward Card. Each bag contained a week's worth of dry and canned packages of PAWS Premium, BI-LO and Winn-Dixie's own brand of "high-quality, nutritious" cat and dog food.
April found a number of retailers announcing the launch of new store brand items.
Rouses Supermarkets, Thibodaux, La., announced the launch of the exclusive Texas Star line of beef. The line is said to boast "Texas-size flavor without the Texas size price." Supplied by Kane Beef, Corpus Christi, Texas, the beef is sourced from cattle raised on small Texas ranches by family farmers. It is said to be grass-fed and grain-finished with "great marbling, texture and that famous Texas beef flavor."
Not to be outdone, Matthews, N.C.-based Harris Teeter said it became the first retailer in the country to offer USDA Certified Very Tender beef. Harris Teeter began labeling its store brand Reserve Angus beef with the USDA Certified Very Tender label on April 23. The new certification guarantees consumers the highest-quality tender eating experience, the retailer said.
Schenectady, N.Y.-based Price Chopper Supermarkets also made news on the meat side with the announcement of a trade partnership with Strauss Brands, Franklin, Wis., a specialty meat company. The partnership allows Price Chopper to exclusively sell Strauss Brands' Chiappetti Meat Co. branded lamb, group-raised veal and grass-fed beef at its 132 stores in six Northeastern states.
Outside of the meat arena, Fairway Market, New York, added two offerings to its store brand line of products: gluten-free pancake mixes and Castile soap. Said to be "made in small batches, from scratch," the pancake mixes come in two flavors: classic and chocolate chip. The Castile soap, made with organic shea butter, uses a vegetarian process of soap milling that originated in Castile, Spain to create a biodegradable all-natural product. The soap is sold online and comes in Peppermint, Lavender, Eucalyptus and Almond scents, as well as an unscented/baby mild version.
And The Fresh Market, Greensboro, N.C., introduced two new lines under its namesake brand in its April 2014 Inspirations magazine: coffee milk and Greek yogurt. Described as "delicious, creamy and drinkable," the coffee milk is made with 100 percent fair-trade organic Arabica coffee and comes in Original and Vanilla Nut flavors. Meanwhile, the nonfat Greek yogurt is said to have a smooth and rich texture and is available in Raspberry, Blueberry, Strawberry and Plain flavors.
April also found Kansas City, Mo.-based Associated Wholesale Grocers (AWG), a store-owned cooperative consisting of more than 2,400 retail stores in 21 states, in the midst of a packaging design update for its Clearly Organic brand of food products. From a design perspective, the clean look of the new packaging reflects the clean products within, AWG said.
And Wegmans Food Markets, Rochester, N.Y., began full operations in April at its "Cheese Caves," which are housed in a high-tech building that mimics the environments of famed cheese caves in Europe. Wegmans said it believes the facility to be the first of its kind among supermarket chains in America.
The 12,300-square-foot building houses a Brie room and seven "caves" where soft cheeses such as Camembert and washed-rind cheeses such as Bourbon-Washed Pie d'Angloys are ripened.
The arrival of May saw Roundy's entering into definitive agreements to sell 18 Rainbow stores in the Twin Cities market to a group of local grocery retailers, including Supervalu. According to Robert Mariano, president and CEO of Roundy's, the economic downturn and increased competitive footprint in the Twin Cities market made it difficult for Roundy's to keep the Rainbow banner competitive.
Also in May Loblaw said it purchased Arz Fine Foods, an established Middle Eastern grocery retailer based in Scarborough, Ontario. It will operate as a unique division of Loblaw.
In addition, Loblaw announced an accelerated plan to reduce sodium levels across its President's Choice line of products. The plan calls for the company to reduce sodium levels by 20 percent across 400 products within the President's Choice line in 2014 and 2015.
Several retailers announced the launch of new store brands in May, too.
BI-LO debuted the Kuddles line of quality, affordable formula, diapers and baby essentials. The line features softer, snugger, drier diapers with a back waistband for fit and containment and hypoallergenic and fragrance-free liners; alcohol-free baby and kid wipes in 10 assorted scents; FDA-reviewed and approved baby formula with DHA and ARA in five varieties, featuring an innovative scoop that fits into the lid for easy access; and more.
In addition, in a May e-mail ad, ALDI unveiled LiveGfree, a brand of gluten-free foods available exclusively at ALDI. LiveGfree includes baking mixes, dry pasta, frozen products and more.
All ALDI stores would carry the full LiveGfree product line as May "Special Buy" items for a limited time, a company spokesperson told Store Brands. Select test stores would continue to carry a variety of LiveGfree products for the remainder of the year, with a company-wide rollout of the most popular items expected to take place later in the year.
That same month, West Sacramento, Calif.-based Raley's Supermarkets said it revamped and added to its Raley's Green Salads range based on the feedback from customers. Now containing healthful toppings and more protein, which helps keep consumers full longer, the range comprises seven varieties, including Seafood Louis Salad, Thai Peanut Chicken Salad, Napa Valley Chicken Salad and more.
And on the non-foods side, The Fresh Market launched a line of hand creams and body butters under its namesake brand. Both the creams and the butters are crafted in France and are available in three scents: Bergamot Clementine, Fig Olive Leaf and Vanilla Cardamom, the retailer said.
Stop & Shop, meanwhile, is celebrating its 100th anniversary in 2014, and said in May that it would be marking the milestone with exciting offers, activities and events that showcase the company's promise to the neighborhoods and communities it serves.
In-store special offers include retro own-brand products and packaging featuring the old bowtie Stop & Shop logo, the retailer said. Products include coffee, New England clam chowder, hot dog and hamburger rolls, and ice cream.
Delhaize Group, Brussels, announced in June completion of the divestment of its Sweetbay, Harveys and Reid's operations to Bi-Lo Holdings. In a separate transaction, Delhaize also completed the sale of its distribution center in Plant City, Fla., to Keene, N.H.-based C&S Wholesale Grocers for $28 million.
In addition, Delhaize Group announced the appointment of Kevin Holt as CEO of Delhaize America. Holt, formerly president of retail operations for Supervalu, also became a member of the Delhaize Group executive committee.
June also saw a good share of own-brand product introductions. Fairway Market introduced a line of organic 100 percent fresh fruit juices, sweetened whipped light cream and its first ever line of ice cream. The fruit juice line includes flavors such as Tart Cherry, Pomegranate, Super Juice and Black Mulberry Cranberry. The sweetened whipped light cream, meanwhile, is made the old-fashioned way from pure, sweet cream with more butterfat than the national brands, the retailer said. And Fairway Market partnered with High Road Craft Ice Cream to launch the craft ice cream, which features the flavors Fairway to Heaven Coffee, Frutti Di Bosco, Extra Virgin Olive Oil and Fig & Saba.
Meanwhile, Wegmans introduced a line of Wegmans brand cleaning products that are meant to be safer than traditional cleaners for humans, pets and the environment. When creating the cleaners, the retailer said it used the Design for the Environment criteria, established by the U.S. Environmental Protection Agency, as its guidelines. The line offers consumers seven different products: laundry detergent, dish soap, window cleaner, multi-surface cleaner, tub and tile cleaner, toilet bowl cleaner and fabric softener.
In July, Kroger and Vitacost.com Inc., an online retailer of "healthy living" products based in Boca Raton, Fla., announced a definitive merger agreement under which Kroger would purchase all outstanding shares of Vitacost.com for $8 per share in cash, or approximately $280 million. Both companies' boards of directors unanimously approved the terms of the agreement.
According to both companies, Vitacost.com's leadership in nutrition and wellness products, including its proprietary brands, complements Kroger's already fast-growing natural foods business and Simple Truth and Simple Truth Organic corporate brand offerings.
That same month, Stellarton, Nova Scotia-based Sobeys said it entered into an agreement with Agropur Cooperative, Longueuil, Quebec, under which Agropur would purchase Sobeys' dairy manufacturing facilities in Western Canada and supply milk, yogurt and ice cream to Sobeys, Safeway and IGA stores in Western Canada under long-term supply arrangements. Sobeys acquired the dairy manufacturing facilities as part of its purchase of Canada Safeway.
July also saw a few notable product introductions.
Wegmans introduced the Simply From Nature line of "better-for-them" pet foods. The line includes nine bagged dry dog food varieties made with chicken and brown rice or lamb and brown rice, and four canned wet food varieties that are grain-free and, where possible, made with organic chicken or turkey. Wegmans said it plans to add other products to the line.
Wegmans also unveiled new whole-grain cookies. Made with 100 percent whole-grain flour, the cookies come in three flavors — Cherry Almond, Chocolate Hazel Nuttin' and Oatmeal Cinnamon and Fruit — and are available at every Wegmans Cookie Bar. The whole-grain pastry flour is sourced locally.
And Winn-Dixie and BI-LO said they would be adding several varieties to their Prestige private brand line of ice cream, gelato and frozen yogurt products by the end of the summer. The new ice cream varieties include Salty Caramel Truffle, Milk Chocolate, Peach, Apple Pie, Praline, Coconut Almond Fudge and Coffee, all made from real milk and cream, and containing pieces of real fruit, nuts and chocolate. The new gelato flavors include Bananas Foster, White Chocolate Raspberry, Tiramisu, Caramel Sea Salt, Italian Cookie Crunch and Coconut. New varieties of fruit bars, all made with 100 percent real fruit, include Mango Fruit, Pina Colada, Raspberry, Strawberry, Caribbean Fruit and Strawberry Colada.
July also marked the passing of Karl Albrecht, the German entrepreneur who, along with his brother Theo, founded international grocery chain ALDI — which operates approximately 1,300 stores in the United States. According to a July 21 New York Times article, he died on July 16 in Essen, Germany at the age of 94.
In August, Bellingham, Wash.-based Haggen Inc. said it named John Clougher, a grocery industry veteran with 30-plus years of experience, as its new CEO.
And store brand product introductions were plentiful that month.
Keasbey, N.J.-based ShopRite introduced a new and improved version of its ShopRite baby wipes. Said to be ultra-soft with no parabens, phthalates or harsh chemicals, the baby wipes come in scented, unscented and sensitive varieties, and in a variety of sizes.
Mariano's, meanwhile, added two gelato flavors and one sorbetto flavor to its Vero in-store cafés. The new Lemon and Basil sorbetto is said to be a refreshing, dairy-free blend of lemon and basil. The new Baci gelato is said to be a chocolate hazelnut crunch gelato with flavors that emulate Baci candies, while the new Raffaello gelato is said to be a rich coconut almond cream that tastes like a Raffaello candy.
And Schnucks brought to market a line of exclusive iced teas created by Robbie Montgomery, former backup singer for Ike and Tina Turner, owner and operator of the St. Louis soul food restaurant Sweetie Pie's, and star of the reality television show "Welcome to Sweetie Pie's." Sweetened with cane sugar, the all-natural teas come in Peach, Berry Berry and Original varieties.
August also saw the debut of fresh-baked bagels from West Des Moines, Iowa-based Hy-Vee Inc. Available in the retailer's in-store bakeries, the line includes 12 varieties: Everything, Poppy Seed, Onion Poppy Seed, Cinnamon Raisin, Multigrain, Plain, Cinnamon Crunch, Chocolate Chip, Asiago Cheese, Blueberry, Sesame Seed and French Toast, Hy-Vee said.
Hy-Vee also introduced gourmet cupcakes and cookies in its in-store bakeries. Cupcake varieties include Chocolate Addiction, Raspberry Laced Vanilla, Peanut Butter Cup, Red Velvet, White Almond Wedding, Mocha Espresso, Confetti Birthday and Salted Turtle. Cookie varieties include Oatmeal, Greek Yogurt & Cranberry, Intense Dark Chocolate & Almond Espresso, Dark Chocolate, Cayenne & Caramel, Peanut Butter and Milk Chocolate & Sea Salt, the retailer said.
And Coborn's Inc., St. Cloud, Minn., launched a new store brand called Four Brothers. The brand is said to tout the company's heritage and pay tribute to the third generation of Coborn brothers — Bob, Dan, Bill and Ron — who are credited with helping to take the company to new levels under their leadership.
Four Brothers is meant to be a destination brand that offers customers unique, one-of-a-kind fresh items, primarily in the meat, bakery, deli and produce departments, the retailer said.
Also in August, Fresh & Easy debuted several fresh&easy-brand fresh breakfast products for customers on the go. According to Fresh & Easy, the new products include a breakfast parfait wrap, an open-faced salmon bagel, a protein breakfast sandwich and more.
In addition, Wegmans announced the launch of Wegmans Food You Feel Good About Organic Greek Yogurt. Available in seven varieties — Black Cherry, Peach, Blueberry, Strawberry, Raspberry, Vanilla and Plain — the yogurts are USDA certified organic and authentically strained, with five live and active cultures. They also are fat-free.
A couple of retailers also were recognized for excellence in August. Loblaw noted that it became the first North American retailer to be recognized by the International Taste & Quality Institute with a Superior Taste award. Seven own-brand products available in Loblaw banner stores garnered the recognition at a ceremony in Brussels.
In addition, Chicago-based Standard Market, a chef-driven specialty food retailer, said its cave-aged Madeline, a flavorful Italian-style cheese made from a blend of cow's and sheep's milk from Lovera's Cheese Co. in Oklahoma, placed third in the Pasta Filata category at the 31st Annual American Cheese Society Conference & Competition in Sacramento, Calif. The Madeline cheese was aged in Standard Market's cheese cave, located inside its Westmont, Ill., store.
In September, Fairway Market said it named Jack Murphy CEO of the company. Murphy was a cofounder of natural foods grocer Fresh Fields Inc. before it was sold to Whole Foods Market Inc., Austin, Texas, and most recently served as CEO of Earth Fare Inc., an organics and natural food chain with locations in the Southeast and Midwest.
And Loblaw made news when the company said it was ushering in a new era for its President's Choice brand in September under the rallying "CRAVE MORE" cry. In support of the brand's new era, Loblaw said it was launching the most ambitious and comprehensive campaign in its history: a modified brand position, an innovative television and print campaign, and a reimagined digital and social media presence. It also reinvented its www.pc.ca website, which now includes a focus on lively content, a custom online community for food discussions, and a regionalized Canadian food-trend tracker, the Food Pulse Index, created through a new initiative with Google Canada.
Also in September, The Buffalo News reported that Buffalo, N.Y.-based Tops Markets LLC was in the process of redesigning the packaging for its 2,400-plus Tops brand products. The redesigned packaging began hitting shelves in June; the project will continue for the next two-plus years.
The same month, Evolution Fresh, owned by Seattle-based Starbucks Corp., said it teamed up with Whole Foods to create two exclusive smoothies: Cold-Pressed Organic Splendid Carrot and Cold-Pressed Organic Avocado Greens.
Fresh & Easy, too, got into the smoothie game in September with the launch of a line of exclusive smoothie kits under the Wild Oats brand. Available in three varieties — Berry Blast, Antioxidant and Energy — the kits are 8-ounce cups of cut fruit and vegetables that can be prepared in three steps. The retailer also introduced Belgian waffles and gelato sandwiches under the fresh&easy brand.
H-E-B, San Antonio, said it added two limited-edition fall flavors of store brand pure cane soda: Apple Crisp and Just Peachy. Additionally, the retailer introduced a line of store brand chocolates encompassing 15 varieties.
Also in September, Safeway announced the launch of Safeway Farms Tortilla Wrap Kits. All under 300 calories, the four varieties — Chicken Caesar, Thai Peanut, Buffalo-Style Chicken and Turkey Avocado Ranch — contain lettuce, toppings, sauce and two tortillas.
October found ALDI announcing that its gluten-free brand, LiveGfree, would become a permanent fixture at its stores. The line features 17 items, including bread, pasta, pretzels, cookies, brownie mix and granola.
That same month, Greenbax Enterprises Inc., the privately owned parent company of Piggly Wiggly Carolina Co., Charleston, S.C., said it was seeking shareholder approval to sell its retail and wholesale grocery businesses by the end of the year, The Post and Courier reported. Greenbax is proposing to sell its wholesale operation to Keene, N.H.-based C&S Wholesale Grocers Inc. and the 19 remaining grocery stores to independent operators.
Drugstore channel
In early November 2013, Deerfield, Ill.-based Walgreen Co. said it completed the acquisition of certain assets of the retail drugstores and specialty pharmacy business from Kerr Drug, a regional drugstore chain based in Raleigh, N.C. Kerr Drug operated 76 stores throughout North Carolina. Financial terms of the agreement were not disclosed.
And in January, Shoppers Drug Mart launched its Rediscover Life Brand campaign to help consumers re-familiarize themselves with its Life brand of health care products, according to an article on the website of Canada's Marketing magazine. The multimedia campaign was one of the biggest campaigns Shoppers Drug Mart had undertaken for the Life brand in several years.
In May, CVS/pharmacy, Woonsocket, R.I., announced the addition of four spring body mists to its Essence of Beauty line. Available in time for Mother's Day, the products are made by master perfumers and contain no parabens, phthalate or petrolatum. The summery scents — which retailed in 8-ounce spray bottles — included Sunset Fling, In Your Arms, Modern Floral and Exotic Blooms.
CVS/pharmacy also announced the launch of Gold Emblem Abound, a line of snacks intended to help customers more easily "make health-conscious decisions when shopping for food and snacks." At the time of the announcement in June, the line included more than 40 items such as snack bars, trail mixes, dried fruit, popcorn, rice crisps and more. Each product in the line is free from artificial flavors and preservatives and contains no trans fats.
As for non-food introductions, CVS/pharmacy announced the introduction of radiance PLATINUM, a premium brand of 100 percent preservative-free vitamins and supplements, in July. At the time of the announcement, the new line contained 44 types of vitamins and supplements with various benefits, including popular options such as probiotics, B-12 and multivitamins for both men and women. It includes certified non-GMO, gluten-free, certified organic and vegan- and vegetarian-friendly options. CVS/pharmacy also noted that the existing radiance line underwent both a reformulation and redesign to be 100 percent preservative-free and feature brighter, easier-to-read packaging.
That same day, CVS announced even bigger news: its agreement to acquire the assets of Miami-based Navarro Discount Pharmacy. The agreement included Navarro's 33 retail drugstore locations and Navarro Health Services, a specialty pharmacy serving patients with complex or chronic diseases. At the time of the announcement, CVS Caremark said it expects to maintain Navarro's current product mix, including its assortment of Vida Mia Hispanic-focused store brand products.
Walgreens had some acquisition news of its own in August, stating that it exercised the option to complete the second step of its strategic transaction with Alliance Boots GmbH, Nottingham, England, ahead of the original option period, which was between February and August 2015. The transaction, subject to shareholder and various regulatory approvals, would fully combine the two companies to form the first global pharmacy-led health and wellbeing enterprise.
The action followed the launch of the companies' long-term strategic partnership in June 2012, when Walgreens acquired a 45 percent equity ownership in Alliance Boots, with the option to proceed to a full combination by acquiring the remaining 55 percent of Alliance Boots in three years' time (Step two). Walgreens said it expects to close the transaction in the first quarter of 2015.
Also in August, CVS/pharmacy said it introduced an exclusive beauty collection under the Makeup Academy brand. Developed for CVS/pharmacy by makeup professionals and beauty experts, the comprehensive line includes more than 145 products within three categories: lip products, false eyelashes and makeup brushes.
In September, CVS Caremark said it was changing its corporate name to CVS Health to reflect its broader healthcare commitment and expertise in driving the innovations needed to shape the future of health. CVS Health comprises the company's retail business, which will continue to be called CVS/pharmacy; its pharmacy benefit management business, known as CVS/ caremark; its walk-in medical clinics, operating as CVS/minuteclinic; and its specialty pharmacy services, known as CVS/specialty The news came on the same day CVS Health announced the end of tobacco sales at CVS/pharmacy stores, the first national pharmacy chain to take such a step, nearly one month ahead of the previously targeted date of Oct. 1.
Two days later, CVS Health announced that it completed the purchase of Navarro Discount Pharmacy. The company said it will retain the Navarro name.
Mass/club channels
In November 2013, Bentonville, Ark.-based Walmart announced the launch of Great Value Naturals, a line of all-natural cleaning products that are said to be as effective as leading conventional products. Made from the all-natural plant-based Evolve cleaning technology, the products are 100 percent chemical- and toxin-free, biodegradable and non-allergenic, and packaged with recyclable materials. At the time of its introduction, the line comprised a laundry detergent, a dishwasher gel, a multi-surface cleaner and a glass and window cleaner.
That same month, Target Corp. said it partnered with makeup artist, entrepreneur and longtime Target collaborator Sonia Kashuk to launch her first-ever comprehensive bath and body collection, available exclusively at the Minneapolis-based retailer's stores. On its Discover Target blog, the retailer said the new collection joins Kashuk's Target-exclusive award-winning makeup and accessories collection. The collection features body butter, hand crème, shower gel, perfume (made in collaboration with famed French parfumier Jérôme Epinette of perfume house Robertet) and more. Products come in four scents: Red Promisia, Purple Seductia, Pink Innocencia and Yellow Alluriana.
And late in November, Walmart said its board of directors elected President and CEO of Walmart International Doug McMillon to succeed Mike Duke as president and CEO. Duke agreed to serve as chairman of the executive committee of the board and stay on as an advisor to McMillon for one year.
Then in December, Walmart said it promoted David Cheesewright to president and CEO of Walmart International, the company's second-largest operating segment.
In January, Target announced the continuation of its partnership with Kashuk to create a limited-edition collection of beauty tools and accessories that would launch in March. Inspired by the sophisticated patterns and luxurious packaging of her recent bath and body line, Kashuk gave the products a black-and-white floral print to make them "understated and elegant," perfect to add a dose of glamour to women's daily beauty routine.
Two months later, Target launched its "Made to Matter — Handpicked by Target" collection, which brings together Target's Simply Balanced brand and 16 national natural, organic and sustainable brands as a way of introducing new products and making them more accessible to customers. The Made to Matter collection includes all products currently offered at Target by the participating brands and at least one new exclusive item from each brand, the company said.
More Target news came in April, when Gregg Steinhafel, president, CEO and chairman, stepped down after 35 years with the retailer. John Mulligan, Target's chief financial officer, was named interim president and CEO, while board member Roxanne Austin was named interim nonexecutive chairperson. The resignation followed Target's 2013 data breach, for which Steinhafel held himself accountable.
That same month, Sam's Club, Bentonville, Ark, introduced Member's Mark Power Pacs. Announced via a Facebook post, the packs are said to be made with a premium laundry detergent and a powerful stain-fighter. They retail in 90-count tubs, sport a "fresh, clean scent" and can be used in both high-efficiency and regular washing machines. Each pack is good for a single load of laundry and dissolves completely in all types of water.
And in May, Costco Wholesale Corp., Issaquah, Wash., announced via the May 2014 edition of its Costco Connection member's magazine that it teamed up with "beauty advisors to the stars" — including nail artist Jenna Hipp, hair designer Orlando Pita, dermatologist Dr. Jessica Wu and makeup artist Patti Dubroff — to create a line of luxury beauty products for members via its Beauty's Most Wanted campaign. The line includes nail polishes, hair care and skincare products, and makeup. Select items also are available via Costco.com.
Also in May, Target — via it's A Bullseye View online magazine — said it launched Archer Farms Mix & Match Meals, a first-of-its-kind program designed to simplify family meal planning with healthful, home-cooked options that take less than 15 minutes to cook and cost less than $18 each. Available in packaging that features the redesigned Archer Farms label, the assortment boasts more than 500 meal combinations, is portioned to feed a family of four, and covers three of the most popular ethnic cuisines in the United States: Mexican, Italian and Asian.
Archer Farms Mix & Match meals products are divided into four categories: sauces, veggies, starch and protein, Target stated. Packaging sports a color-coded system that makes it "mindless" for shoppers to find corresponding meal components.
A few days later, Target announced a number of leadership changes in its U.S. and Canadian divisions intended to further the company's efforts to drive U.S. traffic and sales, improve its Canadian operations and advance its ongoing digital transformation. For its Canadian operations, Target said Tony Fisher, president of Target Canada, departed the company. Mark Schindele, senior vice president, merchandising operations, assumed the role of president. As for its U.S. operations, Target stated that it promoted Trish Adams to executive vice president, apparel and home; Jose Barra to executive vice president, essentials and hardlines; and Keri Jones to executive vice president, merchandise planning and operations.
And at the end of the month, Walmart said it promoted Shelley Broader from president and CEO of Walmart Canada to executive vice president, president and CEO of Walmart EMEA.
In June, Meijer, Grand Rapids, Mich., announced the ground-breaking of its first dairy production facility in Ohio. Able to employ 100 Ohioans, the facility was developed to produce a variety of store brand dairy products, including milk, cottage cheese and yogurt. The 173,000-square-foot expansion includes a 105,000-square-foot dairy facility, created to serve 100 stores in Ohio, Indiana, Illinois and Kentucky.
That same month, Walmart Canada, Mississauga, Ontario, stated that it appointed Dirk Van den Berghe as president and CEO.
Also in June, Waterbury, Vt.-based Keurig Green Mountain Inc. and Westborough, Mass.-based BJ's Wholesale Club said they partnered to offer BJ's Wellsley Farms brand coffee in pods compatible with the Keurig single-cup brewing system. Containing a bold, medium-roast coffee with a sweet aroma and subtle notes of dried fruit and cocoa, the Wellsley Farms Signature Blend K-Cup packs are available exclusively at BJ's Wholesale Club locations and on BJs.com.
In July, Target said it would donate one school supply item to a student in need for every select up&up school supply purchased at its stores between July 13 and Aug.2. Through these purchases, Target's goal was to donate up to $25 million in supplies and potentially impact almost 2 million kids as they head back to school. The program was inspired by Yoobi, a Target-exclusive brand of school supplies available year-round that has a "One for You, One for Me" mission.
Later that month, Walmart announced another executive change with the promotion of Greg Foran from president and CEO of Walmart Asia to president and CEO of Walmart U.S. He succeeded Bill Simon, who was in the role since June 2010 and transitioned out of the company at the time of the announcement.
And before July closed, Target made an executive announcement of its own, stating that it hired seasoned retail and consumer products veteran Brian Cornell as chairman and CEO, effective Aug. 12.
Going into August, Target unveiled its Sonia Kashuk Fall 2014 Collection, available exclusively in Target stores and via Target.com. The line is said to comprise a number of beauty care products — including the line's first radiance-boosting face oil. At the same time, Target announced the launch of the Sonia Kashuk Fall 2014 Limited Edition Collection of beauty care products, created to celebrate Kashuk's 15th anniversary of collaboration with Target.
Walmart had a big launch of its own in August. On its quarter-two 2015 earnings call, which took place Aug. 15, Foran officially announced the rollout of Price First, Walmart's opening-price-point brand. The retailer began testing the brand in certain markets in November 2013.
Also in August, Hoffman Estates, Ill.-based Sears Holdings announced that former Tesco executive Alisdair James joined the company as president and chief member officer of its Kmart division.
The following month, Walmart said it would convert all of its Walmart Express stores to Walmart Neighborhood Market stores. The decision came seven months after the retailer said it was expanding its Express units beyond the initial three-market pilot program.
Also in September, Landor, a New York-based global brand strategy and design firm, released the results of its Breakaway Brands study — which ranks U.S. brands based on their ability to successfully sustain rising brand strength over a three-year period. Costco's Kirkland Signature brand was the only store brand to make the list. It ranked No. 7 on the list.
Convenience store channel
In January, 7-Eleven, Dallas, said it rolled out its Egg White Breakfast Sandwich, a better-for-you breakfast option that breaks the 200-calorie barrier. Made with scrambled egg whites, Canadian bacon, cheddar cheese and a wholewheat English muffin, the frozen sandwich — which can be microwaved or toasted in-store or prepared at home — contains 13 grams of protein, 5 grams of fat and less sodium than most other breakfast sandwiches.
The following month, QuickCheck Corp. Whitehouse Station, N.J., said it added the Cheeseburger Egg Roll to its menu of fresh snacks. Said to be a classic favorite with a new twist, the crispy egg roll wrapper is loaded with cheeseburger filling.
Then in March, Mapco Express Inc., Brentwood, Tenn., announced the expansion of its line of GreenStix private brand e-cigarettes to all 272 of its stores. It also said it added a new e-cigarette called GreenStix Dynamic King in traditional tobacco and menthol flavors. Sold in a unique, stylish and ergonomic carrying case, it conveniently fits in a pocket or purse and allows consumers to keep their e-cigarette sanitary and ready for use at any time.
That same month, 7-Eleven said it added Chicken Dippers to its hot foods lineup. Comprising pieces of 100 percent white meat chicken that are lightly breaded and contain no fillers, the Chicken Dippers are served with a choice of Ancho Chipotle, Ranch or Honey Mustard dipping sauce.
7-Eleven also added kolaches, a savory breakfast favorite of Texans, to its hot foods lineup in May. Introduced at 450 stores in the greater Dallas-Fort Worth, Austin and San Antonio areas, the 4-ounce items come in two varieties: Beef Sausage and Pork, and Beef Sausage with Jalapeño and Cheddar.
Later in the month, 7-Eleven rolled out plastic Mason jar mugs and mustache straws for its Slurpee brand beverages. Available for the summer at participating stores, the mustache straws came in blue, green, orange and pink, and in four styles. Meanwhile, the 26-ounce Mason jar mugs came in the same four colors and sported a colorful screw-top lid and reusable straw (sans mustache).
In June, Chester Heights, Pa.-based Wawa Inc. said it added a line of kettle-cooked potato chips to its store brand selection. Said to be extra crunchy and retailing in 2-ounce bags, the Peddlers Pantry chips come in four flavors: Extra Crunchy Original with Sea Salt, Asian Fusion, Hickory Smoked Barbecue and Smoke Dried Chipotle.
And in late September, 7-Eleven said it partnered with Tony Horton, creator of the Beachbody P90X fitness program, to co-develop a line of nutritionally balanced foods and juices for its on-the-go shoppers. The line of sandwiches, salads, wraps and cold-pressed juices, sold under the Tony Horton Kitchen brand, made its debut at 104 7-Eleven stores in the Los Angeles area, Horton's home base and training ground.
Dollar store channel
In the dollar store channel, Howard R. Levine, executive chairman and CEO of Family Dollar, announced in January via the retailer's quarter-one 2014 earnings call that Mike Bloom, Family Dollar's president and chief operating officer, left the company. He also said the Matthews, N.C.-based retailer named Jason Reiser executive vice president and chief merchandising officer.
Fast-forward to June, when Goodlettsville, Tenn.-based Dollar General announced its plan to expand into Maine, Rhode Island and Oregon over the following year. That same month, Rick Dreiling, its chairman and CEO, informed its board of directors of his intent to retire as CEO effective May 30 or upon appointment of a successor.
In July, big news broke when Chesapeake, Va. headquartered Dollar Tree Inc. and Family Dollar said they entered into a definitive merger agreement under which Dollar Tree would acquire Family Dollar in a cash-and-stock transaction. The value of the consideration was $74.50 per share, a 22.8 percent premium over Family Dollar's closing price as of July 25. The transaction was unanimously approved by both companies' boards of directors.
August saw the beginning of a battle for Family Dollar, however, when Dollar General announced a $9.7 billion bid to Family Dollar's board of directors. The combination would solidify Dollar General's position as the largest small-box discount retailer in the United States, with nearly 20,000 stores in 46 states.
Soon after, however, Family Dollar said its board of directors unanimously rejected the non-binding proposal from Dollar General on the basis of antitrust regulatory considerations. Additionally, the Family Dollar board of directors reaffirmed its recommendation in support of the merger agreement with Dollar Tree.
In September, Dollar General announced that it sent an enhanced acquisition proposal to Family Dollar's board of directors. Under the terms of the revised proposal, Dollar General would increase its all-cash proposal for all outstanding shares of Family Dollar to $80 per share. It also increased the number of stores it would be willing to divest to 1,500 if ordered by the Federal Trade Commission and agreed to pay a $500 million reverse breakup fee to Family Dollar relating to antitrust matters.
Soon after in September, Family Dollar said its board of directors unanimously rejected the revised nonbinding proposal from Dollar General on the basis of antitrust regulations. But days later, Dollar General presented a cash tender offer of $80 per share in cash to Family Dollar shareholders. The offer expired at 5 p.m. Eastern time on Oct. 8. Dollar General extended the offer in early October to Oct. 31 at 5 p.m. EST.
And on the expiration date for its initial offering, Dollar General announced the redesign of its Smart & Simple brand packaging. The news followed the retailer's June 3 conference call, during which Dreiling noted that Dollar General would further leverage its use of Smart & Simple during 2014 and beyond, with plans to add approximately 40 Smart & Simple products across food, paper and home cleaning categories in 2014.
In December, ALDI Inc. announced a five-year strategic plan to open 650 new stores across the United States.
In March, Ahold USA said it received Rainforest Alliance certification for its Simply Enjoy teas and UTZ certification for its Simply Enjoy coffees.
In April, Wegmans began full operations at its "Cheese Caves," which are housed in a high-tech building that mimics the environment of famed cheese caves in Europe.
Fairway Market introduced a line of organic 100 percent fresh fruit juices, sweetened whipped light cream and its first ever line of ice cream in June.
In August, Coborn's Inc. launched a new store brand called Four Brothers.
Shoppers Drug Mart launched its Rediscover Life Brand campaign in January to help consumers refamilarize themselves with its Life brand health care products.
CVS/pharmacy announced the introduction of radiance PLATINUM, a premium brand of 100 percent preservative-free vitamins and supplements, in July.
In June, Waterbury, Vt.-based Keurig Green Mountain Inc. and Westborough, Mass.-based BJ's Wholesale Club said they partnered to offer BJ's Wellsley Farms brand coffee in pods.
In March, Mapco Express Inc. announced the expansion of its line of GreenStix private brand e-cigarettes to all 272 of its stores.
In late September, 7-Eleven said it partnered with Tony Horton, creator of the Beachbody P90X fitness program, to co-develop a line of nutritionally balanced foods and juices for its on-the-go shoppers.