IDDBA releases 2017 'What's in Store' reports
Get great content like this right in your inbox.
Subscribe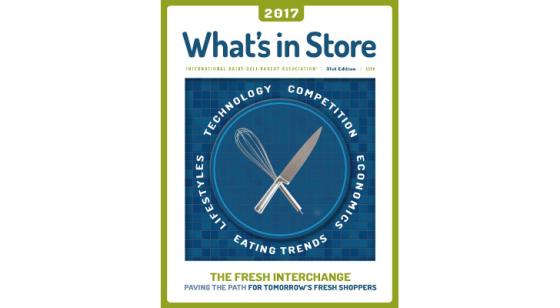 The healthful eating and free-from trends are having considerable impact on deli, dairy and bakery departments, according to the recently released "What's in Store 2017" and "What's in Store Online" reports by the International Dairy Deli Bakery Association (IDDBA).
For example, the wellness characteristics of bakery products sought by shoppers have changed, with more consumers searching for gluten-free, organic/natural and GMO-free traits instead of non-fat, low-cholesterol and reduced calorie items, IDDBA noted in a press release.
Other findings in the publication include the following:
Despite the growth of e-commerce in food retail, brick-and-mortar stores remain important to digital-savvy millennials.
Warehouse clubs, convenience stores, supercenters and dollar stores are outpacing supermarkets when it comes to percentage increase in store count.
Food retailers are the No. 1 source of convenient meal solutions, surpassing both restaurant delivery and online meal/ingredient kit channels.
"Today's consumers have a growing selection of food channels to choose from, and they are seeking services and experiences in addition to just purchasing groceries," said Eric Richard, IDDBA's education coordinator, in a statement. "Retailers in tune with consumer shopping patterns can set their stores apart from other retail channels — both traditional and nontraditional — and enable them to better compete in the ever-evolving retail market space."
Published for more than 30 years, "What's in Store" is an annual publication that is developed through interviewing industry experts and sourcing third-party data and trends. This year's report explores five themes: the economy and retail trends, channels and competition, consumer lifestyles, eating trends, and technology and marketing.
To order the report or learn more about it, visit https://www.iddba.org/research/trends-report/whats-in-store.