How to satisfy today's sweet tooth
Get great content like this right in your inbox.
Subscribe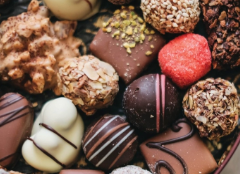 Sure they still buy sweets on impulse in order to treat themselves, but consumers are thinking a lot more about the candy they choose.
Informed, label-savvy shoppers pose some challenges for the category, according to consumer market researcher Packaged Facts in its February report, "U.S. Food Market Outlook, 2018." 
They are thinking more about eating healthfully, the impact of sugar consumption on rising rates of diabetes and childhood obesity and the sustainability of cocoa farming, Packaged Facts reports. Additionally, shifts in shopping behavior such as self-checkout and online purchasing threaten to decrease the impulse purchases that drive a high level of chocolate sales.
On the bright side, the chocolate market is "dynamic" … with a strong pace of innovation, an influx of creative new players and a steady flow of new products that engage consumers," the report says. Because consumers love candy and consider it an accessible luxury, this creates the opportunity to trade them up to premium products, the report adds.
Focus on creating unique and novel flavors and textures; healthier, more nutritious products that taste great; and premium confections (the fastest-growing segment) to boost the category, Packaged Facts advises. 
"We continue to see substantial strength in the category, as well as in trends [toward] health and wellness. Consumers want to eat as healthfully as possible, but also want to indulge themselves," notes Barry Rosenbaum, president of Nassau Candy in Hicksville, N.Y.
Make it special
The focus for growth in the private brand confectionery sector continues to be on innovation, says Christopher Ratliff, vice president of sales and marketing for Seattle Gourmet Foods in Tukwila, Wash. "Oftentimes, it's as simple as taking an established top seller and looking for ways to refresh the product and make it new again," he says.
To maintain mass appeal and repeat business, innovation has to walk the fine line of bringing something new to the market without straying too far from the products and flavor profiles that have the most familiarity and popularity, Ratliff adds.
Another path to growth lies in encouraging consumers to refine their tastes and trade up to more sophisticated products by training them to taste and appreciate chocolate flavors, origins, inclusions and formats, says Giovanni Sala, marketing director for Agostoni Chocolate, headquartered in Lecco, Italy, with offices in Los Angeles.
Single-origin, organic chocolate with high levels of cocoa solids and sustainable certifications appeal to consumers, Sala says. Focus on packaging and product formats that are easily consumed on-the-go with reasonable calorie counts and be mindful of affordable price points, Sala advises.
Consumer preferences are evolving and retailers are responding, says Darin Ciavarella, cocoa and chocolate retail channel lead for Cargill in Minneapolis.
Consumers are choosing unique flavors, colors and forms of chocolate that are more premium, as evidenced by the increasing popularity of dark chocolate and rising interest in cacao content, Ciavorella adds.
Push the better-for-you button
There's a marriage between what has been identified as healthy with chocolate, Rosenbaum notes, adding that nutmeat, ginger and banana inclusions are hot trends. It's equally important to remove ingredients that have been identified as not as healthy, like palm oil, and avoiding artificial flavors and colors as much as possible, Rosenbaum says.
Use better-for-you callouts on confections, such as non-GMO, no artificial colors or flavors, vegan, fair trade, lower sugar and no trans fats, advises Janet Sconza Angers, director of marketing for Sconza Candy in Oakdale, Calif.
"Healthier options and snackable products have been driving category growth, and I expect this will continue to be a primary direction in the next year as well," Angers says. "Consumers are more focused on healthy choices and must fit smaller meals or snacks into a busy lifestyle."
Ratliff says the better-for-you approach and clean label continues to be at the forefront of discussions in the chocolate and candy segment.
"I'm almost hesitant to call this a trend, as it's more of a paradigm shift," he adds. "The elimination of artificial colors and flavors, along with simplified ingredients, are the easiest ways to take an indulgence and still show the modern consumer changes that meet their changing core values. Also, the move to smaller, single-serve pack sizes continues to be prevalent as consumers focus on getting their treats, but controlling the portions that they enjoy on a day-to-day basis."
Consumers pay attention to labels, even in the sweet space, Ciavarella agrees. And demand for sustainably sourced cocoa and chocolate is also rising, Ciavarella adds, driven by a growing number of mindful consumers who are interested in knowing how their food is sourced and prefer to purchase products that align with their ethical values. 
Organic, sustainable and fair business models are not just "nice to have" for companies, but are now a requirement and a standard requested by more and more American consumers, Sala says. Corporate transparency will be a key factor in retaining brand awareness, he adds.
"Lastly, a specific attention to sugar values in confectionary products is well-spread in northern Europe and [is expected to] become more evident [in the U.S.] in the next few years," Sala says. "The main issue is to reduce sugar consumption and to identify some different ingredients to be used, [such as] stevia, coconut sugar or malthitol."
Get creative
"We believe flavor innovation will continue to be highly important in the coming years," Ciavarella says. "From creative twists on classics to globally inspired exotic flavors, segments such as bean to bar chocolate have paved the way in making flavor creativity in the chocolate category the norm. Nothing seems to be off limits. We anticipate retailers will look to integrate some of the most beloved flavor trends into their offerings."
Innovation and exclusivity are really the two key ways for a private brand to separate itself from the mainstream brands that consumers expect to see when they pay a visit to the candy aisle," Ratliff says.
"Because there is such an overwhelming level of familiarity with legacy brands found in every class of trade, the only way for a private brand to stand out is to be something that is new and different," he adds. "And the exclusivity factor is an important method to help establish both differentiation and loyalty to the private brands on the shelf."
Private brands are experiencing great success with consumers who are less loyal to national brands, Angers notes. "The days of offering only me-too products in this arena are over," she adds. "Consumers expect store brand confectionery offerings to include items that are unique, exciting and on-trend. Store brand buyers are focused on these areas with manufacturing partners."
Cvetan is a freelance writer from Barrington, Ill.